Global Irish Newsletter 25 March 2020 - a Message from Minister Cannon during the COVID-19 Crisis
News
25 March 2020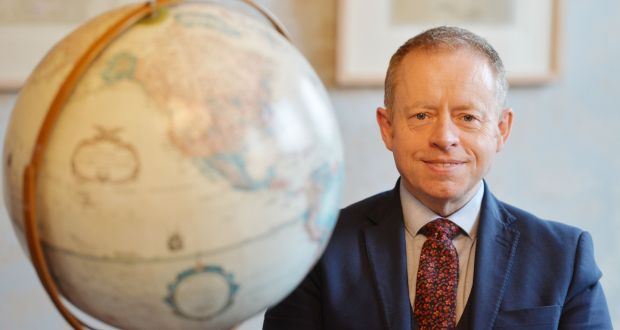 Minister Ciarán Cannon T.D.
At this time of grave concern around the world, the Government is taking decisive actions to do everything possible to protect its citizens from the spread of the Covid-19 virus. The actions will require sacrifices and courage by our citizens, acting in solidarity for the common good.

I am also deeply aware of the solidarity we owe to our many citizens who live around the world, who may face similar challenges. I want to set out a number of actions which Irish citizens and Irish community organisations can undertake to play their part in supporting our Diaspora and the societies around the world where they live.

Firstly, I would urge you to read the health advice which the Health Service Executive has published at https://www2.hse.ie/coronavirus/ as part of your efforts to protect your own health and the health of those close to you. Clearly, this advice should be read in conjunction with the local health protection measures in place by the authorities in your host country.

Ensuring the safety of our citizens around the world is a fundamental duty for my Department. We are working intensively right now to help many Irish citizens affected by the global spread of this disease. We are updating continuously our advice and guidance to Irish citizens, with specific reference to the threat posed to our citizens by the Covid-19 virus. If you are thinking of travelling or are concerned about the situation in your host community, please consult this advice as a matter of urgency: https://www.dfa.ie/travel/travel-advice/coronavirus/.

While many of our diplomatic missions are also affected by changes necessary to protect the safety and the health of their staff, our network of missions remains available to our citizens in need https://www.dfa.ie/embassies/irish-embassies-abroad/.

I applaud the efforts which many Irish community organisations around the world are making to support the most vulnerable members of their communities. The spread of the Covid-19 virus is understandably very worrying for people, and the need for greater social distancing to protect public health may increase stress for many people, in particular those who are alone or feeling isolated. Advice on dealing with such worries is available, including from Irish community groups who support our Diaspora, such as https://www.irishinbritain.org/what-we-do/health-and-wellbeing/coronavirus/mental-health-and-wellbeing-during.

Finally, I urge you to make contact with family and friends in Ireland. This is a global challenge. Across Ireland, many families will be worried about their loved ones who live abroad. This is a time for strengthening our connections. In his recent speech, the Taoiseach gave advice to the Irish people on both the threat we face, but also the need for solidarity across society and around the world. We are all in this together, no matter where we are and by working together, we will overcome this.
Ciarán Cannon T.D.
Minister of State for the Diaspora and International Development