Message from Minister Ciaran Cannon
News
14 December 2017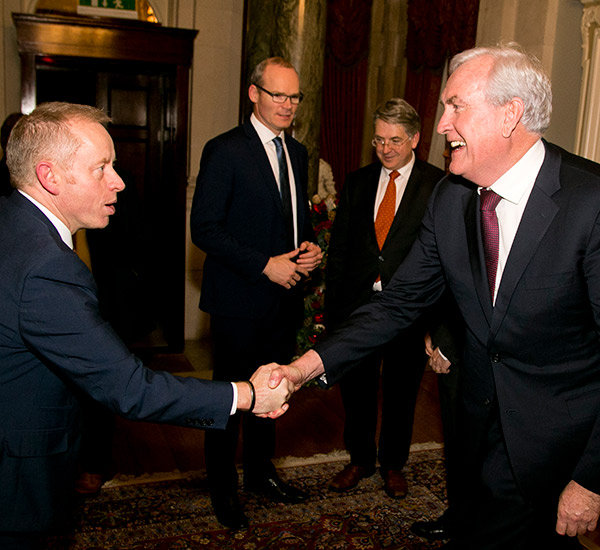 The last months of 2017 have passed quickly and since being appointed Minister for the Diaspora and International Development in June I've been fortunate to have travelled widely and met some truly inspiring members of the Irish Diaspora.
This culminated in November with the Presidential Distinguished Service Awards which were awarded to ten individuals across six different categories. It was an honour to meet people who have undertaken a life time's worth of work in their respective fields. This year's awards recipients came from diverse backgrounds and represented not only the best of Irish endeavours but also the countries where they now work, from America to Japan to Ethiopia. My experience of meeting this year's recipients left me in no doubt but that there is a huge reservoir of talent and experience among the Irish abroad that can be harnessed for global good and also celebrated as part of our Irishness.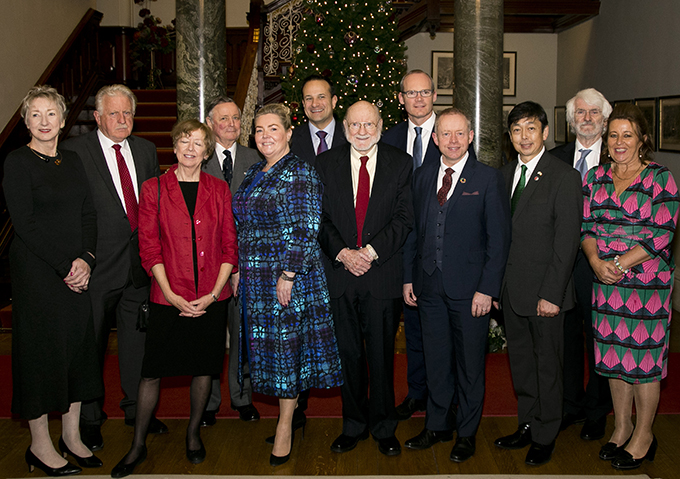 With the Taoiseach, Táiniste and recipients of the 2017 Presidential Distinguished Service Awards
In November I also launched Back for Business which is a pilot initiative that seeks to foster and support entrepreneurial activity among emigrants returning or recently returned to live in Ireland. What makes this endeavour unique is the skills and experience that returning emigrants bring. Irish people who have travelled, or spent a number of years out of the country, develop experience and exceptional entrepreneurial skills – often across a range of areas. Launching this initiative I am therefore confident that there will be a high level of success that will bring real jobs and real economic benefits to regions across Ireland.
2017 was also a bumper year for the Emigrant Support Programme (ESP) - we received over 420 applications from around the world. I was very pleased to be able to approve payments of €11.59 million to Irish organisations with the majority of funds allocated going towards frontline welfare services that reach the most vulnerable members of Irish communities. The 2018 ESP application process will open in mid-January and based on discussions at the Global Irish Civic Forum we will be making specific funding available for priority themes including collaboration between organisations and projects which fund intergenerational engagements.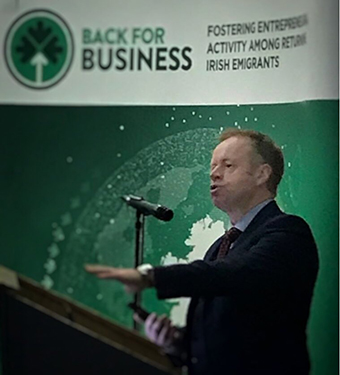 At the Launch of Back for Business
All these events are indicative of the huge breadth of work that the Department of Foreign Affairs and Trade is engaged in to support Irish communities worldwide. They offer a real chance for better engagement with Irish communities, which is a goal of mine, while also showcasing that we can deliver services and supports for all of the global Irish family.
My priority in 2018 is therefore to continue to be a voice for the Irish diaspora in Government. In the year ahead I will travel more widely so as to meet as many Irish communities as possible and to gather your insight and advice as to how we best engage and support Irish communities. Over the coming year I hope to roll out new and innovative initiatives which will help to strengthen our Global Irish Community. We have already started with ideas like the Global Irish Diaspora Directory and my vision is for a global Irish nation that is connected and supported worldwide.
I look forward to meeting more of you next year and once again I wish you a Merry Christmas and Happy New Year.
Is mise le meas,
Ciarán Cannon
Minister for the Diaspora and International Development