Presidential Distinguished Service Awards 2019
News
22 November 2019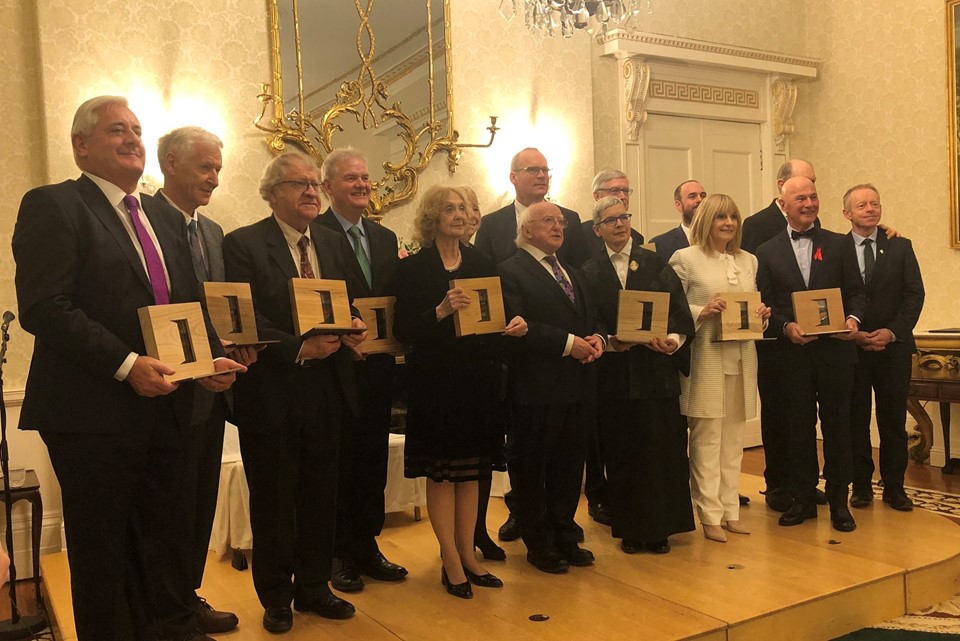 Recipients receive their awards from the President in the presence of Tánaiste Simon Coveney and Minister of State Ciarán Cannon
President Michael D. Higgins has honoured recipients of this year's Presidential Distinguished Service Award for the Irish Abroad in a special ceremony in Áras an Uachtaráin, the presidential residence. The Presidential Distinguished Service Award is presented by the President every year in recognition of the service given to Ireland or to Irish communities abroad by individuals living outside Ireland.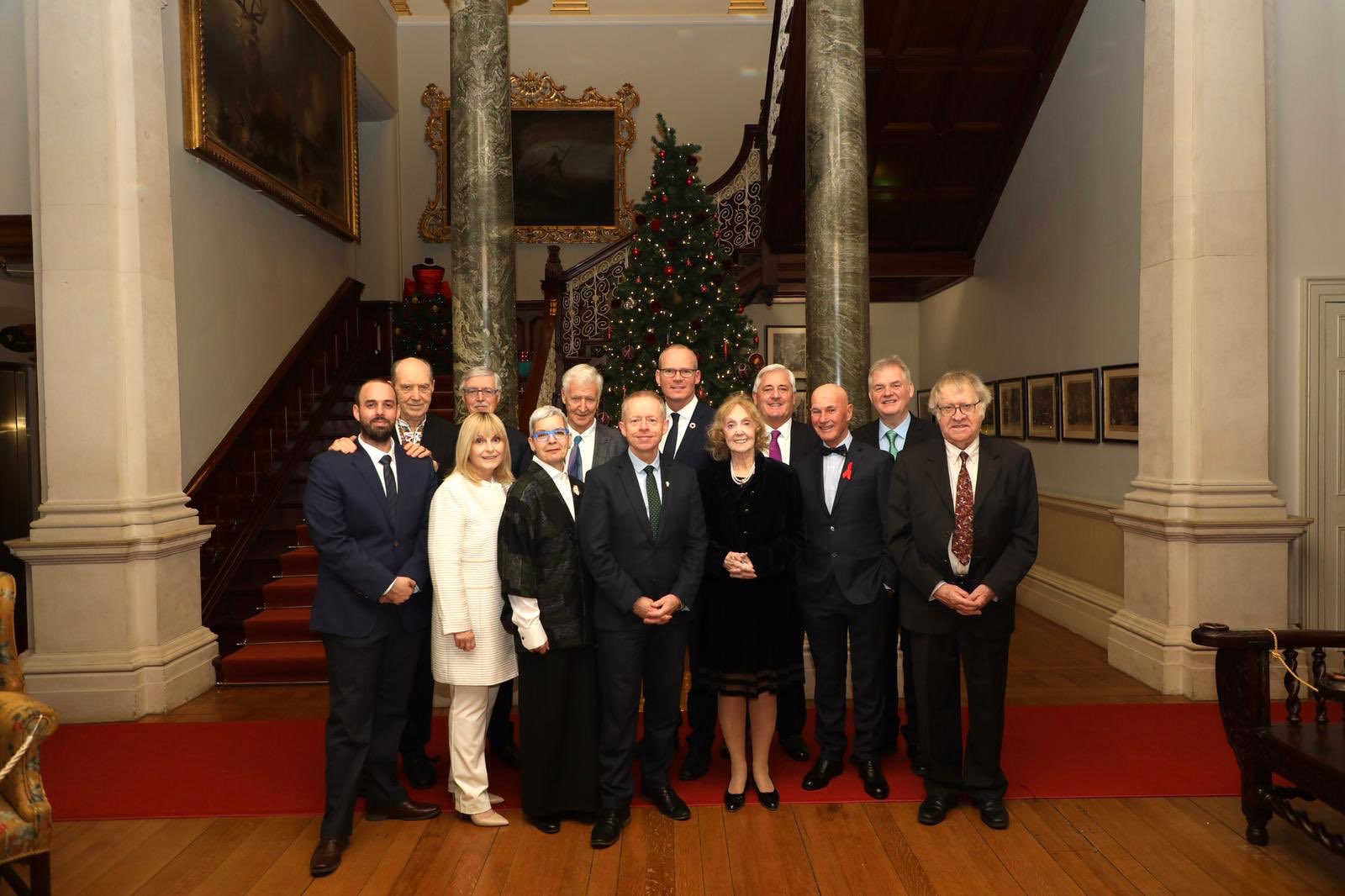 ‌
Following the ceremony, recipients attended a celebratory dinner in Farmleigh hosted by Tánaiste Simon Coveney
Following the announcement of this year's recipients, Minister of State Ciarán Cannon said:
"As Minister of State for the Diaspora, I am proud that we recognise all that our diaspora have done and continue to do. These twelve people show the remarkable diversity of Ireland's reach in the world and signify the breadth and richness of our diaspora. The recipients include those working with the most marginalised and vulnerable, those who have become the voice for those who have none.
A total of 189 nominations were considered for the awards this year, and the level and breadth of the achievements of the people nominated are outstanding."
Recipients are chosen within six thematic categories, and this year represent seven different countries of residence.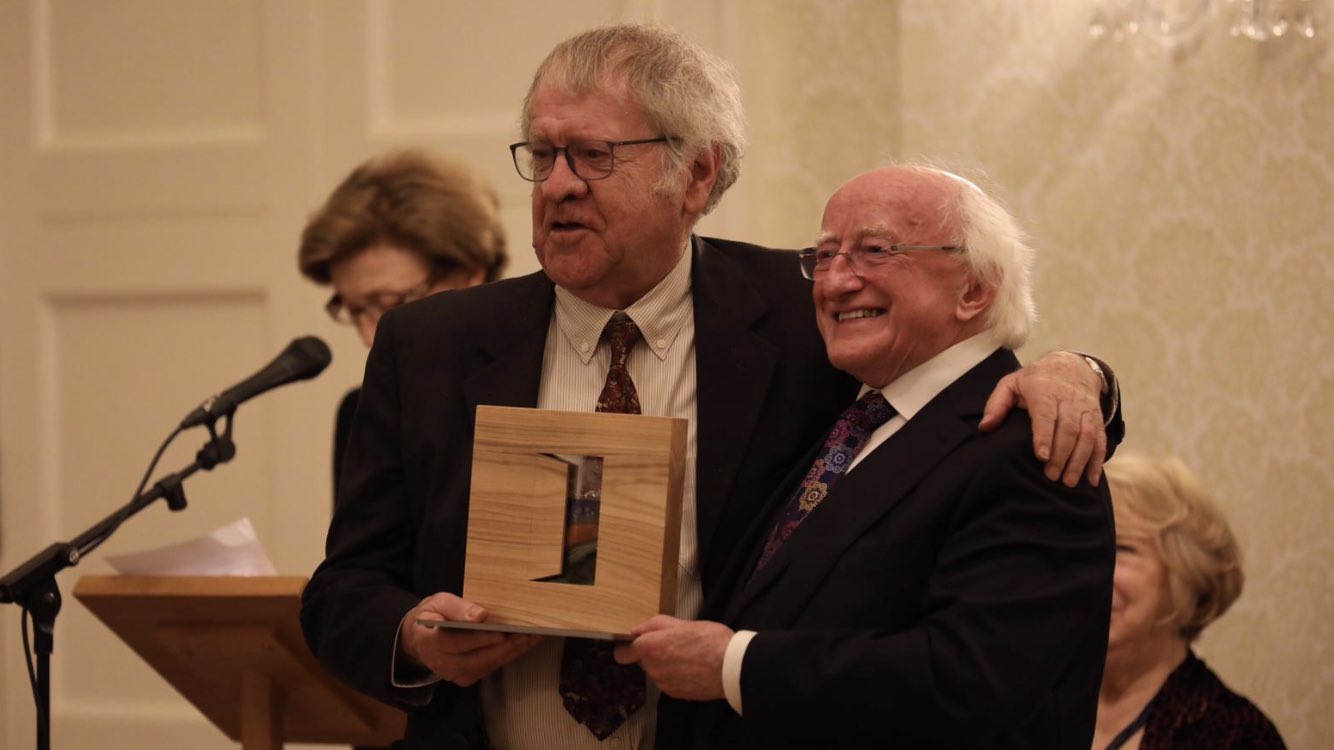 President Higgins presents author Ian Gibson with his award
The full list of recipients of the Presidential Distinguished Service Award in 2019 is:
Arts, Culture and Sport
Ian Gibson - Spain)
Charlotte Moore and Ciaran O'Reilly - USA
Business and Education
Paul Drechsler - Britain
Michael Kenneally and Rhona Richman Kenneally - Canada
Charitable Works
Fr. Patrick Clarke - Brazil
Bernard Lynch - Britain
Irish Community Support
Jackie Donohoe - US
Peace, Reconciliation and Development
Sally O'Neill Sanchez (deceased) - Honduras
Science and Technology
Jocelyn Bell Burnell - Britain
William Howlett – Tanzania