The Irish Community in Toronto Response to COVID-19
News
14 May 2020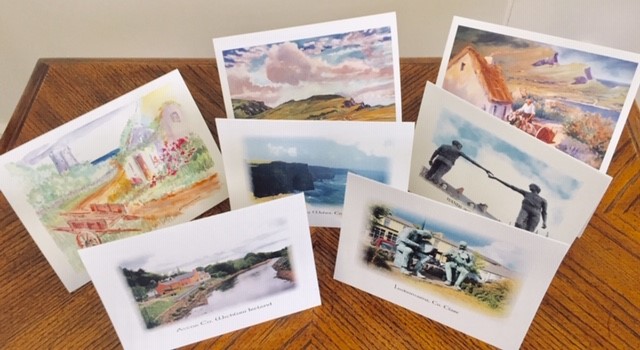 Irish greeting cards crafted by local Irish artists, sent to seniors who live alone or are isolated in Senior Residences across Toronto
Ireland's Honorary Consul in Toronto, Eithne Heffernan, describes the Toronto Irish community response to the COVID-19 pandemic.
When the pandemic first hit Toronto, the Irish community was ready to respond. In the past, we had come together as a community to sponsor refugees during the Syrian Crisis (Irish Project Hope, which is still in operation) and to do a major fundraising campaign in collaboration with the Holy Ghost fathers during the Rwandan conflict.
On reaching out to all the organizations the response was totally positive: "Who needed help? What could we do? Should we fundraise?"
We determined that the most vulnerable people in our community were our seniors and our new arrivals. However, we would respond to anyone who needed our help at this time.
An Outreach Committee was formed to look into how best to reach those in need, and we also formed a Finance Committee to explore how best to fund this project.
On the Finance Committee were representatives from the Irish Benevolent Society, Canada GAA, Ireland Fund of Canada, Ireland Canada Chamber of Commerce, as well as the Chair of the Outreach Committee and myself as the new Honorary Consul of Ireland in Toronto.
The Outreach Committee has representatives from Irish Person of the Year, Toronto GAA, Solace House, Irish Canadian Immigration Centre, and the Irish Cultural Society. I am also on this committee.
Many of our community groups immediately and generously came forward with an offer of funds, while offers of volunteer help quickly came from all of the organisations.
The Finance Committee decided that the best fit for us would be to work under the umbrella of the Irish Benevolent Society. If we needed to fundraise in the community we would do so through that Society, which has charitable status in conjunction with Canada Helps.
The Outreach Committee came up with a plan based on the St Vincent de Paul model where we would offer grocery vouchers to those in need. We would reach out through all organizations' websites, particularly the Irish Canadian Immigration Centre, the GAA and through the Irish and New in Toronto Facebook page, which is very active and is the go-to page for most of our young immigrants.
Our Irish radio shows are helping us reach their listeners and are certainly brightening all our lives with wonderful Irish music, entertainment and information. The Emerald Isle Seniors Society is reaching out and offering a virtual cup of tea and chat as well as shopping and fulfilling other needs of its members.
We are still concerned about those seniors who may not be part of the Emerald Isle seniors' group and who are living alone and are not connected to social media. We believe that all of them have access to radio and television so we are looking into getting more radio and possibly TV air time so that The Hugo Straney Show, Ceol agus Craic, and The Long Note may have additional time to connect with and bring joy to those isolated and lacking communication tools.
A big concern is the effect that isolation is having on our seniors' mental health, and so we have begun to send Irish greeting cards crafted by local Irish artists to many of our seniors who live alone or are isolated in Senior Residences across the city. We encourage them on receiving the card to phone us for a chat.
The first week after we launched the outreach project we had three responses, requesting assistance. In the second week we have had fourteen responses and that number continues to grow as word continues to spread. A number of young people are among those reaching out to us.
As far as the Greater Toronto Area (GTA) is concerned I have been in touch with The Mississauga Irish Centre, The Brampton Irish Centre and the Durham Irish group. They are all reaching out to their members offering help at this time.
I cannot emphasis enough the goodwill and the caring of our Irish Community in Toronto for one another and for all in need during this difficult time.
We are extremely grateful for the interest and the offer of help from the Irish Government. In a wonderful way it makes us feel part of the greater global Irish Community.
We are grateful to have the presence of the various State Agencies in Toronto, and of course we have the Irish Canadian Immigration Centre, which is an invaluable resource to new arrivals and young people, not only in Toronto, but in the whole of Canada. We are also fortunate to have the wholehearted support of Ambassador Jim Kelly and all the staff at the Embassy in Ottawa, and we look forward to working with the Embassy to assist our vibrant Irish community in the weeks and months ahead
Le gach dea-ghuí,
Eithne Heffernan
Honorary Consul of Ireland to Toronto
Listed below are all the organizations who are involved and are taking an active part in this project.
Each organization is posting our message on their webpage in addition to reaching out to their own members offering help.
Open Door Ceilis Toronto
Comhaltas Ceoltóirí Éireann
Emerald Isle Seniors Society
Gaelic Athletic Association (Canada GAA board and Toronto GAA board)
Ireland Canada Chamber of Commerce
Irish Dance Teachers' Association – Eastern Region
The Ireland Funds Canada
Irish Benevolent Society of Toronto
Irish Canadian Immigration Centre
Irish Cultural Society of Toronto
Irish Person of the Year
Irish Radio Show Toronto
Toronto Rose of Tralee
Solace House
St. Michael's College, University of Toronto - Celtic Studies Programme
St. Patrick's Parade Toronto
Toronto Irish Film Festival
Toronto Irish Players
About Eithne Heffernan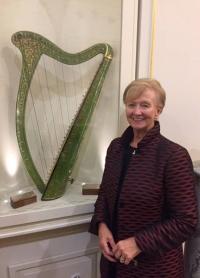 A proud Kilkenny woman, Eithne Heffernan became Ireland's Honorary Consul to Toronto in early 2020, and has immediately taken a lead role in the Toronto Irish community's response to the Covid-19 pandemic. In the 47 years since Eithne came to live in Toronto, she has made an immense contribution to Irish community organisations in the city, and it would be difficult to find an Irish organization in Toronto to which Eithne hasn't at some time contributed.
She is the Vice Chair of the Ireland Fund of Canada, and a board member of the Irish Canadian Immigration Centre. She is the Past President and current member of the St. Vincent DePaul Society, and the Chair of Irish Project Hope. Eithne is also a founding member of the Ireland Canada Chamber of Commerce Toronto, the Folk Harp Association of Toronto, and the Kilkenny Association of Toronto. Eithne was named the Toronto Irish Person of the Year in 1995, received the Arbor Award from the University of Toronto in 1995, and was the Grand Marshal of the St. Patrick's Day Parade in Toronto in 2001.