Welcome Message from Minister of State Ciarán Cannon
News
17 July 2017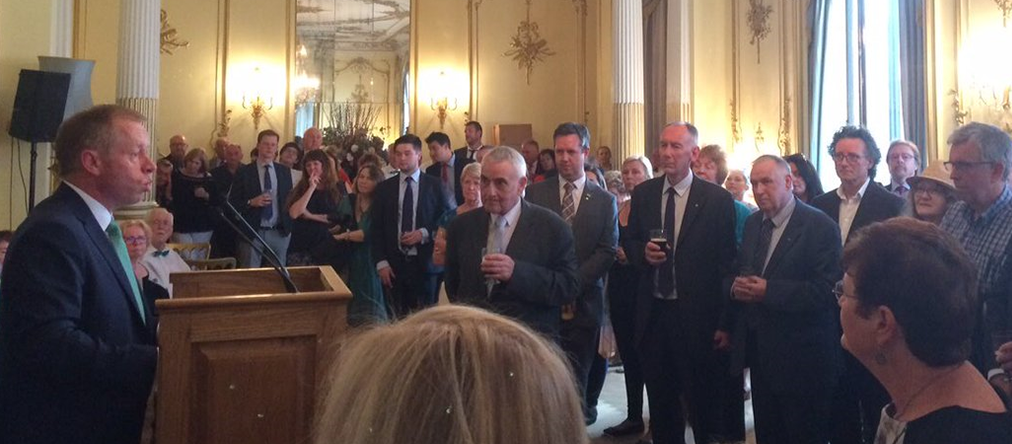 Addressing Irish Community Leaders in Ireland's Embassy in London
A Chara,
Having been appointed Minister for the Diaspora and International Development in June, I want to say how hugely pleased and humbled I am to have taken up this role. As a representative of East Galway, a county that has a long history of emigration, it was undoubtedly the role which I most aspired to. I am also pleased to report that both the new Taoiseach, Leo Varadkar TD, and the newly appointed Minister for Foreign Affairs and Trade, Simon Coveney TD recognise the continued importance of supporting and engaging with the global Irish and ensuring that, through my role, your voice is represented.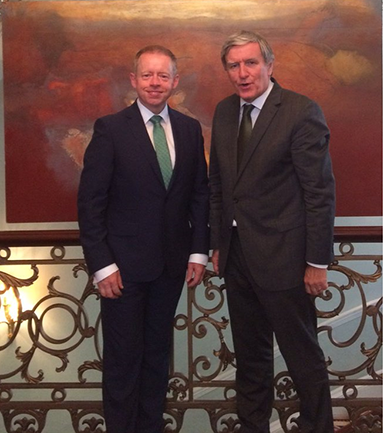 With Ambassador Mulhall ahead of him leaving Britain to take up his new role in America
I am very fortunate to be taking on the role of representing the Diaspora at a pivotal time. Following on from the success of the Global Irish Civic Forum in May I know there is renewed energy amongst Irish communities and organisations around the world, and many fresh ideas as to how you will continue to develop your relationships with Ireland and with each other in the years ahead. I am delighted to publish today the official Report of the Civic Forum and I look forward to hearing about new collaborative projects, and new contacts being formed with the assistance of the new on-line Diaspora Directory, which will soon be launched.
I also want to reaffirm the Government's commitment to the Irish diaspora and my own deep commitment to help Irish people and communities to grow their links with Ireland. I have already had the opportunity to meet Irish organisations in Britain and have seen the complexities they face in their work with the Irish community. I look forward to approving Emigrant Support Programme funding for individual organisations in the coming weeks. I am fully committed to taking forward the important work to prepare for a referendum on extending voting rights in presidential elections to citizens outside the State. As a father myself, I also look forward to finding new ways of engaging the younger generations of the Irish diaspora, particularly through the use of technology.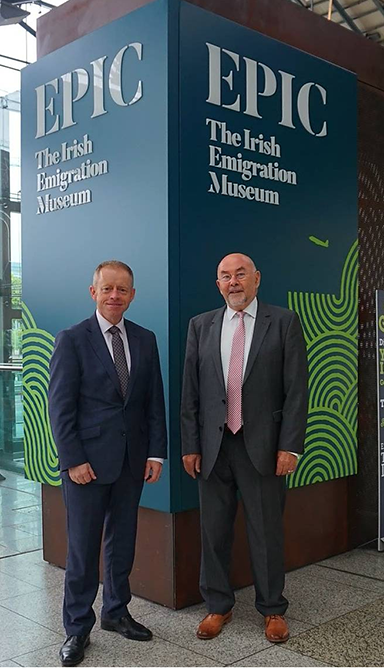 With Ruairí Quinn, Chairperson of the Institute of International and European Affairs,
at EPIC Irish Emigration Museum
In addition to my role in Government I am a musician and songwriter and I have seen first-hand the power of Irish culture to bring people together and to foster connections that last. I want to bring this experience to my work as Minister for the Diaspora and want to see similar success in working with the GAA and with Irish cultural organisations around the world. The social interaction and enjoyment that people get from celebrating Irish culture also plays a wider and invaluable role in supporting the well-being of our communities abroad and this is something too which I want to see continue.
At the heart of our cultural tradition is our natural creativity, something that has stood the test of time from the Book of Kells to Riverdance. In the future it will be those who use their creative talent to develop powerful new ideas who will dominate world affairs. Imagine for a moment what we could achieve if we could harness the collective talents of millions of our Diaspora worldwide, not just the Irish living on a small island at the edge of Europe, but the Irish in every corner of the planet. From poets, to musicians, to scientist, to engineers – we have all the skills necessary to become major global innovators. I want to work with our Diaspora in forging new creative collaborations and in doing so to focus on that magical sweet sport of the future, the nexus where art and technology collide.
By sharing success stories and experiences we can amplify our work and see ever greater impacts. This works both ways and I expect to hear your concerns and ideas so that I can feed them back into my team, as we work to identify priorities and key deliverables. I have no doubt that my time as the Minister for the Diaspora will see us face new challenges and embrace new opportunities together and I will work hard to ensure that any concerns and any developments are properly considered and given appropriate attention at Government level here in Ireland
Is mise le meas,
Ciarán Cannon
Minister for the Diaspora and International Development