Andersonville Lecture
Event
15 June 2021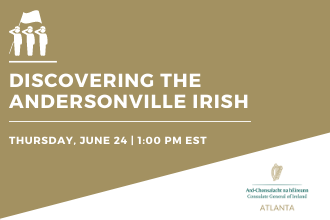 Discovering the Andersonville Irish - Virtual Lecture
Join the Consulate General of Ireland in Atlanta on Thursday, June 24th at 1:00PM EST for a special virtual lecture by historian, Damian Shiels, on the Andersonville Irish Project - discovering the history of the Irish and Irish Americans from across the island of Ireland who fought in the American Civil War and are buried at Andersonville National Cemetery in Georgia.
Damian Shiels is also the founder and managing editor of the website IrishAmericanCivilWar.com
Andersonville
Hundreds of thousands of Irish and Irish American soldiers lost their lives in the American Civil war, however, a particular National Cemetery in Andersonville, Georgia holds the remains of hundreds of them. Historically known as the largest military prison of the American Civil War, Andersonville contains more Irish causalities during the civil war than anywhere else in the United States. The purpose of the Andersonville Irish Project is to garner more information on the identities and origins of the Irish Americans buried at the Andersonville National Cemetery, to understand Irish connection to the American Civil War, and to share their stories. The Consulate General of Ireland, Atlanta, is delighted to support this project.


Save the date: Thursday, June 24th at 1:00PM EST
Register Here!