Passport Online Guide
Announcement
17 August 2021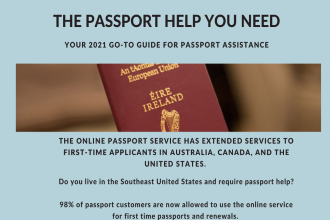 Passport Online
It is finally here!
The easier and simpler way for all passport applicants, including children and first-time applicants, applying from the US! Passport online is a fast, secure, and simpler way to apply for your first-time passport and renewals.
The Passport service will no longer accept or send paper application forms. All passport applications will be required via the online application system. Any application submitted in paper format will be void and returned to the applicant.
The link to apply is www.dfa.ie/passportonline/
Passport Queries
The Consulate of Ireland in Atlanta does not process passports.
If you run into any issues regarding your passport, please contact our Passport Services Support Team via web chat by visiting https://www.dfa.ie/irish-embassy/usa/contact-us/and clicking on the "Passports" button for a web chat at the bottom of the screen.
The web chat service is available from 9:30am-3.30pm Eastern Standard Time, Monday to Friday.