Public Diplomacy and Research Officer - Deadline Extended!
News
11 March 2021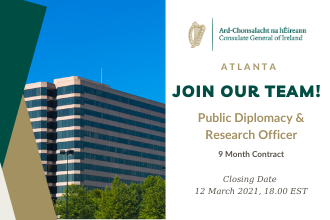 The Consulate General of Ireland promotes and protects Irish interests in the US Southeast region, supporting the strong partnership between the US and Ireland, and providing a range of key services to Irish citizens. We cover seven US states from our base in Atlanta: Georgia, Tennessee, North Carolina, South Carolina, Alabama, Mississippi and Florida.
The Consulate General of Ireland in Atlanta is currently recruiting a Public Diplomacy & Research Officer for a fixed term contract (9 months).
This position is a new role in the organisation and has been created to drive engagement with the ambitious digital public diplomacy and communications goals of the Consulate in 2021, including reaching new audiences and developing new connections throughout the region through an enhanced digital presence.
The deadline to apply has been extended to 6.00pm on Friday 26 March 2021.
Please click the here for the full job posting and instructions on how to apply: Public Diplomacy and Research Officer