Watch Back Andersonville Lecture
Event
16 August 2021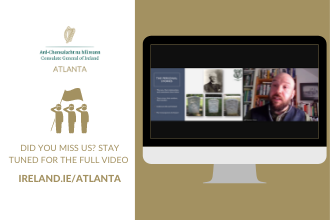 Did you miss the lecture on the Andersonville Irish? Watch back now on YouTube!
The Consulate was delighted to host a special lecture on 'Discovering The Andersonville Irish' with our terrific lecturer Damian Shiels in June 2021.
The Andersonville Irish Project aims to discover the history of the Irish and Irish Americans from across the island of Ireland who fought in the American Civil War and are buried at Andersonville National Cemetery in Georgia, and the project is supported by the Consulate.
To learn about the Andersonville Irish Project, visit IrishAmericanCivilWar.com/andersonville-irish