The Andersonville Irish Project-- Uncovering the Fallen Irish & Irish Americans
News
01 October 2021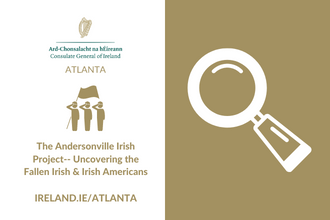 Uncovering the Fallen Irish & Irish Americans
Andersonville Irish Update
The Andersonville Irish Project aims to discover the history of the Irish and Irish Americans from across the island of Ireland who fought in the American Civil War and are buried at Andersonville National Cemetery in Georgia, and the project is supported by the Consulate.

Each week the Andersonville Irish Project uncovers new details on Irish Americans interred at the National Cemetery. Below are details of three of them, which have just been uncovered. All three died this week in 1864. In the future we hope to share more such stories as we discover them.
John Connell, 13th Indiana Infantry, 1 October 1864
John's parents had married in Ballycarbery, Co. Kerry in 1824, and his father had died there. Later John, his siblings and his mother emigrated to Rhode Island. Patrick was captured on 20 May near Fort Darling, Virginia and was reported to have died of Chronic Diarrhoea. His death left his mother Catherine in dire circumstances, as John had been her only unmarried child and main support. John is buried in Grave 10084.
Thomas Craig, 93rd Illinois Infantry, 30 September 1864
Thomas was a 25-year-old former weaver, who had been born in Ireland. He was described as 5 feet 9 inches tall, with blue eyes, light hair and a light complexion. Having enlisted in August 1862, Thomas was captured at Missionary Ridge on 25 November 1863, dying at Andersonville on 30 September. Thomas is buried in Grave 10087.
William McNamara, 7th New York Heavy Artillery, 28 September 1864
William was a 40-year-old former farmer. The Irish emigrant had only enlisted in January 1864, at Troy, New York. William was a married man, having wed Mary Cantlon at St Patrick's Cathedral, New York, in 1846. When he went to war he had four children- Timothy (15), Ann (13), James (11) and Elizabeth (4). But just three months after he had entered the army, William's wife Mary died. William was captured at Petersburg, Virginia on 16 June 1864, When he succumbed to diarrhoea on 28 September, his young children were orphaned. He is buried in Grave 9969

To learn about the Andersonville Irish Project, visit IrishAmericanCivilWar.com/andersonville-irish

Did you miss our 'Discovering The Andersonville Irish Project' Lecture with Damian Shiels? Watch it here: https://youtu.be/O_ZQONY3mUE