St. Patrick's Day messages 2022
News
17 March 2022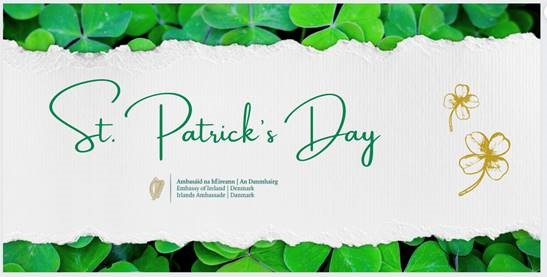 Please see the St. Patrick's Day messages from the President and the Taoiseach in the videos below.
St. Patrick's Day is always a very special occasion for Irish people and our global Irish family. Connection within and between our communities at home and abroad has taken on a special significance this year and we mark this St Patrick's Day with solidarity and support for our Ukrainian friends and neighbours as we express our Irish identity by re-dedicating ourselves to democratic and humanitarian values.
This year we are also marking a special milestone for Ireland of fifty years of EU membership, an important anniversary we also share with Denmark. From our historical links dating back to the Viking settlements of the 9th century, to our cooperation in the EU, we have strong historical links and share a great deal in common with our Danish friends and partners. Our EU membership opened the doors to build stronger ties between our two countries, and the positive impact of this is evident in the thriving Irish community we have here in Denmark today.
Our gathering is all the more special this year as the pandemic prevented us from marking the occasion for the past two years, and we want to acknowledge how challenging a time it has been, especially for those finding themselves far from home. We are delighted to be able to meet together once again, and we congratulate the Irish community in Denmark for their hard work in organising the St. Patrick's Day events this year.
We at the Embassy are looking forward to marking the occasion with our Danish, international and Irish friends alike. We are looking forward to the range of events being planned by the community, and hope to be able to call to as many as we can throughout the day. We are also delighted to see a return of the famous three-legged race in aid of charity this year – and we wish all racers the best of luck for this unique Copenhagen event.
We wish you all a very happy St. Patrick's Day, Lá Fhéile Pádraig sona daoibh and glædelig Skt. Patricks dag!
St. Patrick's Day message from the President of Ireland
St. Patrick's Day message from Taoiseach