Covid-19 measures in Poland from 27 March
News
26 March 2021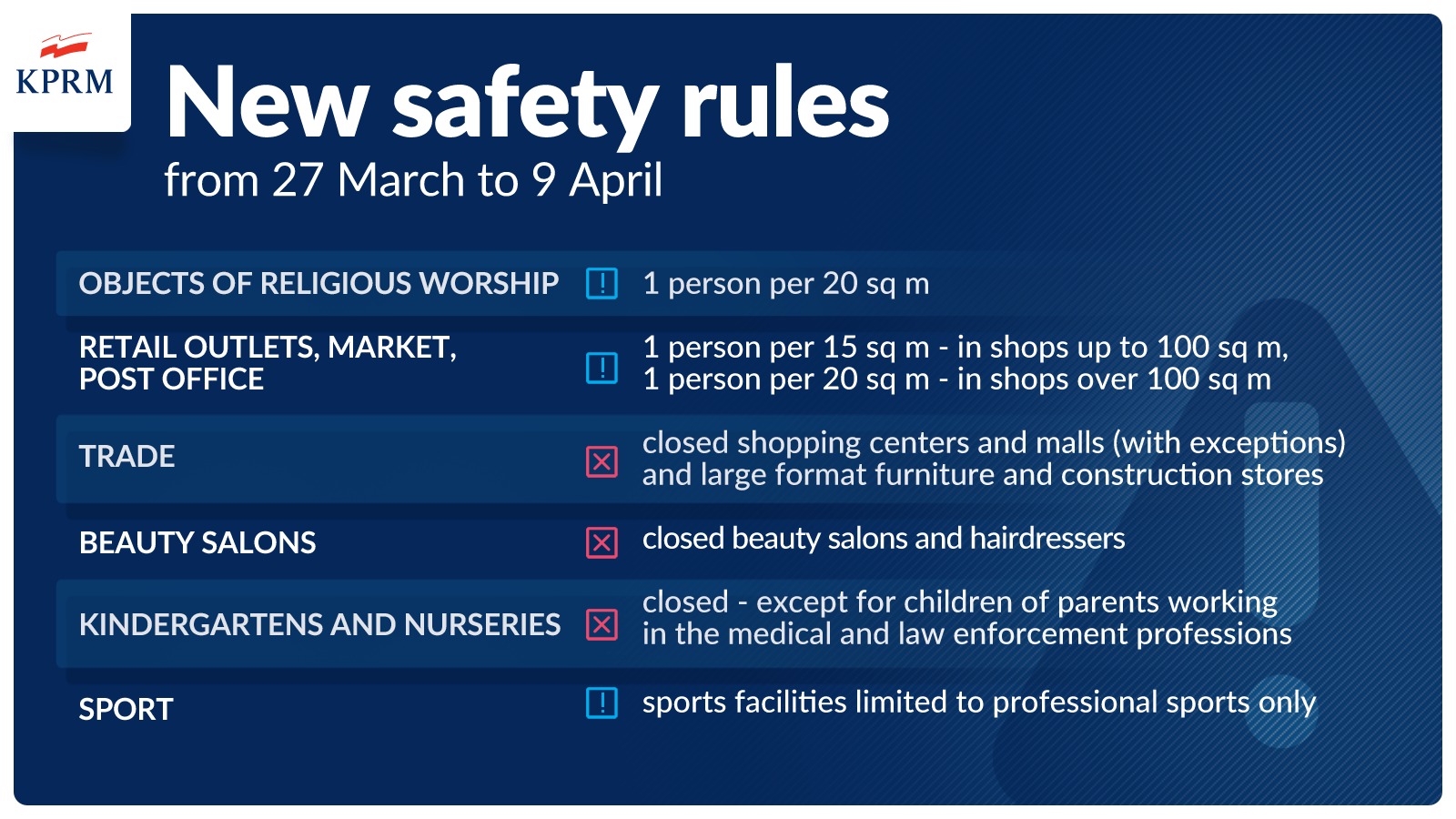 Covid-19 measures in Poland from 27 March
The Polish Government has announced further restrictive measures in response to a marked increase in Covid-19 cases in Poland, to take effect from 27 March until 9 April.
The following measures will be added:
Large furniture and construction stores (larger than 2,000m2) closed;
Hairdressers and beauty salons closed;
Crèches and kindergartens closed;
Sports facilities for professional use only.
There will be new limits on the number of people permitted in the following places:
Stores with area up to 100m2 – one person per 15m2;
Stores with area greater than 100m2 – one person per 20m2;
Churches and places of worship – one person per 20m2.
All other restrictions remain in place, including in education (remote learning for all classes) and the closure of hotels, cultural institutions and sports facilities.
Further information can be found here: https://www.gov.pl/web/koronawirus/od-27-marca-zmiany-w-zasadach-bezpieczenstwa
Travel to Poland
Please note that there is an Irish Government advisory against all non-essential travel. https://www.dfa.ie/travel/travel-advice/coronavirus/general-covid-19-travel-advisory/
There remains a requirement for all passengers arriving in Poland by public transport to quarantine for 10 days. This requirement also concerns those arriving in Poland from both Czechia and Slovakia (including in private cars).
There are limited exceptions to this, including:
Students at Polish universities;
Those who are fully vaccinated against Covid-19 (proof required);
Those who provide a negative/'not detected' test for Covid-19 on entry and within 48 hours of the test result.
Full information on all current measures can be found here: https://www.gov.pl/web/koronawirus/aktualne-zasady-i-ograniczenia
Image courtesy of the Chancellery of the Prime Minister of Poland.