Dublin: One City One Book 2020
News
13 January 2020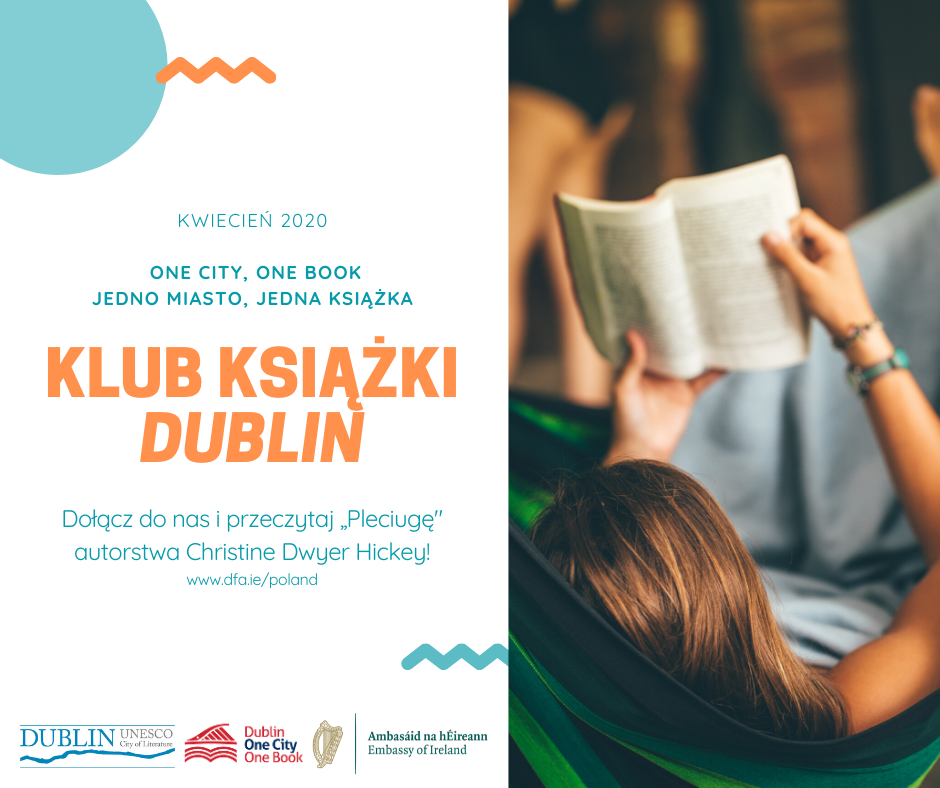 Dublin Book Club: Open Call for Organisers
Did you know that Dublin is a UNESCO City of Literature? Every year, Dublin City Libraries organise a project called "One City, One Book". This is an annual project that encourages reading for pleasure. The people of Dublin read the same book - connected with the capital city of Ireland - during the month of April every year. In 2020, the Embassy of Ireland is bringing the project to Poland!
We are sending out an open call for people all over Poland to meet for a Dublin Book Club during the month of April 2020.
We are looking for Book Club Organisers! If you would like to organise a group, we offer you:
- Up to three copies of the chosen book in English
- A customisable poster to advertise your Book Club
- Access for you and your Book Club attendees to specially curated content from Dublin about the book, delivered by email.
- A specially prepared list of discussion prompts by the book's author.
We ask you to commit to:
- Organise one meeting of at least three people who are reading or have read the book during the month of April 2020. The group can be connected to a university, a school, a library, an existing book club, or even just a group of friends meeting at home or in a coffee shop.
- Send us a photo of your Book Club meeting that we can share on Facebook
- Subscribe to our Embassy newsletter
The book chosen by Dublin City Libraries for 2020 is Tatty by Christine Dwyer-Hickey. It is available through libraries in Polish translation by Hanna Pawlikowska. It is up to you whether to read in English or in Polish and whether your book club meets in English or Polish!
Tatty is a book about a Dublin childhood, but it is also utterly universal in its themes. It is the story of a Dublin family as told through the eyes of one of its children over a ten year period. During this time we see the destruction brought about by alcoholism as one little girl tries to come to terms with her parents' drinking. This is the story of a disturbed childhood, yet it is also filled with humour and love. Chapter by chapter, the child's voice matures and her perception becomes more honed; we are left with a stunning portrait of a disintegrating family and the child lost within it.
If you would like to organise a Book Club, please contact us before 29 February 2020.