European Professional Club Rugby (EPCR) Final Bilbao, May 2018
News
09 May 2018
On Friday 11 May and Saturday 12 May, Bilbao will host the finals of the European Professional Club Rugby in the San Mamés Stadium. This page is intended as an advisory for Irish citizens who are travelling to Bilbao for these matches.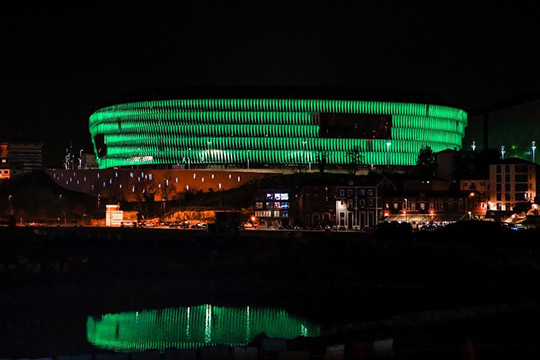 San Mamés Stadium, St Patrick's Day Greenings 2018
Know Before You Go: Travel Tips
Get comprehensive travel and medical insurance before travelling and check what it covers.
Travel with your European Health Insurance Card (EHIC) which can be applied for through the HSE.
Keep your passport in a safe place - carry your passport card on you or a photocopy of your passport (the Bilbao police will accept photocopies of passports as a form of ID).
Fill in the emergency contact details option on your passport.
Keep your valuables in a safe place.
Keep one of your bank cards and some cash separate from the rest of your valuables and avoid carrying too many valuables with you.
Beware of pick pockets in crowds, restaurants, cafés, on public transport, near ATMs and never leave your bag or belongings out of sight or unattended.
Let people know where you are and make sure you know where your friends are.
Travel well in advance to the stadium. Be aware that there will be extensive security checks when entering the stadium.
Be mindful of the items which you are prohibited to enter the stadium with; some of these items include alcohol, weapons, flares or fireworks and banners or symbols that could incite violence. Flags up to 1.0 x 1.2 meters in size, and flagpoles of flexible plastic of no more than 1.0 meter in length, are permitted.
Be mindful of higher temperatures and exposure to the sun: stay hydrated with water and take breaks.
Fixtures and Tourist Information
On the Saturday 12 May, Leinster Rugby will face French side Racing 92 in the Champions Cup final at 17:45 local time. On Friday 11 May, at 21:00 local time, Cardiff Blues and Gloucester Rugby will play in the Challenge Cup final.
Leinster Rugby publish supporter guides for away fixtures with useful information and tips, which are available on their website.
The official European Professional Club Rugby website has information in English on the city of Bilbao, the rugby finals, and the San Mamés Stadium, including travel to the stadium.
Further tourist information (in English) can be found on the official Bilbao Tourism website.
Additional tips and useful travel advice for citizens can be found on the Department of Foreign Affairs' Travel Advice for Spain and also via the Travel Wise App.
Security: general information
The local government is drawing up a helpful leaflet in English with recommendations for visitors and supporters, including information on public transport. There will be information points throughout the city and a visible police presence should citizens need assistance.
The Basque Police, Ertzaintza, are encouraging citizens to download their app, which provides useful tips and a list of police stations (in English). The app is called 'Ertzaintza' and can be downloaded from iTunes and the Google store.
You should exercise caution in large gatherings; be careful with your personal belongings, remain calm in crowds, respect the crowd restrictions at some locations and follow the instructions of the local authorities and the event organisers. Please be aware that, while crime rates are low, pick pockets may target this event. Information regarding the security situation in Spain more generally, including the threat of terrorism, can be found on the Department of Foreign Affairs and Trade's Travel Advice for Spain. You should also follow the Irish Embassy in Madrid on Twitter for travel alert updates.
Security: San Mamés stadium
The local government and the authorities are employing special measures to ensure public safety during the matches and throughout the weekend. A large police and security presence will be encountered in and around the stadium, in the fan zone (a special segregated area a 30-minute walk or 15-minute metro or car journey from the stadium that has bars where fans can watch the match on large television screens), in the city centre and at the airport and train stations.
You should allow plenty of time for all travel, in particular to the stadium – it is advised supporters arrive 1.5 - 2 hours in advance of matches. Some vehicle restrictions are likely to be in place in the city and in the area surrounding the stadium, and citizens are encouraged to travel to the stadium by public transport, metro, tram, bus or on foot.
You are advised not to bring large bags to the stadium, and to take good care of your valuables. Larger bags must be left in the cloakroom (consigna) while smaller bags, such as ladies' handbags, will be allowed into the stadium but subject to searches.
Emergency Consular Assistance
If you experience a consular emergency, please do not hesitate to contact the Embassy (see 'Useful Contacts'). Calls outside of normal office hours regarding genuine emergencies will be directed to a voice messaging service, which is monitored by a Duty Officer. Information regarding the types of consular assistance we can offer are available on our website, here.
Lost/Stolen Passport
If your Irish passport is lost/stolen, you should first contact your airline or tour operator and check whether they will accept a police report or any other ID you may have in order to facilitate your return journey.
If required, the Honorary Consulate in Bilbao (please note that there is no Honorary Consulate in Santander) can issue you with an Emergency Travel Certificate (ETC) – see opening hours and contact details under 'Useful Contacts'. Please bring
police report
2 passport size photos
a copy of your return travel itinerary
a fee of €30 in cash
any other additional ID you may have
in the case of minors, consent of both parents will have to be obtained before an ETC can be issued.
Passport photos can be obtained at the following locations:
Abando Train Station - Hurtado de Amézaga Kalea, 48003 Bilbao
Metro Station Indautxu - Indautxu Plaza, s/n 48013 Bilbao
El Corte Inglés (closed Sundays) - Alameda Recalde, 27 48009 Bilbao
Hospitals in Bilbao
Hospital Universitario de Basurto (Public)
Montevideo Etorb. 18,
48013 Bilbao
Hospital Universitario Cruces (Public)
Plaza de Cruces, S/N
48903 BaraKaldo
Clíncia Zorrotzaurre (Private)
Ballets Olaeta Kalea 4,
48014 Bilbao
Hospital Quirónsalud Bizkaia (Private)
Leioa-Unbe Errepidea, 33 bis
48950 Erandio
Useful Contacts
Emergency (police, ambulance, fire brigade etc.) call 112 – English-speaking operators available
Ertzaintza (Basque police) call +34 900 103 584
Local police call +34 944 20 50 00
Honorary Consulate of Ireland
Avda. Madariaga
1 - 2º Dep. 10
48014 Bilbao
Tel: +34 944 230 414
Fax: +34 944 230 414
E-mail: rcaira@icasv-bilbao.com
***Special opening hours for 12, 13 & 14 May: 10.00 – 12.00***
For out-of-hours emergency assistance, call the Embassy (see below)
Embassy of Ireland
Paseo de la Castellana, 46-4, 28046 Madrid (metro Rubén Darío, Line 5)
Public Counter: Mon – Fri 09.00 – 14.00
Telephone Line: Mon – Fri 09.00 -17.30
Tel: +34 914364093 (in case of an emergency outside of opening hours please leave a message and your number and the Embassy's Duty Officer will return your call)
Fax: +34 914351677
Email: madridembassy[at]dfa[dot]ie (email account monitored Mon – Fri 09.00-17.00)
Web: www.dfa.ie/spain
Twitter: @IrlEmbMadrid