Embassy supports dialogue forum on ending FGM, early marriage and teenage pregnancies
News
08 October 2018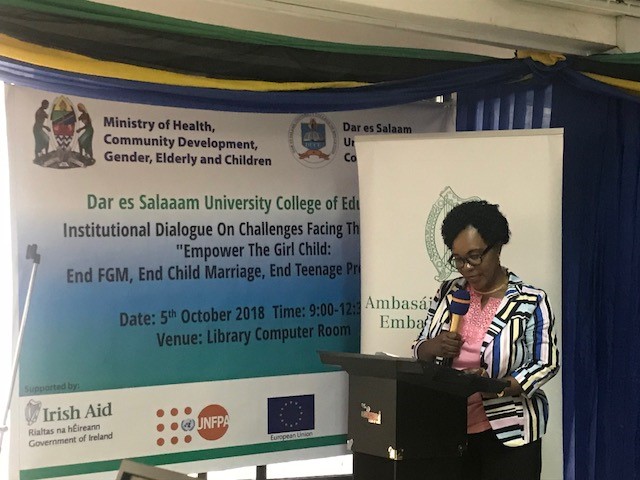 Embassy supports dialogue forum on ending female genital mutilation, early marriage and teenage pregnancy
The Embassy of Ireland today supported a dialogue forum on ending female genital mutilation (FGM), early marriage and teenage pregnancy, held at the Dar es Salam University College of Education (DUCE). The event forms part of a series of dialogues on these issues, organised by the Ministry of Health, Community Development, Gender, Elderly and Children, European Union (EU) and the United Nations Population Fund (UNFPA), which are taking place in advance of the International Day of the Girl Child. The dialogues will feed into a three-day National Dialogue involving stakeholders from across Tanzania, which will take place in Dar es Salaam from the 9th – 11th October.
Today's event was organised to provide a platform for over 100 young academics to engage on the important issues of addressing the continued prevalence of FGM, teenage pregnancy and child marriage in Tanzania. The discussions were informed by presentations on research and programmes conducted by DUCE. The Irish Embassy will support a three year partnership between DUCE and Universities in Ireland that will provide PhD and post-doctorate training for Tanzanian academics working on gender issues. It aims to strengthen research and teaching capacities in Tanzania and to develop DUCE as a centre for excellence in gender education.
The Irish Ambassador to Tanzania, Paul Sherlock, addressed today's dialogue, emphasising that the rights of women and girls are high on Ireland's agenda. He highlighting the speech of Ireland's Deputy Prime Minister and Minister for Foreign Affairs at the UN General Assembly in New York last week in which he said:
"We must go beyond rhetoric in our efforts to empower women and girls. Gender equality cannot be seen as a gift to be granted, but rather as a fundamental driver which can underpin real improvements in the lives of all of our people".
Ambassador Sherlock also spoke of Ireland's partnership with DUCE and the crucial role that higher education institutions can play in promoting gender equality and ending FGM, early marriage, and teenage pregnancy:
"Higher Learning Institutions are important sites where gender norms and cultural practices can be examined and where evidence can be produced to enable policy makers to take evidence based decisions. Teacher-training colleges also play an important role in shaping the attitudes and social norms of new teachers. This can have a major influence on the performance and attitude of new teachers and encourage them to become role models and agents of change towards gender equality and women's empowerment."