Remarks by Ambassador Daniel Mulhall at St. Brigid's Day Women in Politics panel discussion
Speech
07 February 2019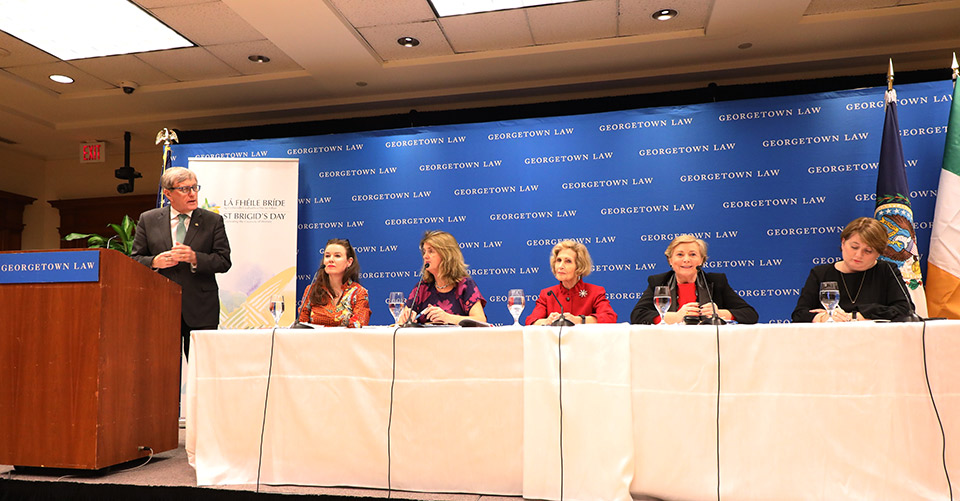 Women in Politics
St. Brigid's Day panel discussion
Georgetown Law Center, 7 February 2019
Ambassador's Opening Remarks
Cathaoirleach, Teachtaí Dáile, Congresswomen, Ambassadors, Friends, a Dhaoine Uaisle,
Céad míle fáilte romhaibh anseo anocht do ceiliúradh Lá Fhéile Bríde.
A hundred thousand welcomes to our celebration of Brigid's Day.
As Ambassador of Ireland, I've addressed a couple of gatherings hosted by the Friendly Sons of St Patrick. When I meet the Friendly sons, I invariably confess my enthusiasm for that other great Irish saint, Brigid of Kildare. We know less about her than we do about Patrick, but that's part of her attraction. She can be a focus of our collective Irish imagination.
I can't tell you what a distinct pleasure it is tonight to host an event in honor of what we might consider the daughters of St Brigid - the Irish and Irish-American women who've made such an outstanding contribution to the United States, not least here in the Capitol.
Our celebration is framed around Brigid's Day, which in Ireland marks the beginning of spring, although climatically that designation is more an expression of hope than of expectation. But the timing is fitting for other reasons too.
Because in this week, one hundred and fifty one years ago in London, Constance Markievicz was born.
Fifty years later, with the advent of women's suffrage, she became the first woman to be elected to – as well as the first to decline a seat in - the British House of Commons. The election of December 1918 was a transformative one for Ireland when a greatly-expanded electorate opted to elect candidates who favoured outright independence rather than the traditional Irish Party goal of Home Rule. It cannot be a coincidence that the first election in which Irish women had the right to vote produced this radical departure from established political patterns in Ireland.
Instead, alongside 72 other elected Irish parliamentarians, she chose to take a seat in Dublin's Mansion House in a new Dáil, Ireland's first democratically-elected parliament.
Though like many other of its elected members, she was imprisoned at the time the first Dáil convened in January 1919, but was released soon after.
And in April of that year, a century ago, Markievicz was appointed as Minister for Labor, the first woman in the world to hold that post.
At that same time, on this side of the Atlantic, another trailblazer was changing the shape of American politics.
Montana's Jeannette Rankin said on her election to Congress in 1916: "I may be the first woman member of Congress. But I won't be the last".
Like Markievicz, Rankin was a committed suffragist.
And like her, she was a powerful advocate for Ireland's freedom.
In 1918, the year of Countess Markievicz' s historic election, Congresswoman Rankin submitted a resolution to the House urging President Wilson to "recognize the right of Ireland to political independence" , and to include Ireland "among those countries whose freedom and independence we are fighting for".
Tonight, we reflect on how far Ireland and the US have travelled in the century since Countess Markievicz and Congresswoman Rankin shattered those first political glass ceilings.
We ought also to think about how far both our polities still have to go to realise the inclusive vision for which they strove.
And on what, perhaps, we might learn from one another in building on the progress that has been made.
But while striving always to improve, we should also celebrate the achievements of today.
As was vividly apparent in the Capitol during this year's State of the Union address, the 116th Congress is the most diverse in history.
So too is Ireland's 32nd Dáil.
Alongside the speaker of our Senate, Denis O'Donovan, it's my great privilege this evening to welcome three current members of our parliament, Aengus O'Snodaigh, Joan Burton and Frances Fitzgerald.
Deputies Burton and Fitzgerald are both former Tánaiste – or Deputy Prime Ministers – of Ireland.
And we also welcome Ciairín de Buis, CEO of the Irish NGO, Women for Election, and our moderator Niamh King, of the Chicago Council on Global Affairs. Our Irish panellists will speak to their experience as leading campaigners for gender equality in our national parliament and across our society.
Deputies Fitzgerald and Burton are both founding members of the Irish Women's Parliamentary Caucus.
And last year in Dublin they hosted the world's first International Congress of Parliamentary Women's Caucuses, welcoming female parliamentarians from more than 40 countries – including the US – to consider how, together, we might advance gender equality globally.
It's fitting, then, that they should be joined on our panel this evening by a woman who has devoted much of her stellar political career to the work of the Congressional Caucus on Women's Issues here in Washington.
Like her namesake Constance Markievicz, Constance Morella is a trailblazer.
Sixteen years a member of the House of Representatives, Connie Morella was amongst the strongest voices in the Congressional Caucus on Women's issues, which she chaired through the 104th Congress.
Having served as US Ambassador to the OECD, she's now Ambassador in residence for the Women in Politics Institute at American University.
And a leading member of the board of the Women's Congressional Policy Institute. No one is better placed than she to comment on the significance of this historic 116th Congress.
Friends,
The Irish contribution to the US is a profound one. So perhaps it should come as no surprise that an Irish American should have played a central role in the founding of the Congressional Caucus on Women's Issues, 32 years ago.
Margaret O'Shaughnessy Heckler, the daughter of Irish immigrants to Boston, was the Caucus's founding co-chair in 1977.
Like Ambassador Morella, she served sixteen years in the House with great distinction and was too appointed as an Ambassador by a Republican President - in her case becoming the first woman to serve as US Ambassador to Ireland.
Ambassador Heckler passed away on August 6th last year.
But her legacy endures. Reflected, above all, in the strength of the Congressional Caucus today.
This evening, in the presence of her family – her daughter Belinda and daughter-in-law Kim - I wish to recognise on behalf of our Embassy and our state the great service the Ambassador did in strengthening transatlantic bonds and in advancing female political leadership in the country of her heritage, as well as that of her birth.
Tonight's event is one of seven Ireland's Embassy and Consulates are hosting across the United States this year to mark Brigid's Day.
Covering politics and poetry, academia and arts, high finance and hard sciences, our programme aims to recognise and celebrate the creativity of Irish and Irish-American women. In an effort to tell a small part of the remarkable story of Irish women in America, you will find some of their stories on postcards that are dotted around the room.
Of course, as most of you know, Irish celebrations have a tendency to stretch, both across oceans and across time.
Hard as it may be to credit, there was a time when St Patrick's Day was really just a single day. Gradually, it became a week.
And now before this month is out, my extensive green tie collection will begin to come into its own. There is a reason why we have forty shades.
Our celebrations of St Brigid's Day, which falls on 1st February, are no different. In fact, they will stretch from now until March which, in addition to being Irish-American heritage month, also marks Women's History month here in the US.
Reflecting that, this year we will celebrate our Taoiseach's annual visit to Washington with a new exhibition - entitled Blazing a Trail - profiling the legacy of 17 extraordinary Irish-American women, including Ambassador Heckler, who left a lasting imprint on US history.
And with a gala dinner, hosted by the American Ireland Funds and dedicated to today's trailblazers.
Another of DC's great institutions, Georgetown and specifically the Global Irish Studies Initiative must also be recognised for the part they have played in hosting this evening and in celebrating extraordinary Irish women with us.
Now for an evening dedicated to Irish women, you've heard enough I think from an Irish man. Let me end just by saying this.
Last week, I had the privilege of hosting Mary Robinson, Ireland's first female President and later UN High Commissioner for Human Rights.
On her election in 1990, President Robinson famously declared ''I was elected by the women of Ireland, who instead of rocking the cradle, rocked the system.''
In the 116th and the 32nd Dail, across Ireland and America, female leaders are rocking the system like never before.
How Congresswoman Rankin, Countess Markievicz, and Ambassador Heckler would have approved!
Thank you for your attention. Let's get on with discussing part of the legacy of St Brigid and the women of Ireland.