Global Irish Newsletter 27 April 2020 - a Message from Minister Cannon
News
28 April 2020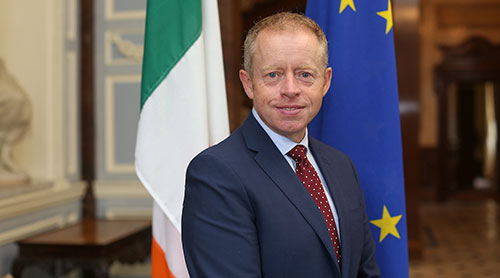 The Covid-19 pandemic continues to affect many Irish communities around the world. The Irish Government are acutely conscious of this and I want to reassure you that we are doing what we can to support you at this time. At a recent meeting of the Cabinet, the Government recognised the unique role which Irish community organisations can play in supporting our Diaspora. In response to the crisis, many of these organisations have adapted to maintain services to the most vulnerable members of our communities, in particular to the elderly. We will support these efforts over the coming weeks with a particular emphasis on:
protecting the elderly and mitigating the impact of social isolation;

meeting the needs of those made vulnerable by the crisis and responding quickly and effectively to cases of particular hardship;

providing additional mental health supports and bereavement counselling.
The response of many Irish communities across the world has been inspirational. They have reached out to protect, support and connect with people facing hardship or at risk of isolation because of the spread of this terrible virus.

In Leeds, for example, Irish community organisations have responded impressively to meet the needs of their community. They have organised themselves to connect with those at risk of isolation through phone calls, pen-pal letters with local schools and assisting with food and medication deliveries for those who are at risk. The cooperation between the sporting, welfare and the culture and heritage organisations in Leeds is a model for other Diaspora communities and I am delighted that they have already begun to share their experience with other Irish organisations in Britain.

In New York, Sláinte 2020 was launched on April 17th by five long established and respected Irish not-for-profit organizations: The Emerald Isle Immigration Center, New York GAA, United Irish Counties Association, Aisling Irish Community Center and New York Irish Center. In his article, Frank Brady of the New York GAA underlines the commitment of the New York Irish "to keep our communities together and support them by alleviating some of the stress and anxiety during this time of uncertainty and upheaval. No one organization can do it alone, but by joining forces and working together we hope to make a meaningful difference in the lives of those in our community who most need assistance." I know that their actions will make a real difference to many of the Irish in New York who are in need of support at this critical time.

As a proud Connacht representative, I am delighted to be able to promote Mayo Day 2020, which will take place on Saturday 2 May. Mayo Day is a wonderful opportunity for the Mayo Diaspora to re-connect with their families and their great heritage. While 2020 will not be an opportunity to pay a visit on Mayo Day, I hope that it will encourage the Mayo Diaspora to begin planning a visit home for in May next year.

Finally, Safe Home Ireland will be hosting a Facebook Live Concert on Saturday 2nd May, involving a fantastic line up of singers/performers from right around the world. I feel particularly honoured to have been asked to participate in the event also. I think it will be a great night.
Beir bua agus beannacht,

Ciarán Cannon T.D.
Minister of State for the Diaspora and International Development