Launch of Back for Business
News
12 October 2017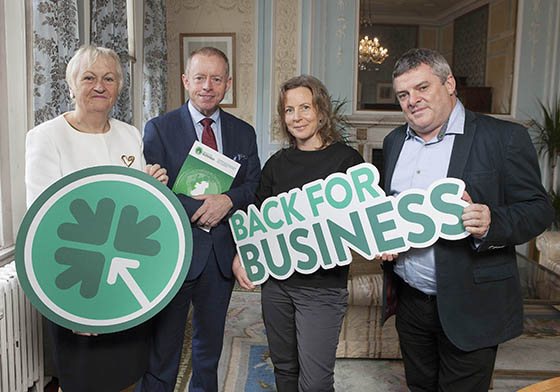 Minister of State for the Diaspora and International Development, Ciarán Cannon T.D. has today launched Back for Business, an exciting new initiative to support entrepreneurial activity among emigrants returning or recently returned to live in Ireland.
For returning potential entrepreneurs, time spent out of the country can often result in their local knowledge, contact base and professional and personal networks being less developed than those of typical entrepreneurs. Back for Business is designed to bridge this gap.
This six month part time development programme is aimed at assisting returning emigrants to start or develop businesses by addressing the challenges that all early stage entrepreneurs face, with a particular focus on the additional barriers and challenges faced by those who have been out of the country for some time.
This pilot initiative is based on peer support and an applied learning model. It involves entrepreneurs supporting entrepreneurs meeting in round table sessions, focused on goals and milestones and facilitated by volunteer Lead Entrepreneurs, who have experience of successfully starting and growing a business. This approach is well proven as being effective in bringing about increased motivation and confidence among entrepreneurs and having a positive impact on their enterprise development.
Back for Business will run from November 2017 to May 2018. As the initiative is fully funded by the Department of Foreign Affairs and Trade, there is no charge to those who are selected to participate. Announcing the initiative Minister Cannon said:
'I am delighted that my Department is supporting this exciting new initiative, Back for Business. Irish people who have travelled, or spent a number of years out of the country, often have exceptional entrepreneurial skills. The challenge is to maximize this potential for the benefit of the individuals returning and their families and also for the benefit of the communities in which they will locate across the country'.
The call for applications is now open and those interested in learning more can download the brochure from www.backforbusiness.com and register their interest in receiving an application form - The closing date for receipt of fully completed application forms is Tuesday 31 October 2017.
For more information you can also contact:
Paula Fitzsimons, Director, Back for Business
Email: paula@backforbusiness.com
Tel: 087 2774385