Presidential Distinguished Service Awards for the Irish Abroad 2017
News
09 October 2017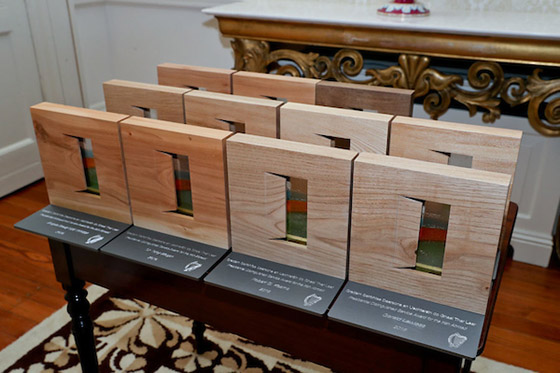 Presidential Distinguished Service Awards for the Irish Abroad 2017
Minister for Foreign Affairs and Trade, Mr Simon Coveney, T.D. announces the recipients of the Presidential Distinguished Service Awards for the Irish Abroad for 2017
Following last weeks Government meeting, the Minister for Foreign Affairs and Trade, Mr Simon Coveney, T.D., today announced the names of the recipients of the Presidential Distinguished Service Award for the Irish Abroad for 2017.
The Presidential Distinguished Service Award was established by the Government following the 2011 Global Irish Economic Forum as a means to recognise the contribution of members of the Irish diaspora, and the first awards were made in 2012.
The Awards will be presented later this year by President Higgins.
Announcing the recipients of the award, Minister Coveney said:
"I am delighted to have the opportunity to formally recognise the achievements of these ten members of our diaspora. These remarkable people have provided a sustained service and commitment to Ireland and Irish communities abroad, and it is fitting that they have been selected to be honoured by the President."
"This is the sixth year in which recipients have received this Award, and the ceremony remains a very important opportunity to acknowledge those who have helped to build and expand our reputation across the globe."
"The diverse contributions of these individuals extends across six different categories, and the impact of their work and dedication is evident across a number of countries."
Ciarán Cannon T.D., Minister for Diaspora Affairs and International Development, added:
"As Minister of State for the Diaspora I am aware of the profound impact our global family has had around the world in a variety of fields. There were 95 nominations for these awards this year, and the level and breadth of the achievements of the people nominated are, by any measure, remarkable."
"That the recipients of these awards represent Ireland to the world should be an immense source of pride to all of us, as it is to me, and I am glad that we have the opportunity to acknowledge them as such."
The full list of recipients of the Presidential Distinguished Service Awards in 2017 is:
Arts, Culture and Sport
Bernard Canavan (Britain)
Liam Neeson (US)
Business and Education
Patricia Harty (US)
Charitable Works
Denis Mulcahy (US)
Mary T. Murphy (Ethopia)
Irish Community Support
Hideki Mimura (Japan)
Jacqueline O'Donovan (Britain)
Peace, Reconciliation and Development
John de Chastelain (Canada)
Marianne Elliot (Britain)
Science, Technology and Innovation
William Campbell (US)