Minister Cannon's St Patrick's Day Message
News
16 March 2018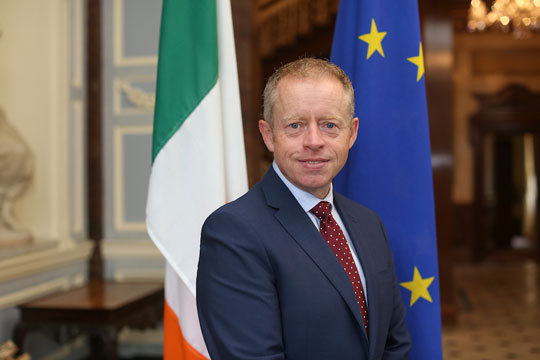 Lá Fhéile Pádraig Shona Daoibh - Happy St. Patrick's Day.
St. Patrick's Day has fast approached and I know that Irish people around the world have spent the last few weeks, if not months, making preparations to celebrate the day with their Irish community and also the wider community wherever they are.
Dublin's St Patrick's Day Festival aims to attract more people than ever and I know the same is true of the big parades in America, Australia, Britain, and Canada. I am delighted that we can support many St Patrick's Day parades and festivals worldwide through the Government's Emigrant Support Programme. We will also see the occasion marked again by the Global Greening programme, which this year will see over 300 stadiums, statues, museums and towers go green to celebrate our St Patrick's Day.
This year will see the Irish Government visit nearly 40 countries over the St Patrick's Day period. These engagements provide a unique opportunity to promote Ireland on the international stage, and to renew the strong bonds between Ireland, the global Irish abroad, and our partners around the world.
I am currently visiting Chicago, a city famous for its Irish community, a community which is now at the forefront of celebrating Irish history, culture and connections. I have a packed programme which will see me meet not only with the leaders of Chicago's political and business communities but also with many of the Irish organisations which form an integral part of Chicago's civic community.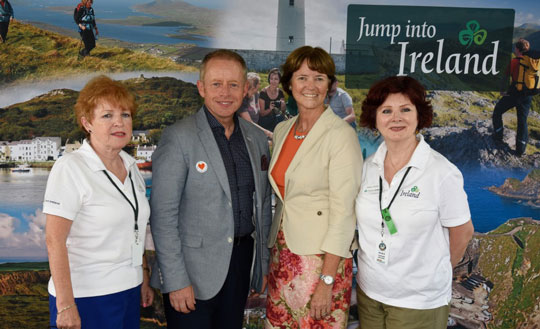 In recent weeks I have been fortunate to meet great Irish people and groups in the Middle East and in the US. In Qatar and Kuwait I had the chance to meet some members of the relatively new, but fast growing, Irish community. I was impressed by the positive effect that even a small number of Irish people were having on their host countries. I got to see first-hand the crucial business roles that Irish people are filling as well as hearing about the cultural and sporting activities that the Irish communities are undertaking to stay in touch with each other and with Ireland. One such organisation is the Kuwait Harps GAA Club.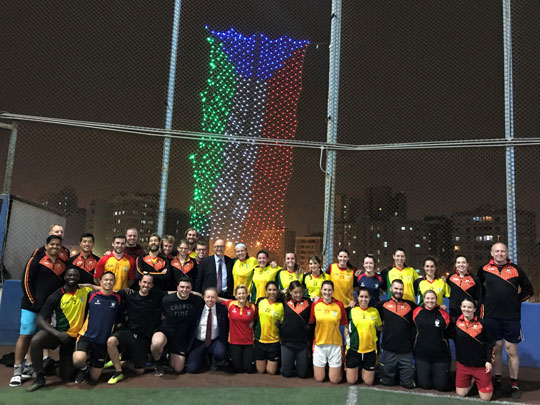 During my visit to Philadelphia I launched a new Foróige Club, the first ever outside the island of Ireland. Foróige is an organisation that takes its name from 'Forbairt na hÓige, or 'the development of youth'. This exciting new Club represents a further development of ties between America and Ireland and between the young people of both nations. In New York I also came across the amazing story of New Haven GAA club who through their community spirit and perseverance moved a mountain to create a GAA pitch that could benefit the Irish of Connecticut. This short film tells their tale.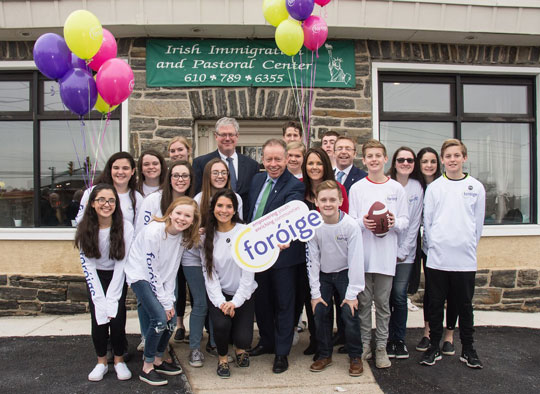 Finally I've also been focused in recent months on reducing the challenges that Irish emigrants face in returning to Ireland. It has been a priority of mine to reduce these challenges and already over the last decade my Department has provided over €4 million to Irish organisations that assist returning Irish emigrants.
Late last year I commissioned an independent economic report into the challenges faced by returning emigrants. The economic report will inform Government policy and actions in addressing these challenges. I am pleased that I have been able to recently publish this report in full on the Global Irish Hub website here.
I would like to take this opportunity to thank the many people who have made submissions to the report and to me. The more information we get on the difficulties that people are facing the better we can work to address them. I will continue to work in ensuring that moving home is as pleasant an experience as it can possibly be for all of our returning emigrants.
Beir bua agus beannacht,
Ciarán Cannon