Minister Cannon's visits to New York and Leeds
News
09 October 2017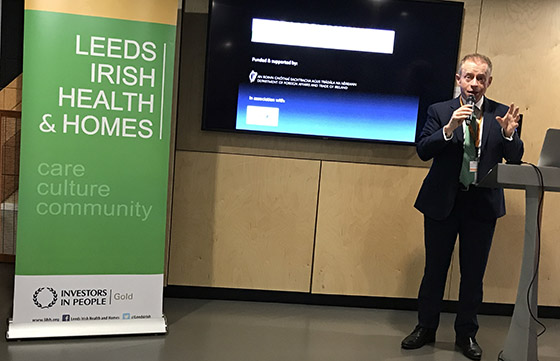 Minister Cannon speaking in Leeds
The last few months have been a busy period and I have been fortunate to have visited Irish communities in American and Britain. I have a busy schedule of events ahead and it is my goal to meet more Irish communities no matter where they are in the world.
In September I had the pleasure of visiting New York both as part of my work as the Minister for the Diaspora and Minister for International Development. My visit was hugely useful in making connections with New York's Irish community. I was honoured to be able to meet representatives of organisations working on supporting Irish culture and history as well as those providing social services, including to our undocumented citizens.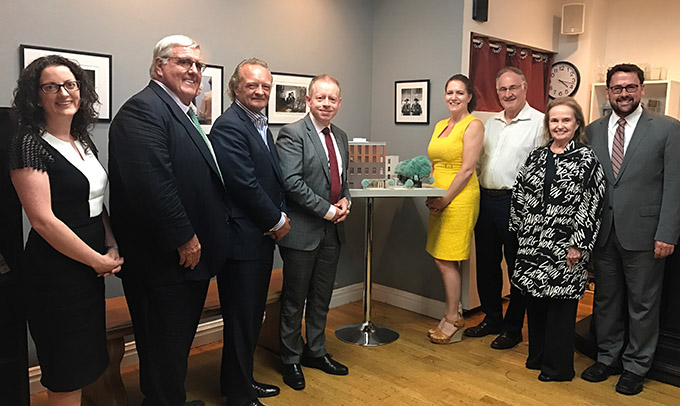 Minister Cannon, with board members, at the New York Irish Arts Center
The social services that the Emigrant Support Programme funds are an ongoing priority for the Government and I had productive discussions with the Aisling Irish Center, the Emerald Isle Immigration Center, the New York Irish Center, the Irish Immigration Center in Philadelphia, the Coalition of Irish Immigration Centers and Senator Billy Lawless on this issue. I was also happy to note that I was able to award funding of over $1.8 million for welfare provision in the U.S. under this year's Emigrant Support Programme.
It was also my pleasure to meet with the Irish Business Organisation of New York and to hear from a broad range of the Irish community at a networking event hosted at the Consulate General. I was reassured to see that the Irish community in New York are well organised and engaged in fully representing one of Ireland oldest and greatest overseas communities.
In September I also had the pleasure of visiting Leeds in the United Kingdom. My visits to the Leeds Irish Centre, Leeds Irish House and Homes and Leeds Gypsy and Traveller Exchange provided me with the opportunity to see Irish organisations representing and supporting some of the most vulnerable members of our global Irish diaspora.
I took the opportunity to again reaffirm Ireland's support for its citizens overseas regardless of the outcome of the Brexit negotiations. The Government's support for Irish people will remain in place over the coming years, not just in Britain but for those around the world.
Looking ahead, the Presidential Distinguished Service Awards for the Irish Abroad will be awarded in November. This year's recipients have recently been announced and I look forward to meeting each of them and officially acknowledging their achievements and contribution at the award ceremony in Áras an Uachtaráin.
Is mise le meas,
Ciarán Cannon
Minister of State for International Development and the Diaspora