St. Brigid's Day 2021
News
01 February 2021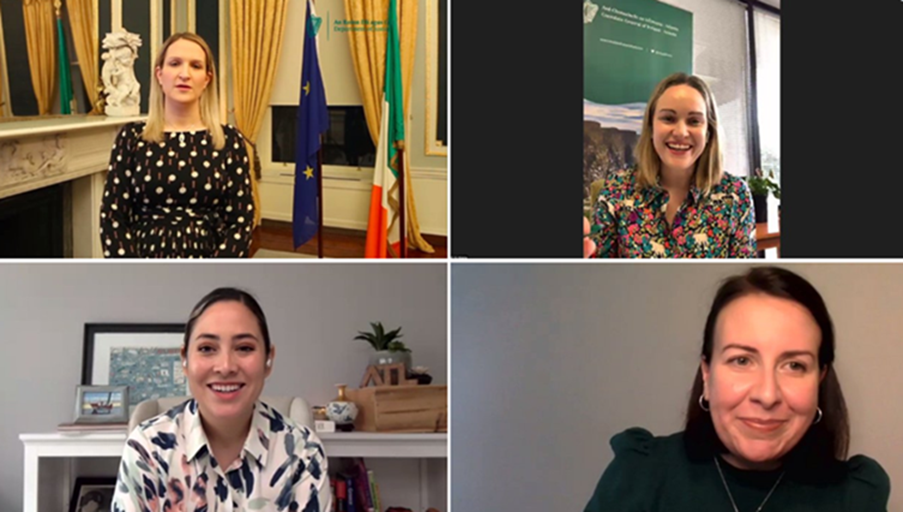 Ireland's Minister of Justice, Helen McEntee TD, Ciara O'Floinn, Consul General of Ireland in Atlanta, Vanessa Ibarra, Director of the Mayor's office for International Affairs in Atlanta, and Sarah Keane, Vice Consul in Atlanta
They say that behind every successful woman is a tribe of other successful women who has her back. As women we would love nothing more than to see a diverse community of women who empower one another. As we empower other women, they in turn become change agents in their own communities and around the world, empowering other women.
This year, to celebrate St. Brigid's Day, the Consul General of Ireland and Irish Network Atlanta hosted a Virtual Coffee Morning Discussion entitled "Empowering Women in 2021" with opening remarks from Ireland's Minister of Justice, Helen McEntee TD. The discussion featured Ciara O'Floinn, Consul General of Ireland in Atlanta, and Vanessa Ibarra, Director of the Mayor's Office for International Affairs in Atlanta. Vice Consul, Sarah Keane, moderated a lively exchanged between CG O'Floinn and Ms. Ibarra about their personal and professional experiences of empowerment, along with the challenges, and how we can support women in Atlanta and beyond in 2021.
We had a lovely turn out with over 60 people joining us virtually and were so pleased they were able to join us.