Visit by Minister Michael D'Arcy to Charlotte, Anderson, Atlanta and Savannah
News
23 March 2018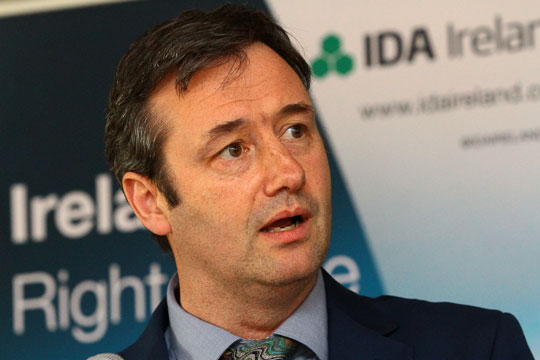 Visit by Minister Michael D'Arcy to Charlotte, Anderson, Atlanta and Savannah. Credit Billy Galligan.
From 13-18 March, Ireland's Minister for Financial Services and Insurance, Michael D'Arcy TD, undertook a busy three State programme where he met with local political leaders, championed Irish companies, communicated the strengths of our financial services sector and participated in St Patrick's Day celebrations with our diaspora.
Highlights of the trip included meetings with Georgia Governor Nathan Deal, the President of the Atlanta Fed, Raphael W. Bostic, Savannah Mayor Eddie DeLoach and visits to the premises of cutting-edge Irish firms E+I Engineering, Mergon and FINEOS. The Minister also spoke at excellent FinTech events hosted by the Charlotte Chamber and the Metro Chamber of Atlanta and joined the Savannah Economic Development Authority for the launch of the Savannah-Wexford TradeBridge. The finale was participating in the huge and wonderful 194th Savannah St Patrick's Day Parade. The visit was supported by the Consulate General, Enterprise Ireland and the IDA.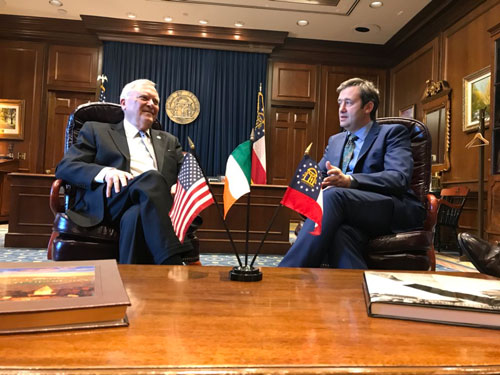 Warm welcome by Georgia Governor Nathan Deal for a discussion of bilateral investment and trade and academic and heritage connections.

Minister D'Arcy spoke on "The U.S.-Ireland Connection and the Future of FinTech" at the Charlotte Chamber's Economic Growth Breakfast at AvidXchange. He also participated in a panel with Tariq Bokhari, Executive Director of the Carolina Fintech Hub, Jay Plueger of AvidXchange, Luke Nestor of Irish FinTech firm Rockall Tech and Douglas McDowell of SentryOne, which is currently establishing an office in Dublin.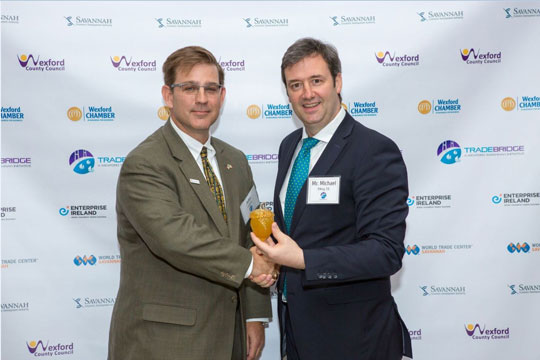 Celebrating the launch of TradeBridge, a trade development partnership between Wexford County Council and the Savannah Economic Development Authority (SEDA), with SEDA vice chairman John Coleman.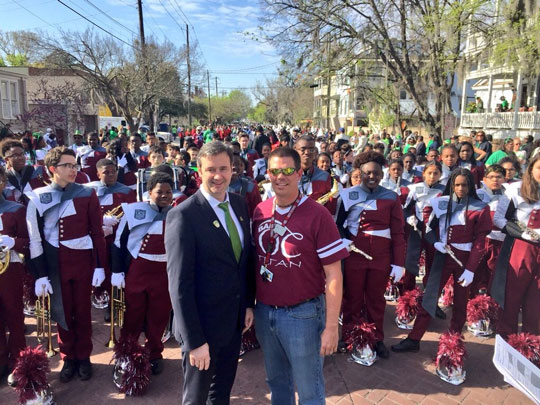 Minister D'Arcy was honoured to lead the Irish delegation in Savannah's St Patrick's Day Parade.