2022 Round up of Events and Activities
02 June 2022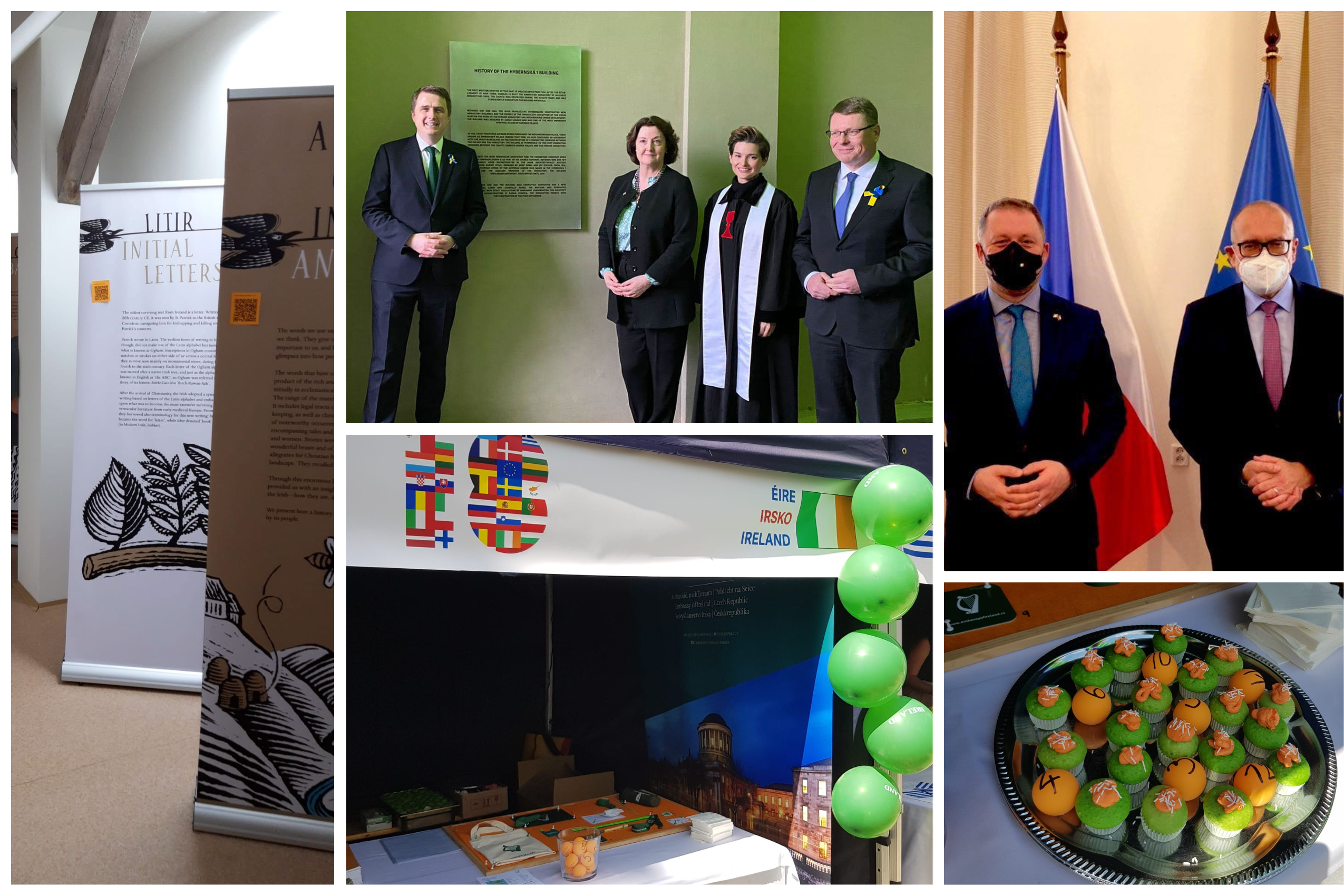 February
Minister Byrne's visit In February, Minister of State for European Affairs Thomas Byrne T.D., visited Prague for a number of business and political meetings with representatives of the Czech government and Irish companies in the Czech Republic. The meetings were beneficial for both sides and hopefully will lead to further cooperation between Czech Republic and Ireland in political and economic matters.
Launch of Narrative 4 Project at DOX On February 9, DOX Centre for Contemporary Art launched its educational programme "Příběhem" inspired by the methodology of Narrative 4, which was founded by Irish writer Colum McCann. Minister Byrne and Ambassador Manahan were proud to launch the Narrative 4 programme and we look forward to future programmes!
Ireland in 10 words The Embassy delivered the travelling exhibition "Ireland in 10 words" to its first stop at Gymnázium Benešov with Czech, English and Irish translations. The exhibition will make its way to other Czech schools so students from the whole Czech Republic can learn about Irish language and history. Currently, the exhibition is at the Sunny Canadian International School. If you are interested in the exhibition, do not hesitate to contact us, we will be happy to send it to your school.
March
International Women's Day – students at the residence On March 8, International Women's Day, the Embassy welcomed students from Trinity College Dublin SOFIA – Society for International Affairs for an informal lunch with Ambassador Manahan. Students shared their views on current political and social challenges as well as important issues as gender equality, diversity and climate change.
Festival of Irish Literature, Culture and Language Ambassador Manahan visited the Technical University in Liberec to launch the very first Festival of Irish Literature, Culture and Language. The festival offered a diverse programme of lessons of Irish language, literature and cultural events. Award-winning movie Dating Amber was screened and the university was also the second stop for the exhibition "Ireland in 10 words".
St. Patrick's Day This St Patrick's Day, we welcomed Minister of State at the Department of Justice James Browne T.D. to Prague. Against the backdrop of the unfolding war in Ukraine Minister Browne met with several local political, business, civil society and Irish community partners to discuss the pressing issues facing Ireland, Czech Republic and people fleeing the war in Ukraine. Minister Browne also visited the refugee reception centre in Prague, it was humbling to see the tireless work of all the institutions and volunteers involved in the response. Minister Browne expressed his solidarity with Czech Republic, Ukraine and the hundreds of thousands of refugees who had fled the war.
On St. Patrick's Day, Minister Browne visited Sunny Canadian International School where he was met by group of enthusiastic students who were very keen to learn more about Ireland. Minister Browne also met with Mayor of Prague 1, Petr Hejma, Minister Browne at the original building of the former Irish Franciscan Monastery in Prague.
May
Europe Day The Embassy of Ireland joined our friends and colleagues from EU Embassies in Prague to celebrate Europe Day at Střelecký ostrov, an annual event organized by the European Commission in Prague. At the Irish stand, visitors took part in a quiz about Ireland and won prizes, as well as learning something new about Ireland. The event was very successful with hundreds of attendants. This year the main theme was solidarity with Ukraine.