Irish Interest Events Summer 2023
News
14 July 2023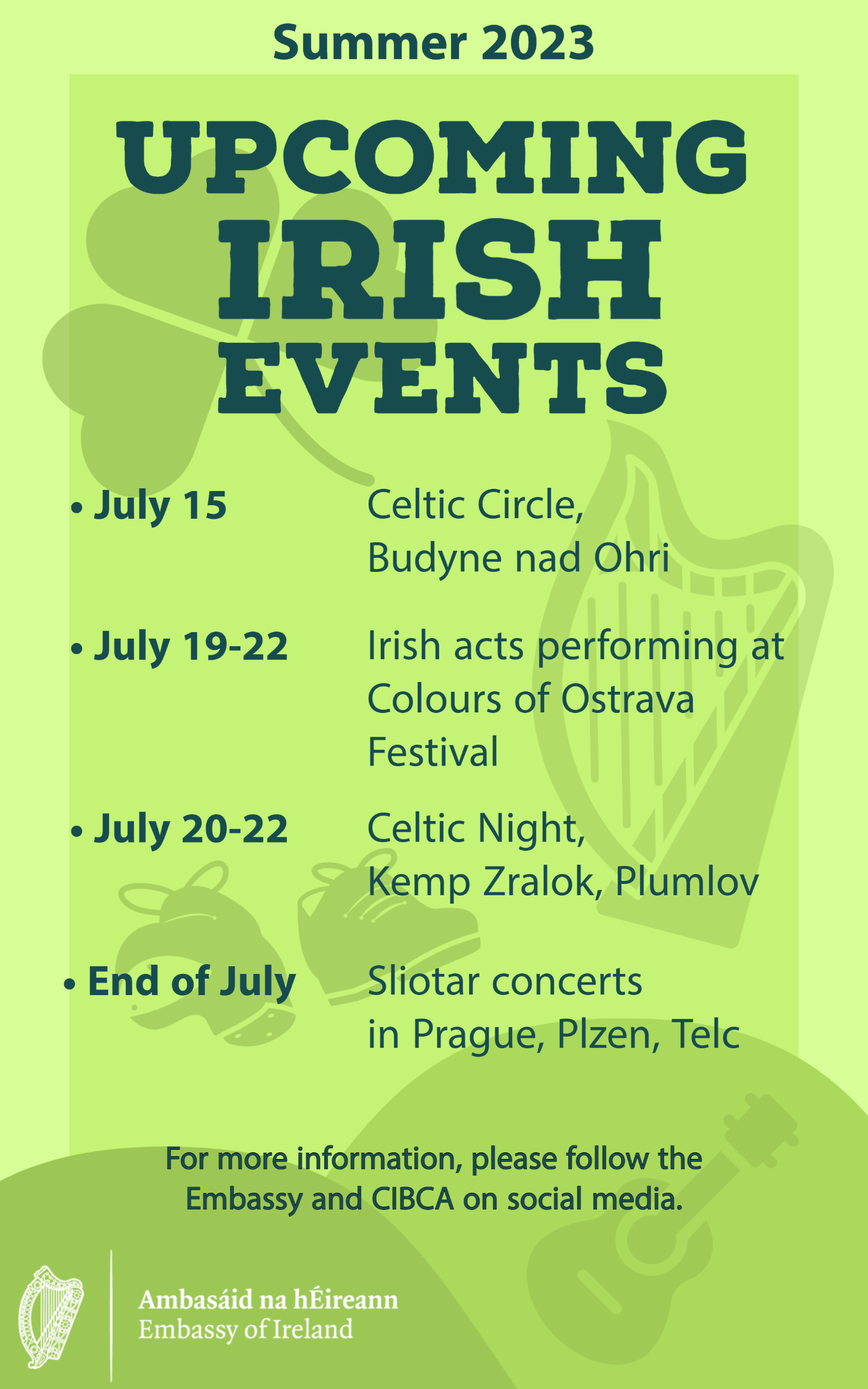 Summer Events 2023
July 15 – Celtic Circle/Keltský kruh, Budyně nad Ohří
Come visit a slightly different festival of "Celtic" culture. You will hear and see performers who shaped the Celtic music scene at the turn of the millennium. During the day, you can attend Irish dancing lessons, listen to Celtic bands or learn about the fascinating Celtic culture. Tickets and more information available here.
July 19-22 - Colours of Ostrava festival, Ostrava
The largely popular music festival Colours of Ostrava is featuring two Irish interprets this year! On Thursday, July 20, you can listen to one of the main headliners of the festival and one of the most popular current Irish musicians, Niall Horan. On Friday, July 21, you can listen to an Irish post-alternative punk group The Clockworks. More information about the festival and the whole programme available here.
July 20-22, Celtic Night/Keltská noc, Plumlov
Celtic Night Plumlov will celebrate its 20th anniversary this year! Celtic Night is actually a three festival that features 20 bands and 150 performers from 12 countries. Detailed information about the programme available here.
End of July – Sliotar concerts, Prague, Pilsen, Telč
Sliotar has been pushing the boundaries of modern folk and Celtic music for two decades and you can hear this experience in their sound. Sliotar tour has three stops planned in the Czech Republic. The first one will take place on July 25 in Vagón klub in Prague, the second one on July 26 in Zach's Pub in Plzeň and the last one on July 31 in Telč. More info about the tour available here.
Information provided for those interested in all things Irish taking place in the Czech Republic. The Embassy is not affiliated with these events. If you would like to feature an Irish event in the next edition, please contact us.