Upcoming Culture Activities and Events
News
02 August 2022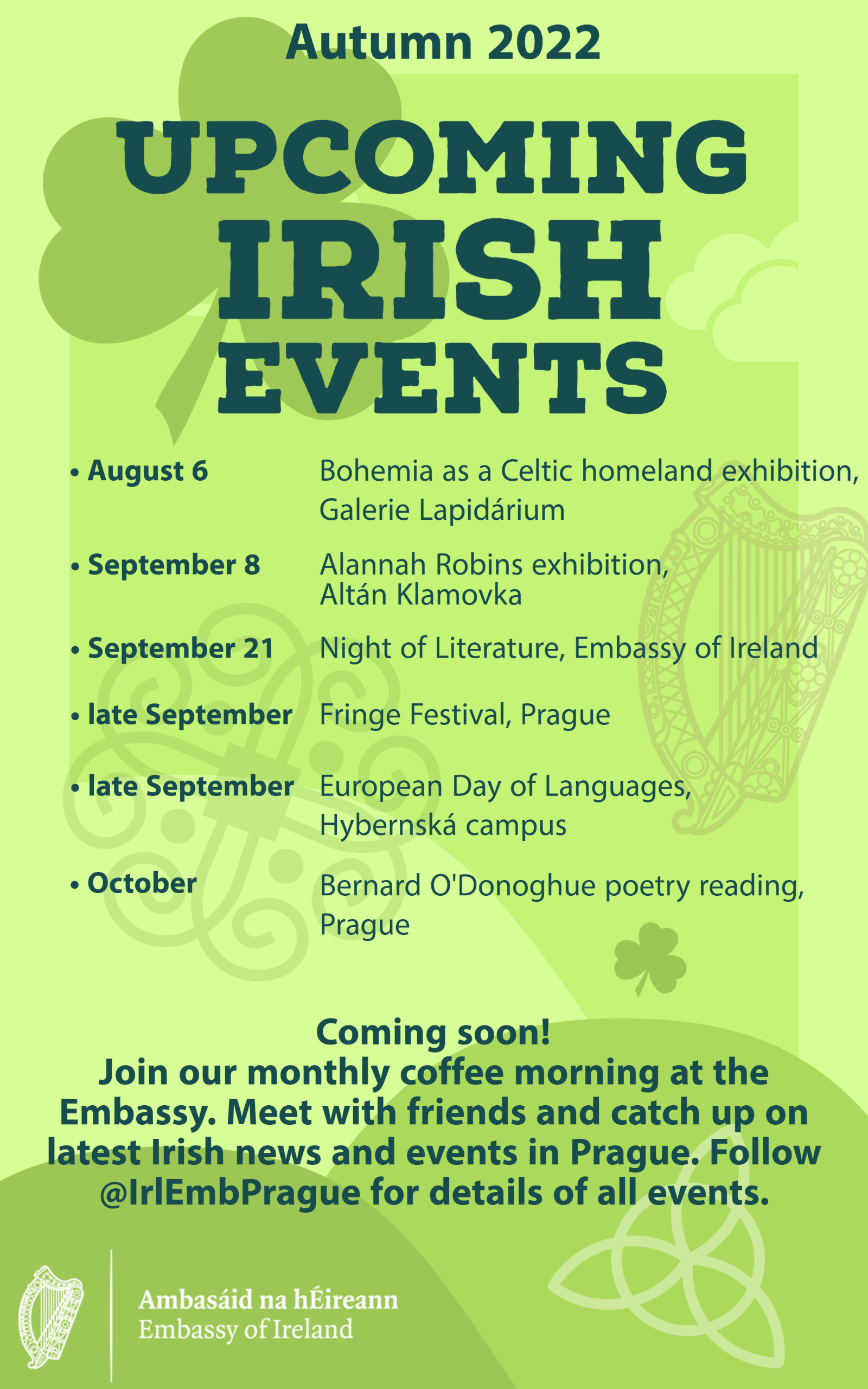 If you are Irish in the Czech Republic, or simply enjoy Irish culture, take a look at our round-up of Irish cultural events and activities in the coming months.
Follow the Embassy on Facebook and Twitter @IrlEmbPrague for frequent updates.
Are you planning an event that you would like us to share? Let us know! Contact us by email.
AUGUST - Lúnasa
The first of August, or Lúnasa as Gaeilge, marks the beginning of the harvest festival Lughnasadh. In the spirit of the season, Spolek Lughnasadh invite you to visit the exhibition "Bohemia as a Celtic Homeland" at Galerie Lapidárium opening on August 6th running until September 3rd. Come along and discover Irish and Czech shared Celtic roots.
SEPTEMBER - Meán Fomhair
Irish visual artist Alannah Robins returns to the Czech Republic in September, following a successful show in Liberec last year. She will be exhibiting at Altán Klamovka Gallery in Prague from September 8.
Night of Literature returns on September 21 and this year will be very special the readings will take place in the Embassy in Malá Strana. Come and discover Irish literature that you know and love, and discover something new! You'll have the chance to hear excerpts from Máirtín Ó'Cadhain's absurdist Civil Serivce comedy The Key/An Eochair, brilliantly translated from Irish into Czech by Radvan Markus.
The Autumn Fringe Festival brings Irish theatre company Kabosh Theater to Prague in September with Laurence McKeown's Green&Blue. Green&Blue is an Irish political drama looking at the human cost of borders based on interviews with serving officers. **** 'So searing that it's difficult not to weep' (The Scotsman) **** 'Profound... Top 18 shows Edinburgh Fringe 2019' (The Stage) Winner Lustrum Award for 'Best Theatrical Moment'. Details and tickets will available through the Prague Fringe website.
Are you Irish and living in Prague? New to Prague and want to make connections? Or simply love Ireland? Join us for a coffee at the Embassy on Thursday September 29 for our inaugural Friends of Ireland coffee morning from 8.30, to catch up on Irish news and events, and catch up with friends.
OCTOBER - Deireadh Fómhair
We look forward to welcoming Irish poet Bernard O'Donoghue to Prague in October. Bernard will introduce to Czech readers to his colection of poems called Rainmaker which is published in both English and Czech. Keep an eye on our Facebook page for details.
How to connect with the Irish Community in Prague?
Irish culture also has a home at Charles University. The Department of Foreign Affairs has been happy to support the Center for Irish studies at the Faculty of Arts for many years and they offer a wide variety of courses on Irish langauge, literature, and Irish cultural events throughout the year. They host several interesting guest lectures and even a ciorcal cómhrá if you feel like practicing you cúpla focal.
The Irish community and friends of Ireland also meet through the Czech Irish Business and Cultural Association. You can become a member and sign up for news and events on the CIBCA website.
If you are GAA fan, or want to try a new and exciting Irish sport follow Hibernians Prague GAA Join this group of enthusiastic players to learn and play Gaelic football and hurling. Men, women, boys and girls of all ages welcome!!
If you would like to learn Irish dancing you can join Irish dancing summer schools or year round classes. Follow @sonasolcz on Instagram and Facebook and check out Irish Dancing in the Czech Republic › Bernard's (bernards.cz)
There are lots of ways to enjoy tradtional irish music with a Czech twist. Assonance are a folk-rock band specialising in Scottish and Irish music. Concert details and tickets avaialble through their website. The wonderful Conamara Chaos play traditional Irish music in a modern guise and have concerts coming up throughout the Autumn. Check their website for dates.