Upcoming Irish Events December 2022
News
30 November 2022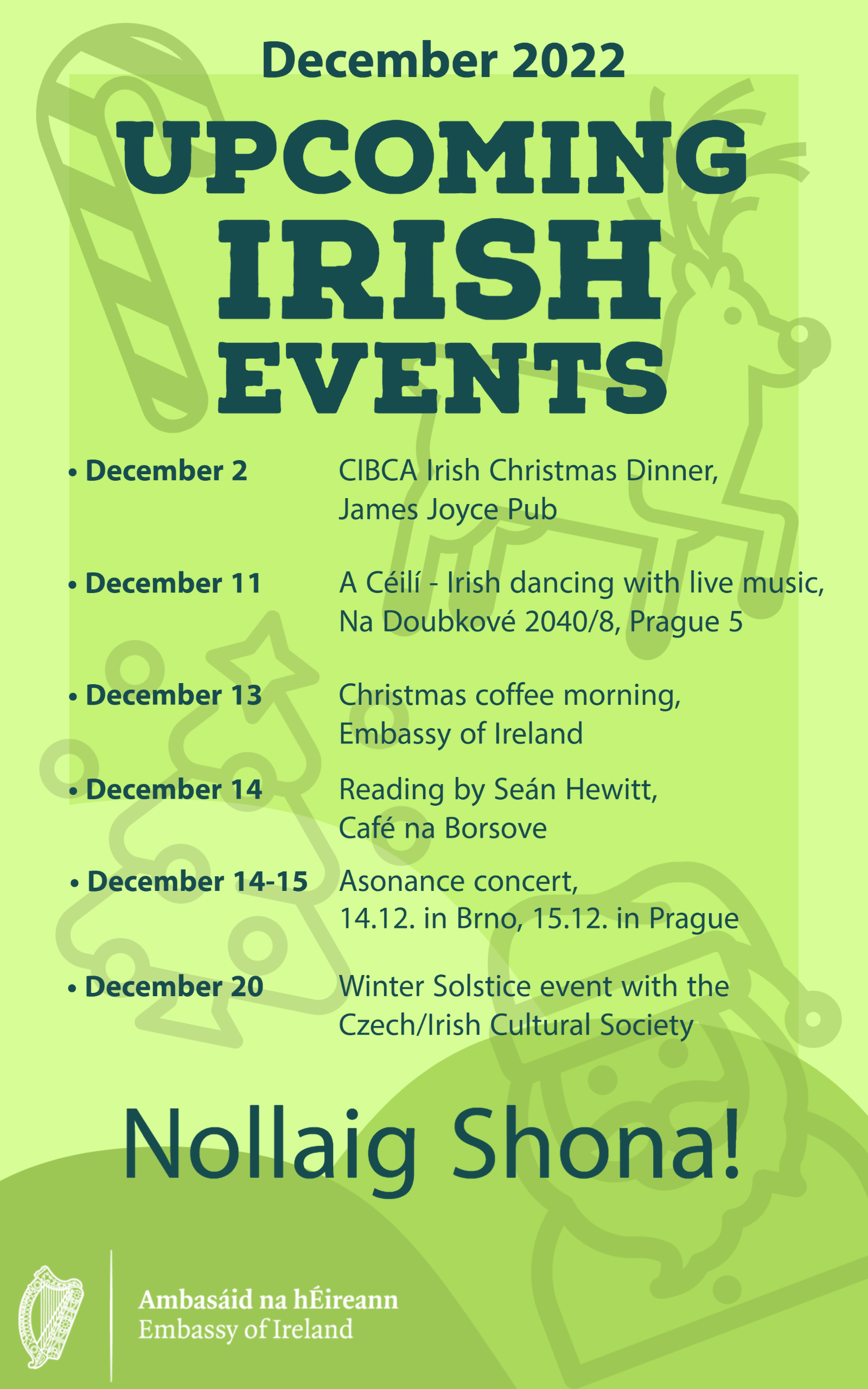 2 December
Join CIBCA for a traditional Irish Christmas Dinner with friends at the James Joyce Pub on Friday, December 2nd at 19hrs. Celebrate Christmas and raise money for charity. Tickets are available on the CIBCA website:
Christmas Dinner 2022 - James Joyce Irish Pub | Czech-Irish Business & Cultural Association (cibca.cz)
11 December
A Céilí - Irish dancing with live music - will take place on Sunday, December 11 in the Community Space in Smíchov (Na Doubkové 2040/8, Prague 5). Bernard's and inSpiral Dance School present the event and you can enjoy live banjo, guitar and bodhrán with dance lessons provided too! Details here:Irská tancovačka s živou muzikou › Bernard's (bernards.cz)
13 December
Join us at the Embassy for a festive Christmas coffee morning between 9am – 11am to catch up with friends and find out what is happening in the Irish communities in the Czech Republic. More details on our News & Events page. If you would like to come please send an email to RSVP.prague@dfa.ie
14 December
The Centre for Irish Studies at Charles University invites you to a reading by Seán Hewitt, one of the foremost young Irish authors, 14 December 19:30 – 21:00, Café Na Boršově. Seán Hewitt will read from his poetry collection Tongues of Fire (2020) and from his autobiography All Down Darkness Wide (2022). The reading will be accompanied by Czech translations by Lenka Liebichová, Martin Světlík, and Daniela Theinová. Further details https://irish.ff.cuni.cz/en/2022/11/25/reading-and-lecture-with-dr-sean-hewitt-trinity-college-dublin/
14 and 15 December
Asonance are a folk-rock band specialising in Scottish and Irish music. Details of upcoming concert details and tickets available through their website Asonance - Koncerty
20 December
Winter Solstice event with the Czech/Irish Cultural Society - details to follow.
Prague Hibernians
New members are always welcome to join (no experience necessary) and to experience Irish sport, culture and to build friendships with people from all over the world who play Ireland's national games. Training and events all year round: HOME | Prague GAA
Lord of the Dance
Michael Flatley's Lord of the Dance brings high-energy Irish dancing to the Czech Republic in November and December. Tour dates throughout the country and further details here:
Lord of the Dance Tour and Tickets | Official Site