Irish Events in Czechia Spring 2023
News
15 February 2023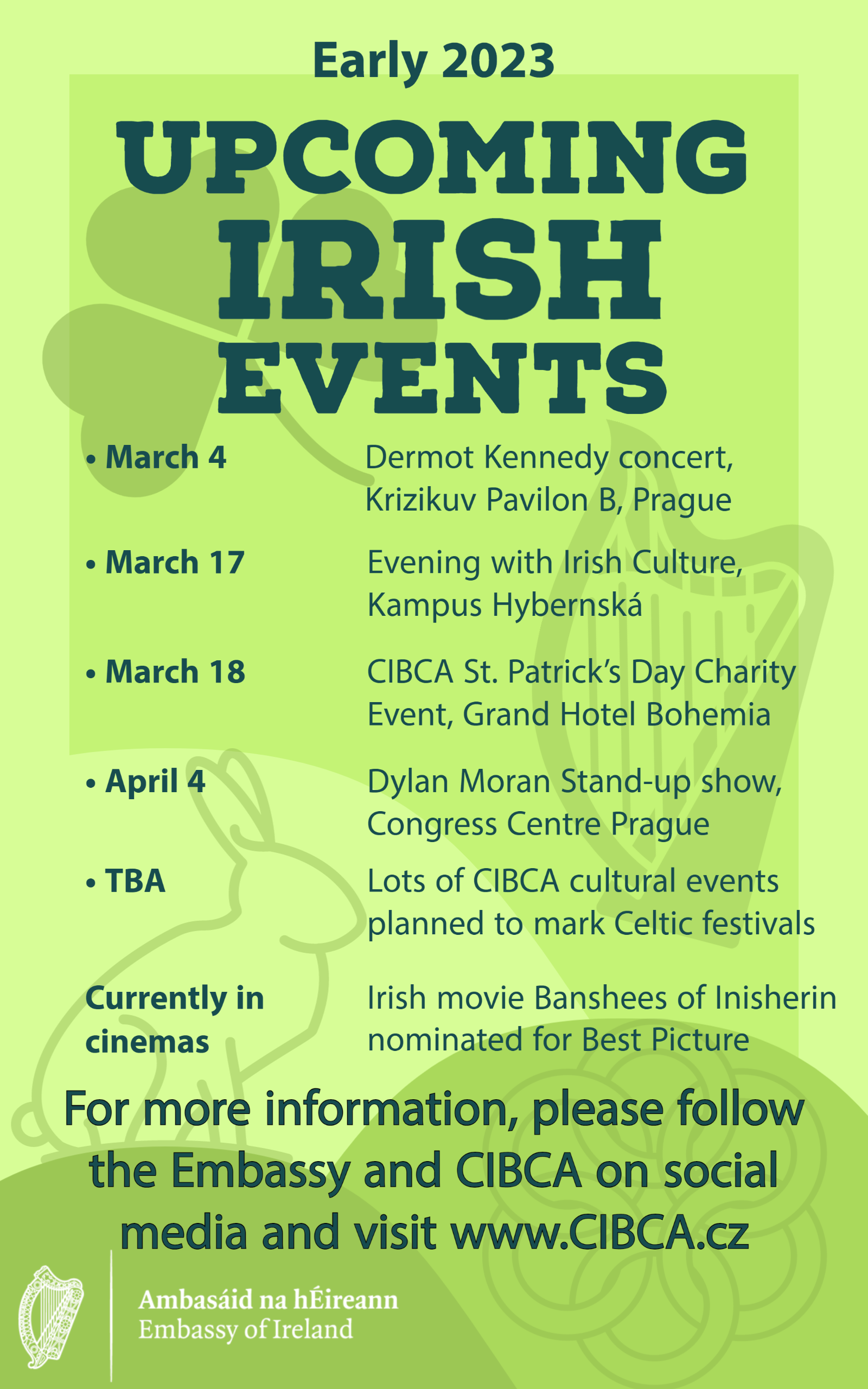 4 March
One of the most successful current Irish musicians and a winner of the RTÉ Choice Music Prize Irish Song of the Year 2021 for his song "Better Days" Dermot Kennedy is coming to Prague for the first time with his Sonder tour! His concert will take place at Výstaviště Holešovice, in Křižíkův Pavilon B and he will be joined by an American singer, Miya Folick. Tickets and more info available here.
17 March
"Večer irské kultury" or the Irish Culture Night will take place on St. Patrick's Day at Kampus Hybernská from 7:30 PM. The programme includes a performance from the band Conamara Chaos with a dancer Andrej Mikulka and reading of Irish literature. The event is organized by the Department of Anglophone Literatures and Cultures from the Faculty of Arts at Charles University. More details here.
18 March
CIBCA's flagship St. Patrick's Day Charity Event will take place on Saturday, March 18, at the Grand Hotel Bohemia. Join the eventwith your friends, celebrate with the Irish community in the Czech Republic and help a good cause at the same time. Please bear in mind that the capacity is limited and registration is required. Tickets available here.
4 April
World renowned Irish comedian and artist Dylan Moran is coming to Prague in April with his brand-new tour "We Got This". Moran's show will take place at the Prague Congress Centre, tickets available here.
Banshees of Inisherin
The Banshees of Inisherin is a 2022 black tragicomedy film directed, written, and co-produced by Martin McDonagh. Set on a remote island off the west coast of Ireland, the film stars Colin Farrell and Brendan Gleeson as two lifelong friends who find themselves at an impasse when one abruptly ends their relationship. The movie received nine nominations at the 95th Academy Awards, including Best Picture, Best Director, Best Actor (Farrell), Best Supporting Actor (Gleeson and Keoghan), Best Supporting Actress (Condon) and Best Original Screenplay. The movie is currently screening in various cinemas in Prague.
Other events
17 February – Bran concert at Balbínova poetická hospůdka from 8PM.
23 February – Pomalá session at the Dark velvet Café Bar from 7PM
17 March – Irská tancovačka na oslavu svátku svatého Patrika (Irish dancing to celebrate St. Patrick's Day) at Klášter Emauzy from 5PM organized by Sona Sól
For more information about Irish events happening in the upcoming months, please check our Embassy website and social media as well as CIBCA website and social media. Please also check Bernard's, a website dedicated to Irish dances, Ireland and Irish culture in the Czech Republic as you might find some of the events listed there!