Irish Friday Club with Stephen Molloy at the Embassy of Ireland
News
06 June 2018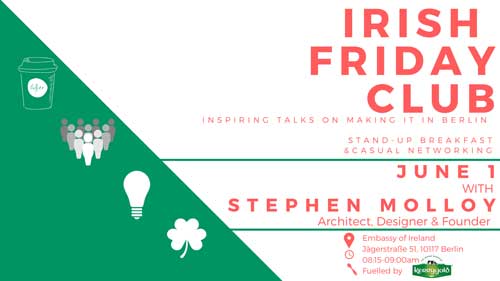 Irish Friday Club with Stephen Molloy at the Embassy of Ireland
Join us on Friday, 1 June 2018 at Embassy of Ireland, Jägerstr. 51, 10117 Berlin.
08:15 Stand up breakfast
08:25 Introduction and talk
08:40 Q&A
08:50 Casual networking
09:00 Get to work!
Stephen Molloy – Designer, Architect and Founder of Fundamental.Berlin
Stephen Molloy is a Dublin born architect and designer, having studied at the Bartlett School of architecture in London and the Universität der Künste in Berlin. While teaching architecture as a guest Professor at the UdK Stephen founded Fundamental.Berlin together with partner Gunnar Rönsch. The studio focuses on making affordable products for the home that play with the mathematics of nature. Fundamental's designs are sold all over the world, including at the MoMA in New York, the Centre Pompidou in Paris as well as through Manufactum and 100s of smaller design boutiques in Germany.
Having lived in Berlin for nearly 15 years, and run a business here for the last 7, Stephen will be sharing tips on how to get off the ground and the quirks of serving the German market, as well as showing some of Fundamental's best-selling products and sharing some of the behind the scenes stories of how they came about.