Berlin Long Night of Sciences Awardees visit Embassy
News
08 July 2022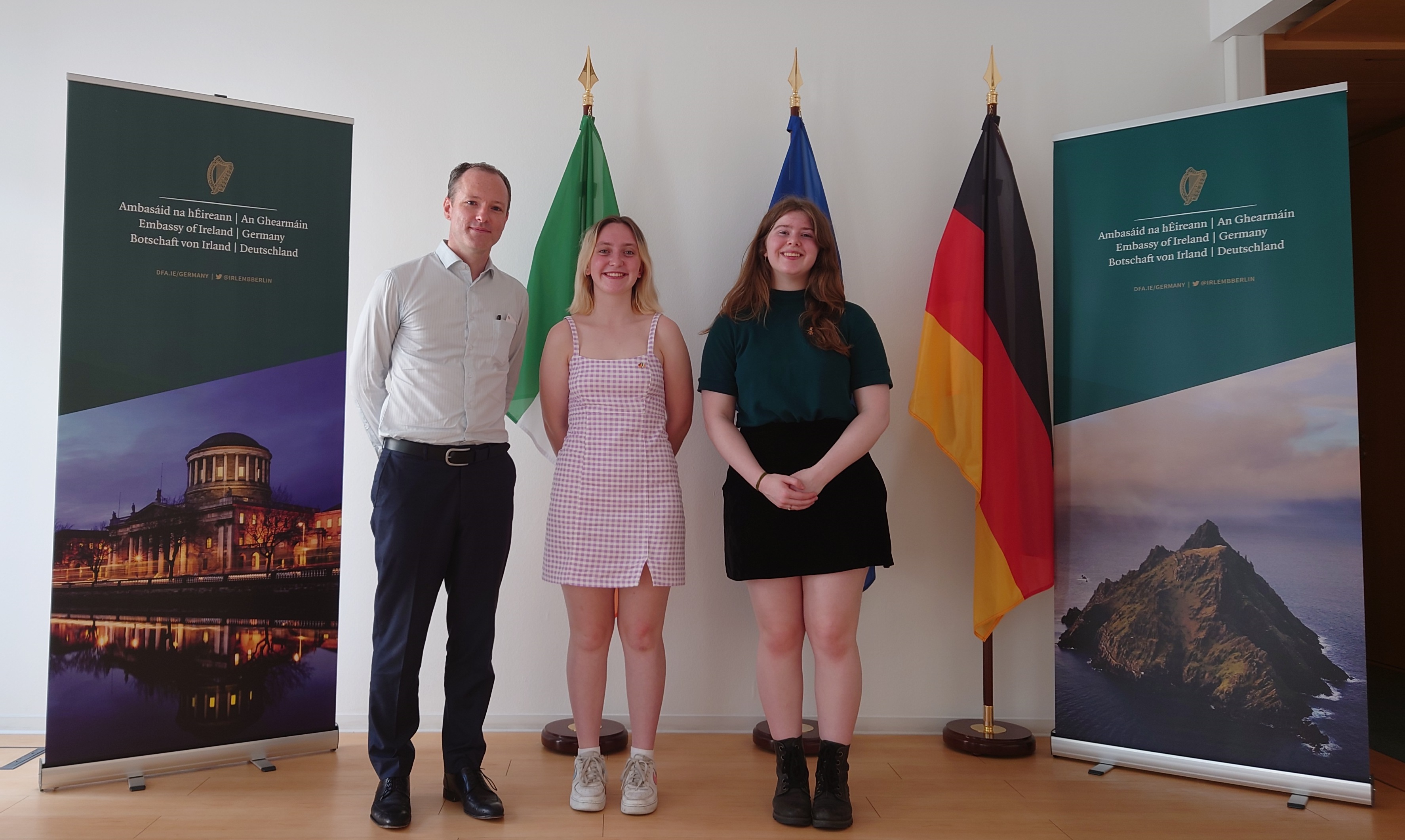 Líle Hensey and Niamh Carolan, winners of this year's Berlin Long Night of Sciences Award, met with Deputy Head of Mission John Lynam on 1 July 2022.
The Embassy received Ursuline College students Niamh Carolan and Líle Hensey as guests on 1 July 2022. The two students are this year's recipients of the Berlin Long Night of Sciences Award, which is awarded annually by the SciFest organisation to two second-level students in Ireland.
SciFest is Ireland's largest STEM fair programme for second-level students, and it maintains a long-standing cooperation with both the Department of Foreign Affairs and the Embassy of Ireland in Berlin. Every year, SciFest confers the Berlin Long Night of Sciences Award to or three two second-level students, who have successfully presented a self-directed science project at the annual national SciFest STEM fair. This award includes a stay in Berlin over several days, filled with trips to museums, universities, laboratories, workshops, the Embassy of Ireland, and Berlin's main sights. The Embassy ensures entry for the students to the Long Night of Sciences, which is held every July in Berlin. During this highly popular event, science museums and research facilities/institutes throughout the city open their doors to the public for most of the night.
This year's winners of the Berlin Long Night of Sciences Award, Niamh Carolan and Líle Hensey are both students of Ursuline College in Sligo, aged 18 and 19. In their SciFest award winning project, they observed physiological brainwave effects, when within the range of interfering domestic electromagnetic fields. This included measuring interference from everyday objects like televisions, phones, and microwaves. They presented their project at the SciFest national finals in November 2021 in form of a poster which was greatly acclaimed.
Together with two Ursuline College teachers, Anthony Carolan and Louise McSharry, Líle and Niamh embarked on a four-day trip to Berlin, starting on 30 June 2022. The Embassy of Ireland sponsored the group's accommodation and organised a comprehensive itinerary for the trip, which included a guided tour through a department and laboratory at Technische Universität Berlin. There, the students gained first-hand insights into computational neuroscience, the monitoring of electricity grids, and brainwave analysis. They also had the opportunity to present their project to Dr. Fatma Deniz, a cognitive computational neuroscientist and data scientist at the Berlin Institute of Technology. This presentation was followed by a lively and enriching exchange of knowledge and ideas.
At the invitation of the Embassy in Berlin, the two met with Deputy Head of Mission, John Lynam, on the morning of 1 July, where they had the chance to talk about their project, the implications of their research results, and their plans for the future. This was followed by a trip to the Reichstag and a tour of the Brandenburg Gate as well as Potsdamer Platz, where they were accompanied and guided by Ilias Ben Mna, the Public Diplomacy and Policy Officer at the Embassy.
After a visit to the Helmholtz Science Campus, the two embarked on the Long Night of Sciences on 2 July, where they toured a multitude of exciting and educational venues, which opened their doors to visitors from around the world all night. Their stay on Sunday was rounded off by a tour of further Berlin tourist sites including the East Side Gallery, the largest remaining stretch of the former Berlin Wall, which now hosts a number of colourful and impressive artistic murals. The visitors departed for Dublin on Sunday evening, completing a journey, which offered them exciting new glimpses into the world of science.
‌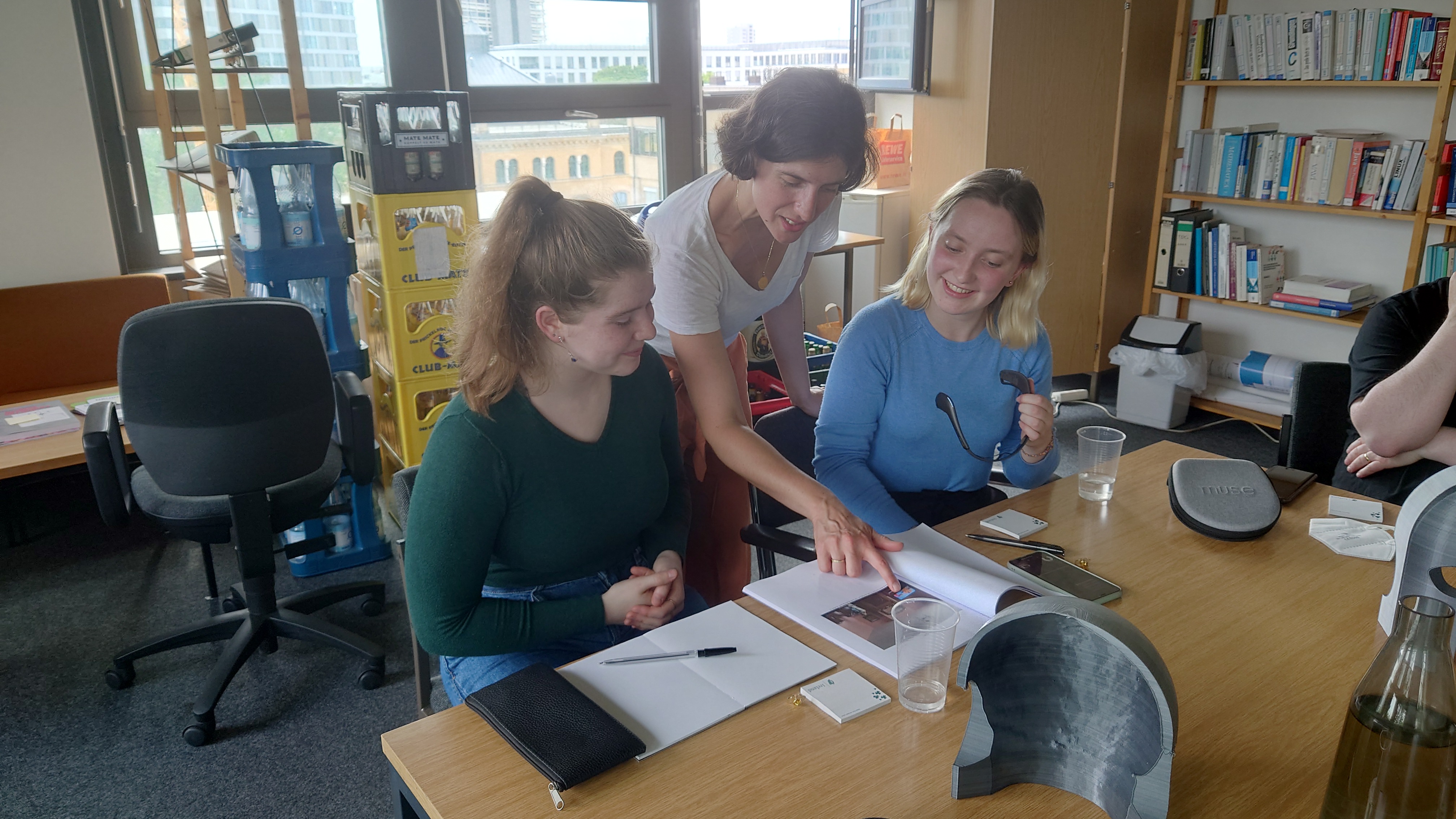 ‌Líle Hensey and Niamh Carolan are being introduced to the basics of computational neuroscience by Dr. Fatma Deniz, researcher and junior group leader at Berlin's Technische Universität.