Coming Out of Winter exhibition of works from Sinéad Aldridge
News
03 February 2023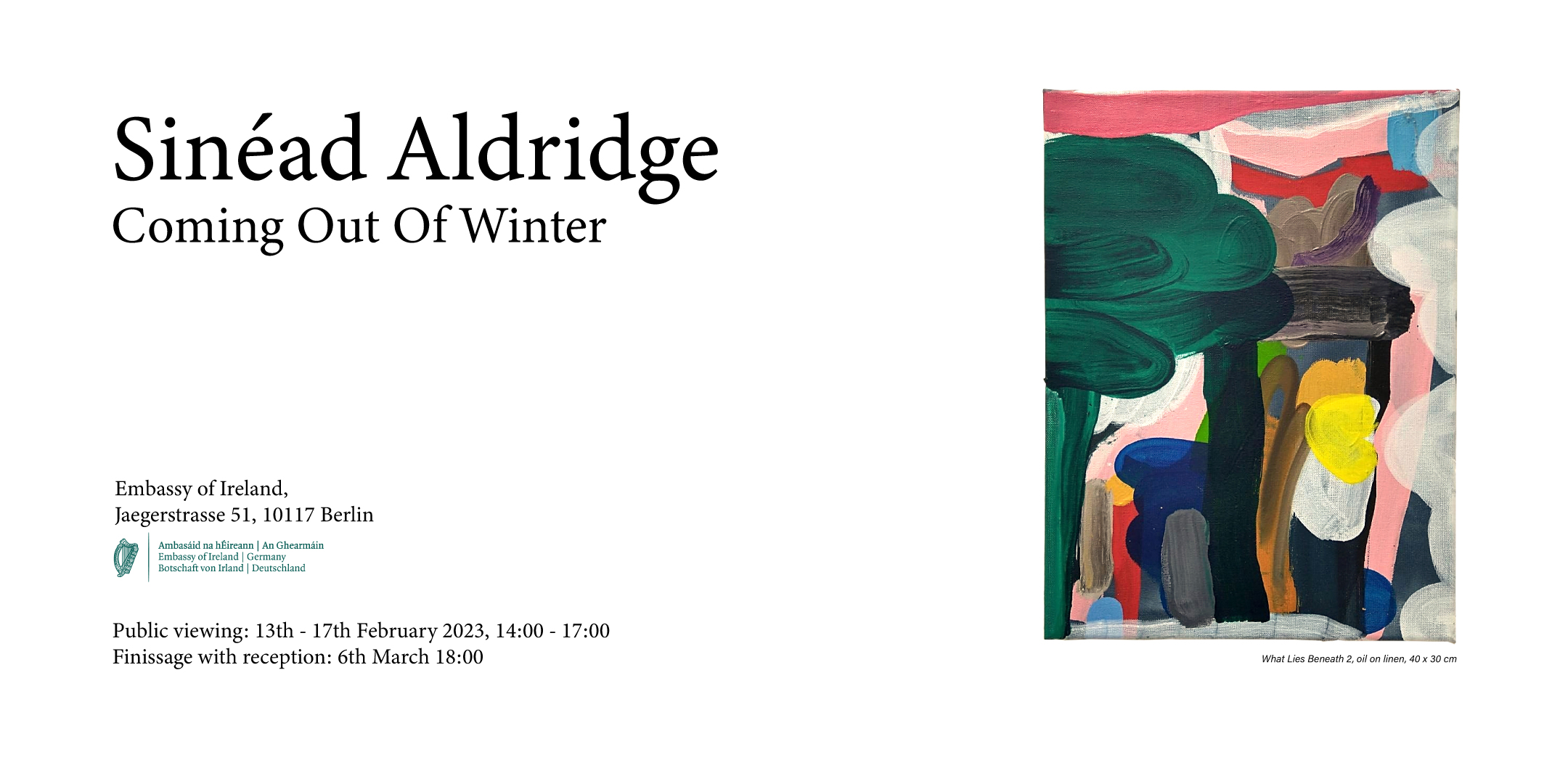 Coming Out Of Winter is an exhibition of paintings by artist Sinéad Aldrige presented by the Embassy of Ireland in Germany
For the public viewing which takes place between 13th and 17th February from 14.00 - 17.00 each day to and for the Finnisage on 6 March from 18.00 please register here:
Coming Out of Winter exhibition of works from Sinéad Aldridge Tickets, Di, 31.01.2023 um 19:00 Uhr | Eventbrite
The Exhibition in Sinead's words:
The paintings for this exhibition were made between the autumn of 2020 and spring of 2022
I've been painting water colours in Berlin parks for a while, but during the Covid pandemic this took a different meaning and form and the qualities of this medium carried over into my studio work.
I applied white oil paint to the edges of the canvas in January and February 2022, when we may have had snow in Berlin, in order to open up space in the composition. And then colour entered into my painting in an unforced way, in a gentle manner analagous to watercolours. Ribbons of pinks and greens started to come through.
At the same time, the calligraphy of the green paper paintings allowed me to produce the more spontaneous marks I made on the linen surfaces.
In a conversation with a curator in 2021, we talked about "gesture" and how the conditions of working throughout the pandemic prompted a certain repetition of mark making. I spoke about Giogio Agamben's beautiful passage about gesture:
"What characterises gesture is that in it nothing is being produced or acted, but rather something is being endured and supported. The "gesture " in other words, opens the sphere of ethos of that which is human." Giorgio Agamben (2000) Means Without End.
The Coming Out Of Winter paintings area deliberate act of hope.
About Sinéad Aldridge
Sinéad Aldridge, born in Belfast, lives and works in Berlin. Aldridge graduated with a BA in Fine Art Painting from Camberwell College of Arts London and an Masters in Visual Arts Practices at IADT Dublin. She received the DAAD scholarship attending Die Staatliche Akademie der Bildenden Künste Karlsruhe. Sinéad is an awarding winning artist, and has had several solo exhibitions at the Fenderesky Gallery Belfast N.Ireland. Recent group exhibitions include: Comme un léger contretemps./ Like a slight hiccup. La Grange Gallery France 2022. Penumbra- 8 contemporary women painters from Ireland, FE McWilliam Gallery N. Ireland 2020. Way Out- International Abstract Painting La Grange Gallery France 2020. Perspectives Berlin, Tête Gallery Berlin Germany 2020. Beep Painting Biennale Wales UK 2020 & 2018. Recent residencies include: GlogauAIR Berlin 2021. Oberfälzer Künstlerhaus Schwandorf, Germany in 2017. Sinéad is the recipient of awards from the Arts Council of Ireland & Northern Ireland Film Council. Her work is held in public collections including the Art Council Northern Ireland and National University of Ireland Galway.