Cormac Begley Concert at the Embassy on 24 May 2022
News
20 April 2022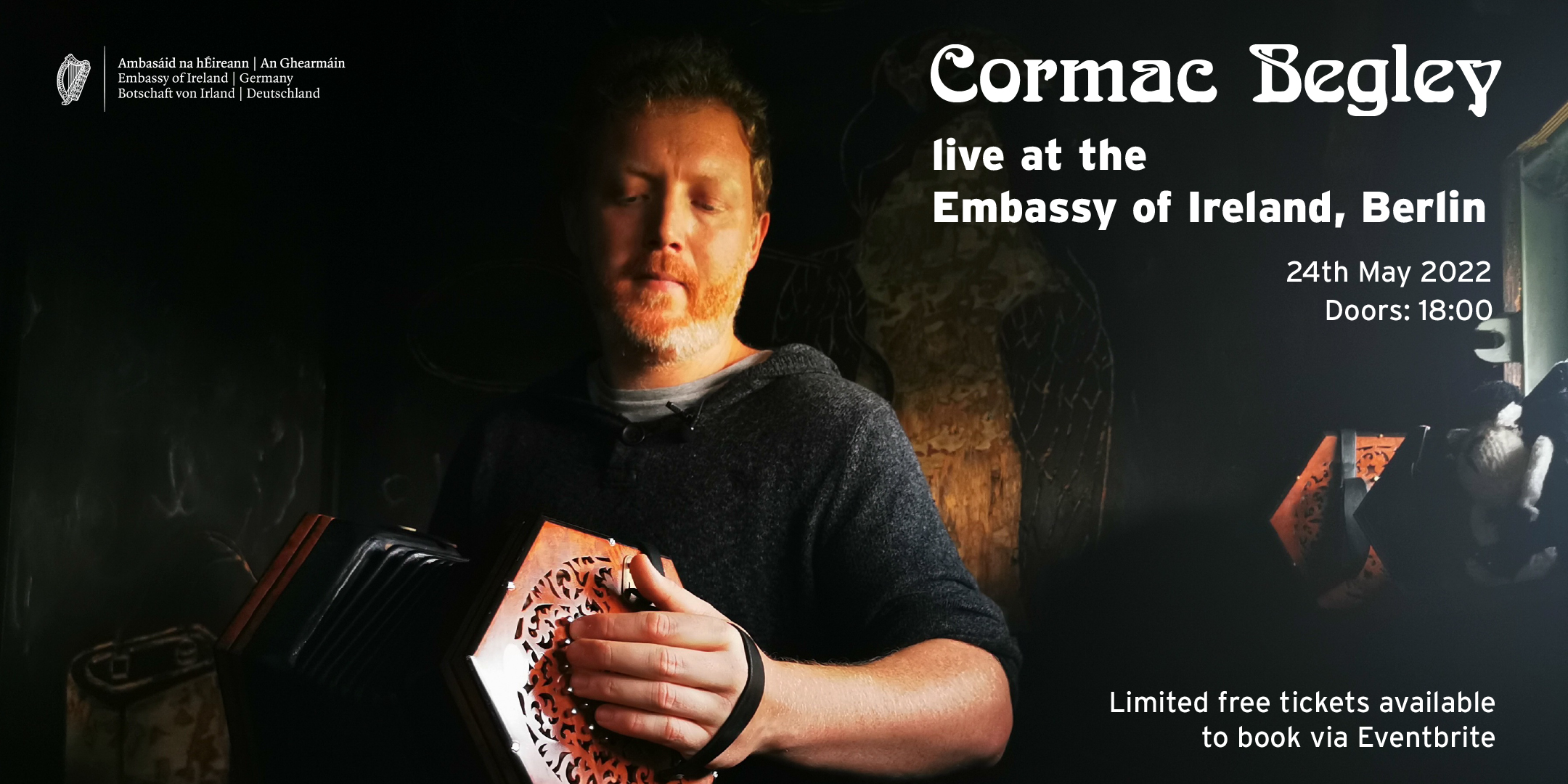 Cormac Begley will play a live concert at the Embassy of Ireland, Berlin on the 24th of May.
Cormac Begley is embarking on an Irish and European concert tour during April and May to celebrate the release of his second solo album entitled "B". This album is the first solo Bass concertina album of any musical genre and will be available at concerts until its release date. This album will be available for preorder on April 1st via this link.
Cormac is a concertina player from west Kerry and he plays 13 concertinas that range from bass to piccolo register. His debut solo album received critical acclaim accumulating nine 5-star reviews. Music from his debut album and his new Bass concertina album are a central feature of the award winning show Mám (directed by Micheal Keegan Dolan) and to Pat Collin's film, 'The Dance'. He plays in a number of projects with musicians Liam O Connor, Caoimhín O Raghallaigh, Martin Hayes and Liam Ó Maonlaí, Rushad Eggleston (cello), Lisa O Neill and Ye Vagabonds. He has recorded with artists including Lankum, Stephen James Smith, Ré, Jack Talty, Ye Vagabonds and Lisa O'Neill. He is the founder of Airt, a residential school in West-Kerry, and the award winning Tunes in the Church live concert series in Galway, and more recently, a new outdoor concert series throughout Ireland from his campervan, the 'Beauty'.

Ireland and European Tour in April and May 2022


Tour Dates in Germany:
May 17th Wiesbaden, Germany (Mám) registration link.
May 18th Wiesbaden, Germany (Mám) registration link.
May 24th Irish Embassy, Berlin, Germany (Solo) registration link.
Limited tickets will be available. Please register here for the concert in the courtyard of the Enbassy of Ireland (Jägerstrasse 51, 10117 Berlin) on 24 May 2022.