Ulysses 100
News
18 May 2022
2022 is the centenary of the publication of James Joyce's Ulysses
The embassy has presented and will present a number of projects and events celebrating this centenrary of a book that heralded the modernist era and which proved influential across the world.
Keep an eye on this site and our Monatsbuch as events are posted.
Cultúr Salon at the embassy on Bloomsday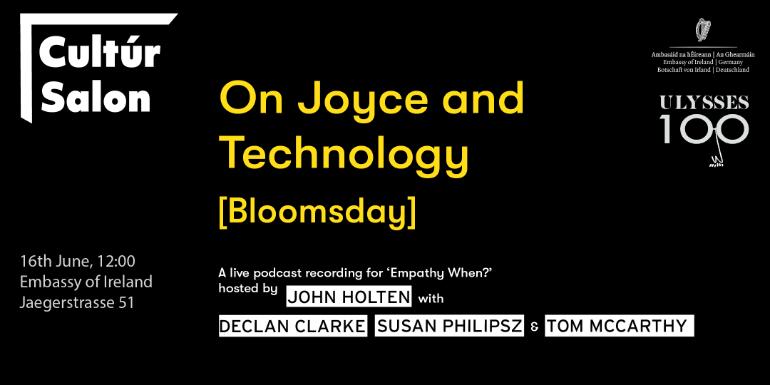 ‌
To celebrate the centenary of the publication of Ulysses, the Embassy of Ireland in Berlin, in cooperation with 'Empathy When?' podcast, will host a special edition of Cultúr Salon, discussing Joyce and technology.
Join host, writer, and publisher John Holten, artists Susan Philipsz and Declan Clarke, as well as writer Tom McCarthy at the embassy on 16 June at 12:00hrs for discussions and readings, a glass of burgundy wine and some gorgonzola sandwiches to celebrate the great Irish writer – James Joyce and his influential novel, Ulysses. Straw hats are optional.
About the artists:
John Holten (Host)
John Holten is an Irish-born novelist, artist, and curator He is a co-founder and Editor-in-Chief of Berlin-based publishing company Broken Dimanche Press. He is the host of Berlin arts podcast 'Empathy When?'
Susan Philipsz
Susan Mary Philipsz OBE (born 1965) is a Scottish artist who won the 2010 Turner Prize. Originally a sculptor, she is best known for her sound installations. She records herself singing acappella versions of songs which are replayed over a public address system in the gallery or other installation, for example in her Joyce inspired piece 'The Dead'. She currently lives and works in Berlin.
Declan Clarke
Declan Clarke was born in Dublin in 1974. He studied at the National College of Art and Design, Dublin, and Chelsea College of Arts, London. He works predominately in the medium of film, but has worked frequently with other media throughout the last 15 years. His films reflect on everyday experiences and contrast these with grand narratives and explorations of the historical edifices of political power.
Tom McCarthy
Tom McCarthy is a novelist whose work has been translated into more than 20 languages and adapted for cinema, theatre and radio. His third novel C was shortlisted for the Man Booker Prize, the Walter Scott Prize and the European Literature Prize and his fourth, Satin Island, was shortlisted for the Man Booker Prize and the Goldsmiths Prize. In 2013 he was awarded the inaugural Windham-Campbell Literature Prize. His latest novel, The Making of Incarnation, was published in 2021. McCarthy is also the author of the study Tintin and the Secret of Literature, and of the essay collection Typewriters, Bombs, Jellyfish. He lives in Berlin.
Curious Fox bookshop - Bring Your Own Bloomsday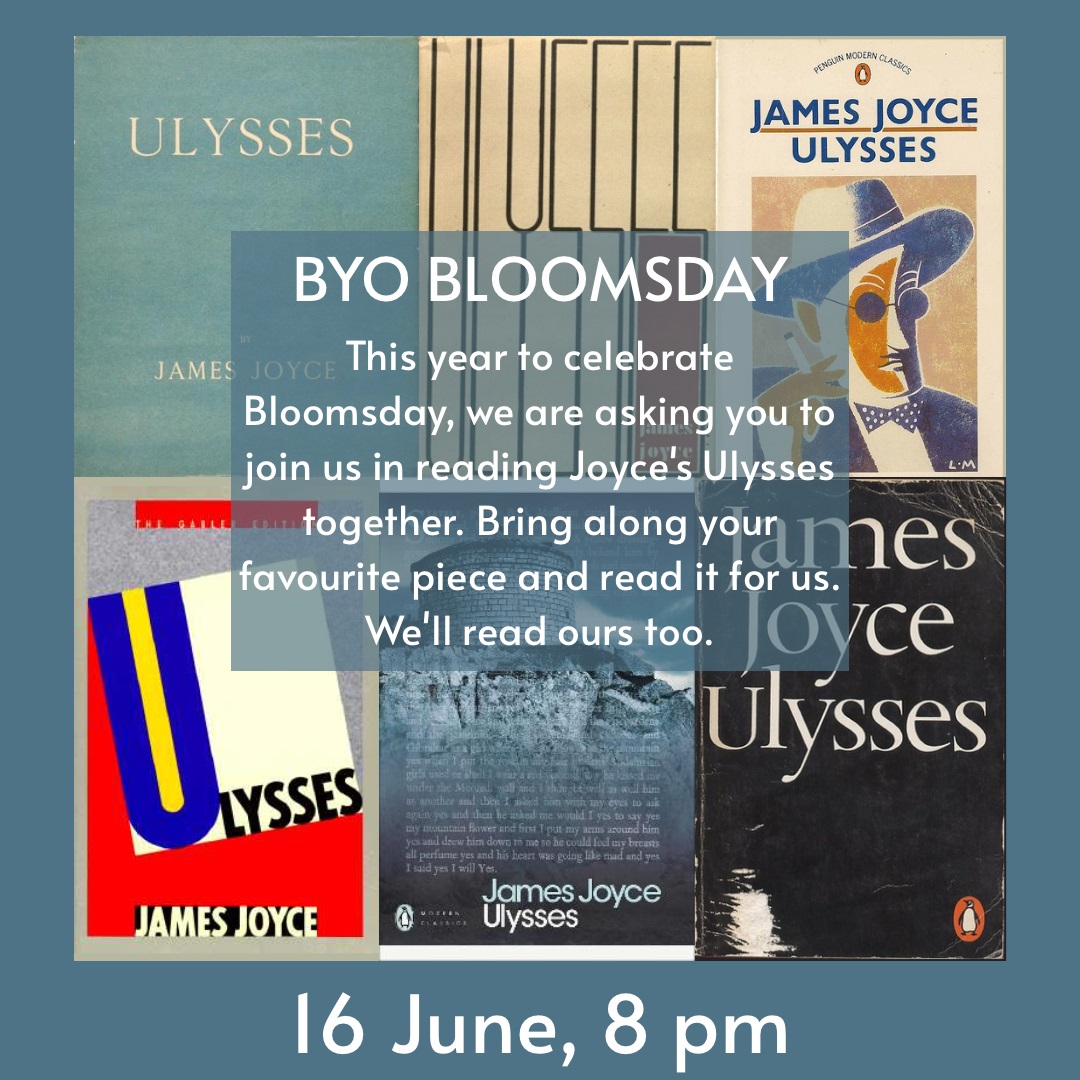 Our friends at the Curious Fox Bookshop in Berlin, will host an evening of Ulysses readings and they invite you to visit their shop, to listen to some of their favourite passages from the novel as well, if you wish, to read aloud, your own favourite passages. With burgundy wine and gorgonzola sandwiches available to fuel proceedings and ensure that all are in fine fettle, why not drop along to enjoy the readings and maybe even share your favourite piece.
Venue - Curious Fox bookshop, Lausitzer Platz 17, 10997 Berlin-Kreuzberg. T. 030-25093220
CONCERT: Pomes Penyeach – 2nd June

Composed by Adrian Crowley & Matthew Nolan, Pomes Penyeach is a unique and thrilling project comprising the poetry of James Joyce reinterpreted into song. The collection of 13 short poems, first published in 1927 by Shakespeare & Company of Paris, provide the lyrical basis for this invigorating and expansive creation.
The title, Pomes Penyeach, is a typical Joycean play on words; its literal meaning being 'poems for a penny each' as the collection was published for the price of one shilling, or twelve pennies. The thirteenth poem was a bonus 'tilly' (tuilleadh in Irish); a custom of Irish tradespeople at the time to offer an extra serving, similar to the 'baker's dozen, which offered 13 loaves instead of twelve.
This exciting new project came into being when academic/curator/ composer Matthew Nolan approached singer/writer/composer Adrian Crowley and extended an invitation to collaborate. Nolan first discovered Joyce's collection thirty years ago and ever since had held an ambition to see the elegiac collection set to song. That collaboration has culminated in a breath-taking project of a panoramic quality that not only stands up as a transportive musical journey but as a testament to the timelessness of Joyce's verse.
The project features Adrian Crowley (vocals, piano, acoustic guitar & mellotron), Matthew Nolan (electric guitar, omnichord, & synth). The pair have assembled a stunning ensemble with some of Ireland's forerunning contemporary players featuring strings, electronics and a surprise guest vocalist who provides a perfect foil to Crowley's distinct voice.
Pomes Penyeach is supported by The Irish Department of Foreign Affairs, The Museum of Literature Ireland and Saint Patrick's Festival.
Trailer::
This was a truly great evening that enthralled and entranced the audience from start to finish.