Ireland-Africa Fellows Programme 2021-2022- Applications Now Open
News
18 August 2020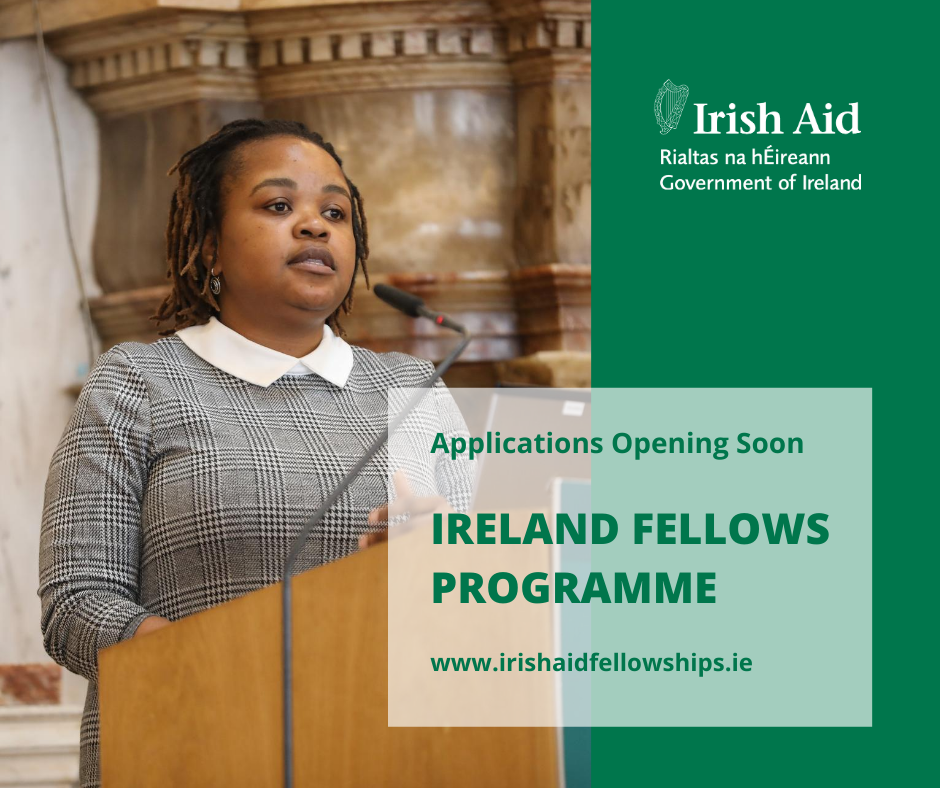 Ireland-Africa Fellows Programme 2021-2022 is now open for applications
The Ireland-Africa Fellows Programme will this year offer a select number of future leaders and influencers from Tanzania the opportunity to study for a prestigious Master's degree in Ireland. If successful, you will live and study at some of the top education and learning centres in the world, during which time you will develop professionally and academically, network extensively, experience Irish culture, and build lasting positive relationships with Ireland.
Thematic Focus and Invitees
For 2021/22 and in line with our Mission Strategy the Embassy will target the following themes:
Gender Equality and Human Rights
Environmental Sustainability and Climate Action
Management, Technology and Innovation
The organisations listed below are invited to nominate either one or two candidates. In addition, a small number of exceptional candidates will be contacted to apply for the Programme. Applications from other individuals will not be accepted. Applicants should note that even if they are employed by an eligible organisation, they must be nominated by the head of their organisation or equivalent.
Thematic Area: Gender Equality and Human Rights
Government Departments/Ministries/Institutions
Ministry of Health, Community Development, Gender, Elderly and Children (MoHCDGEC)
Tanzania Police Force/Tanzania Police Female Network (TPFN)
Ministry of Home Affairs/Prisons Department
Academic Institutions/Partners/Stakeholders
UDSM Centre for Education
Legal and Human Rights Centre
Women's Fund Tanzania
1. Thematic Area: Environmental Sustainability and Climate Action
Government Departments/Ministries/Institutions
The Vice President's Office – Division of Environment (VPO-DoE)
The Tanzania Meteorological Agency (TMA)
Tanzania National Parks Authority (TANAPA)
Ministry of Finance and Planning
President's Office Regional Administration and Local Government offices
Ministry of Agriculture, Livestock and Fisheries
National Environmental Management Council- NEMC
Academic Institutions/Partners/Stakeholders
Institute of Marine Science, University of Dar es Salaam
Western Indian Ocean Marine Science Association (WIOMSA) Zanzibar
Tanzania natural resource Forum (TNRF)
Tanzania Food and Nutrition Centre (TFNC)
Women's Environment and Development Organisation)
Don Bosco
Forum CC
Zanzibar Climate Change Alliance (ZACCA)
Regional Fisheries Office, Tanga
2. Thematic Area: Management, Technology and Innovation
Government Departments/Ministries/Institutions
Ministry of Education, Science, Technology and Vocational Training
Tanzania Investment Centre (TIC)
Bank of Tanzania
Office of the Controller and Auditor General (CAG)
Academic Institutions/Partners/Stakeholders
UDSM Innovation and Entrepreneurship Centre
Nelson Mandela African Institution of Science and Technology
Tumaini la Maisha/Muhambili Hospital
Tanzania Commission for Science and Technology (COSTECH)
Before starting your Fellowship application you may wish to familiarise yourself with the following requirements:
In order to be eligible for an Ireland-Africa Fellowship applicants must:
Be a citizen of Tanzania and be residing in Tanzania.
Hold a bachelor's degree in a related discipline at equivalent of First or Higher Second level from an accredited and government-recognised higher education institution.
Not already hold a qualification at Master's level or higher
Be applying to commence a new course at Master's level in Ireland no sooner than August/September 2021.
Be able to demostrate leadership abilities and aspirations, as well as commitment to the achievement of the SDGs within Tanzania.
Have identified and selected two relevant courses from the Irish Aid Directory of Eligible Postgraduate Courses course directory. Applications will only be considered for courses relevant to the applicant's experience.
Have a clear understanding of the academic and English language proficiencies required for both courses chosen.
Must not have applied for an Ireland Fellowship on more than one previous occasion.
Have a minimum of two years' work experience that is relevant to your proposed programme(s) of study
Be applying to commence a new qualification and not be seeking funding for a course already commenced or which will begin before Fellowship awards have been notified.
Application Process
The application process consists of three stages:
Stage 1 Preliminary Application (expression of interest)
Stage 2 Detailed Application
Stage 3 Interview
Full guidance on the application process, including Embassy of Ireland in Dar es Salaam contact details, and eligibility are found in the Ireland-Africa Fellows Programme 2021-22 Stage 1 Guidance Note. Please read the Guidance Note carefully before applying, as eligibility criteria may differ from country to country.
All applicants who are selected to go forward to second stage will be required to sit an IELTS exam, unless they are already in possession of an IELTS certificate that is dated 2019 or later at the time of application which shows the applicant has achieved the necessary score for the course they intend to apply to Early preparationfor the IELTS exam is strongly advised, even for native English speakers.
How to apply
To apply for an Ireland-Africa Fellowship, you must complete the application form and send to the Embassy by email (TanzaniaFellowships@dfa.ie), including supporting documents as outlined in the above Guidance Note.
For any queries related to the application process, please use the above cited e-mail address. Due to COVID-19 restrictions, the Embassy is not currently accepting visitors without appointments.
Application forms and further details are available from the Programme website: https://www.irishaidfellowships.ie/strands/ireland-africa-fellows-programme.
Candidates should pay careful attention to the eligibility criteria laid out in the Guidance Note. Please note that the closing date for Stage 1 applications is strictly Sunday 13th September 2020.