Launch of Amref CHW programme in Itilima
News
20 July 2018
On the 12th of July 2018 the Embassy of Ireland participated in the launch of Amref Health Africa's Community Health Workers recruitment and deployment support programme (Tuwatumie). The Irish Aid supported programme is led by the Ministry of Health and implemented by Amref Health Africa and Benjamin Mkapa Foundation.
This programme is part of Ireland's support to the implementation of Tanzania's Community Based Health Programme, which aims to strengthen primary healthcare at the community level in six districts of Tanzania. Ireland intends to provide grants totalling € 1.5 million to AMREF over 3 years.
A key component of the National Community Based Health Programme is to appoint trained community health workers to be located in each village in isolated Districts. Ireland supports the recruitment, training and deployment of community health workers in each of the 215 villages in Misungwi and Itilima districts in northern Tanzania. At policy level, Ireland provides technical inputs to the programme through the Government-led Community Health Worker Task Force and through the Human Resource for Health (HRH) Technical Working Group. In addition, Ireland will support the roll out of similar programmes through UNICEF and Benjamin Mkapa Foundation in Kakonko, Kibondo and Kasulu Districts in Kigoma region and Chemba District in Dodoma region.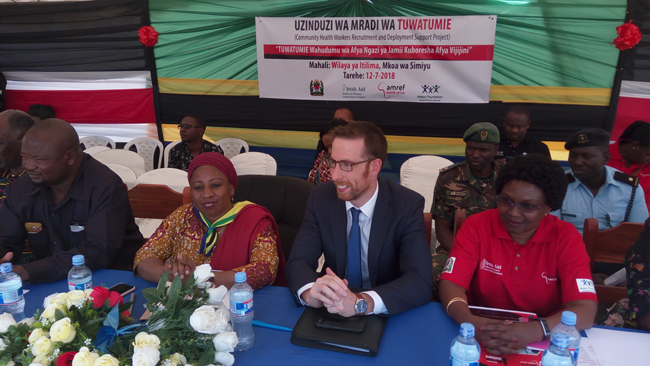 ​Niall Morris Assistant Head of Development, with the Tanzanian Minister of Health Hon. Ummy Mwalimu at the Launch of Amref CHW.
Community health workers will deliver pre and post natal care and identify high risk pregnant women in their villages to refer them into the health system and assure that they receive the care they need. The community health worker provides basic treatments for common diseases such as malaria and pneumonia in children and serves at the frontline of responses to health emergencies, including those generated by climate related natural disasters such as drought or flooding. The health workers will be based in local communities, visiting families and providing information and counselling on nutrition, caring for children, hygiene practices, the importance of clean water and sleeping under mosquito nets as well as measures to prevent other diseases including HIV/AIDs, Cholera and diet related diseases.
Support for these programmes complements Ireland's broader support to the Government of Tanzania to strengthen the health system. Ireland has provided support to the Health Basket Fund annually, cumulatively amounting to over €50 million and a grant of €7 million in 2018. Ireland's support contributes to Tanzania's efforts to achieve the Sustainable Development Goals and the target to reach universal health coverage by 2030.
Thursday's launch took place in Itilima district and was officiated by the Minister for Health, Community Development, Gender, Elderly and Children, the Honourable Ummy Mwalimu and the Embassy was represented by Niall Morris, Deputy Head of Development, and Peter Nyella,Health Programme Manager. In her remarks, the Minister expressed her appreciation for the support from the Government of Ireland and restated the commitment of the Government of Tanzania to focus on health promotion and prevention of diseases through well trained and remunerated community health workers.