Ujana Wangu Nguvu Yangu My youth, My power: Leaving no young person behind in Kigoma
News
29 October 2019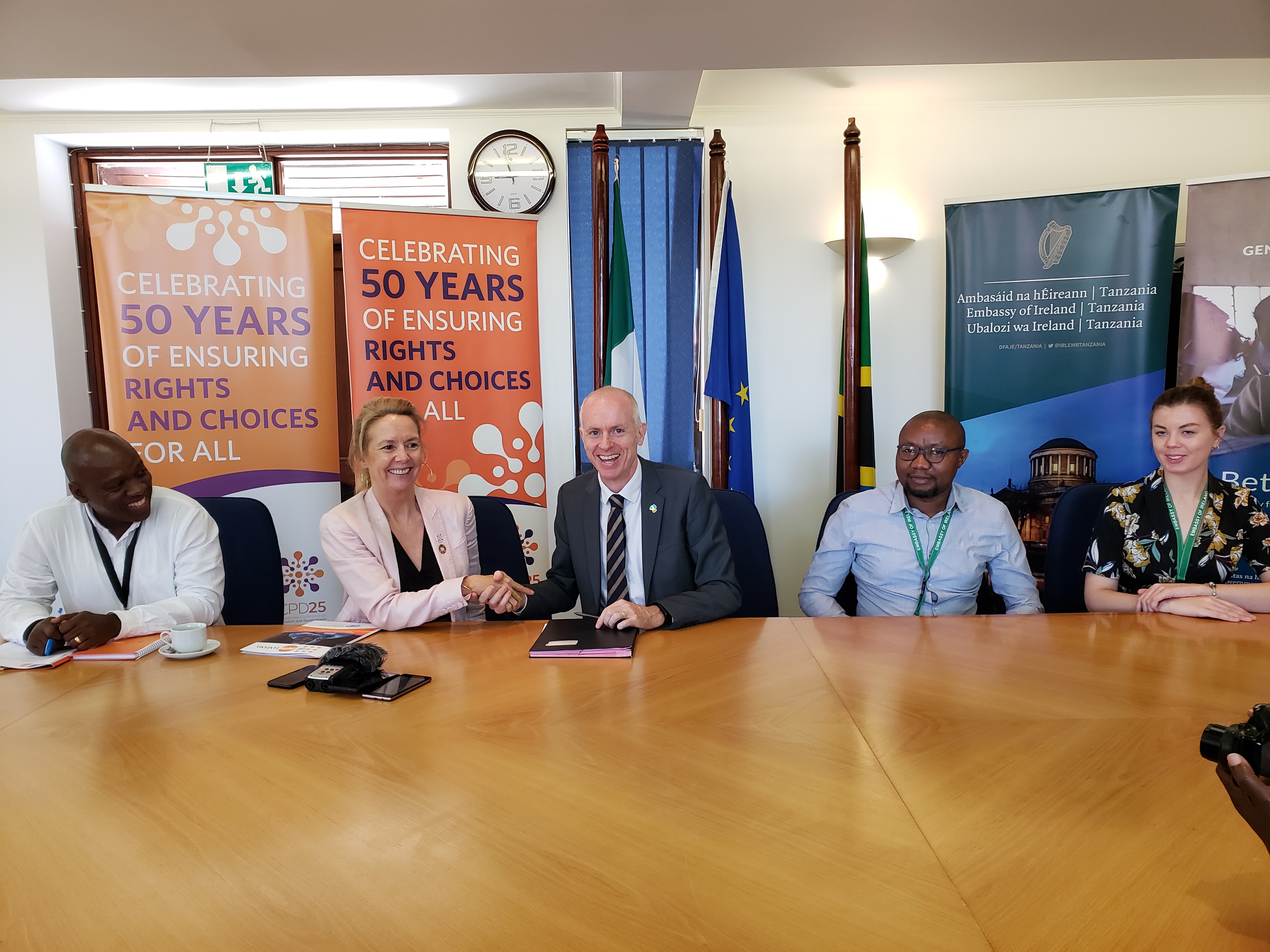 Kigoma is one of the poorest regions in Tanzania and with its youthful population – two thirds are below the age of 24 – is home to some of the most marginalized and vulnerable young people in the country. The region also hosts about 230,000 refugees who reside in three camps in Kasulu, Kakonko and Kibondo Districts.
Adolescents and young people in Kigoma face formidable challenges on a daily basis, such as staying healthy, getting an education and making their own decisions in life. For them, there is a real danger of being left out and left behind.
In July 2018, Ireland signed a partnership with UNFPA to support the Ujana Wangu Nguvu Yangu (My Youth, My Power) project, contributing € 1,000,000 (TZS 2.5 billion) over the first year. The Embassy renewed this partnership on 29th October 2019, providing support for the second year of the partnership.
The project is designed to support the implementation of the Government of Tanzania's Health Sector Strategic Plan IV particularly to strengthen the health system "to provide quality services …to end preventable, maternal, newborn and child deaths and to ensure universal access to sexual and reproductive and adolescent health services". The Ujana Wangu Nguvu Yangu programme responds to the unique needs of all young people and adolescents living in four districts in Kigoma Region, with a focus on local communities. This partnership is in line with Ireland's new international development policy, A Better World, as well as the Embassy of Ireland's Mission's Strategy 2017-2021 for Tanzania.
Ujana Wangu Nguvu Yangu has set up youth centres in the community for in and out-of-school youth, where they receive age-appropriate information about risky sexual behaviours; HIV; early pregnancy; child marriage; and gender-based violence.
Recognizing the unique challenges of adolescent mothers - including inadequate support from their families, a lack of access to age-appropriate services, and stigma and discrimination - UNFPA supports first time young mothers, educating them on how to keep themselves and their babies healthy.
To ensure improved access to quality sexual and reproductive health services, UNFPA, in collaboration with regional and local government, has identified nine health facilities that are in the process of being renovated, expanded and equipped to provide high-quality reproductive, maternal and child health services. A further 12 facilities will be supported in the second year. Maintaining health and hygiene during menstruation is important for women and adolescents' health, well-being, mobility and dignity. This project will support the construction of 12 toilets in schools in Kigoma, providing safe spaces for school girls. All supported infrastructure will take into account the impacts of climate change, and put in place infrastructure to support communities to adapt.
Speaking at the signing event in Dar es Salaam, Ireland's Ambassador to Tanzania, Paul Sherlock said: "We recognise the significant role that reproductive health, women's empowerment and gender equality play in sustainable development, and accordingly, the health of women and children is central. Support to UNFPA is complemented by other contributions towards the healthcare system in Kigoma through UNICEF and UNHCR (€5.2 million since 2018, approximately 13 billion TZS)."
UNFPA's Country Representative, Ms Jacqueline Mahon, said: "In response to the priorities and commitments of the Government of the United Republic of Tanzania, we, at UNFPA, with the support of the Government of Ireland, will continue to strive to deliver on all that was promised at the ICPD in Cairo for the adolescents and young people of Kigoma and ensure that they are not left out and left behind."