"A Farther Shore": American Reflections on the Advent of Irish Independence (1921-22)
Press release
15 January 2021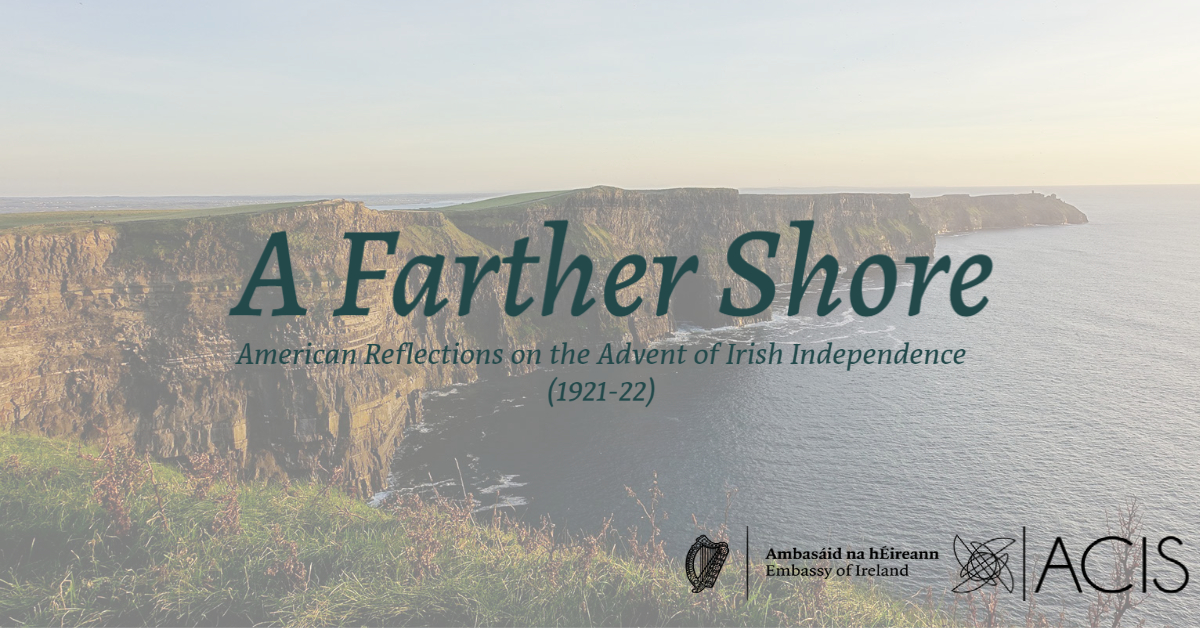 So hope for a great sea-change
On the far side of revenge.
Believe that a farther shore
Is reachable from here.
Believe in miracles
And cures and healing wells.
Seamus Heaney
From The Cure at Troy
Since 2012, Ireland's Decade of Centenaries has seen us examine and explore the series of seminal events that, politically and socially, shaped our island a century ago. From the introduction of the third Home Rule Bill and the Ulster Covenant in 1912, through the first World War and the Easter Rising of 1916, and onto the formation of the first Dáil and the onset of the War of Independence in 1919, we have marked crucial moments, recognising that the shared historical experiences of those years gave rise to very different narratives and memories.

Over the coming months, Ireland's Embassy and Consulates across the United States will join with the American Conference for Irish Studies & Irish Studies programmes across many of this nation's leading Universities to host a series of lectures and panels reflecting on the final – and perhaps most contested – years of this formative decade. Our reflections will cover: the war of Independence; the emergence of Northern Ireland; the negotiations and debate of the Anglo-Irish Treaty; the foundation of the Irish State and the Civil War. We will consider how these seismic events were viewed across the Atlantic and the role the United States - and Irish-America - played in shaping them, recognising that, for many Irish emigrants, independence was a farther shore they strove to reach.

This first seminar of our series – 'Was it for this' - focuses on the aftermath to 1916, the renewal of Sinn Féin and the Irish Volunteers, the conscription crisis, the election of 1918 & the First Dáil. Hosted by Boston College, in association with the ACIS New England Region & the Consulate General of Ireland in Boston, it features a range of outstanding scholars - Marjorie Howes (Boston College); Rob Savage (Boston College); Fearghal McGarry (Queens University); Bridget Keown (University of Pittsburgh), and Mike Cronin (Boston College) – as well as Ireland's Ambassador Daniel Mulhall. From there, we will host webinars monthly through the first half of the year, in partnership with universities across America, leading up to the ACIS annual conference in early June.

Join us and many of the world's leading scholars of Irish politics and culture as we reflect on a formative period in our nation's history.
"Was it for this" will be on Tuesday 26 January at 19:00 EST. Learn more and register for the event here.