Ambassador's Remarks- St Brigid's Day Celebration of Irish-American Women at the Library of Congress
News
07 February 2020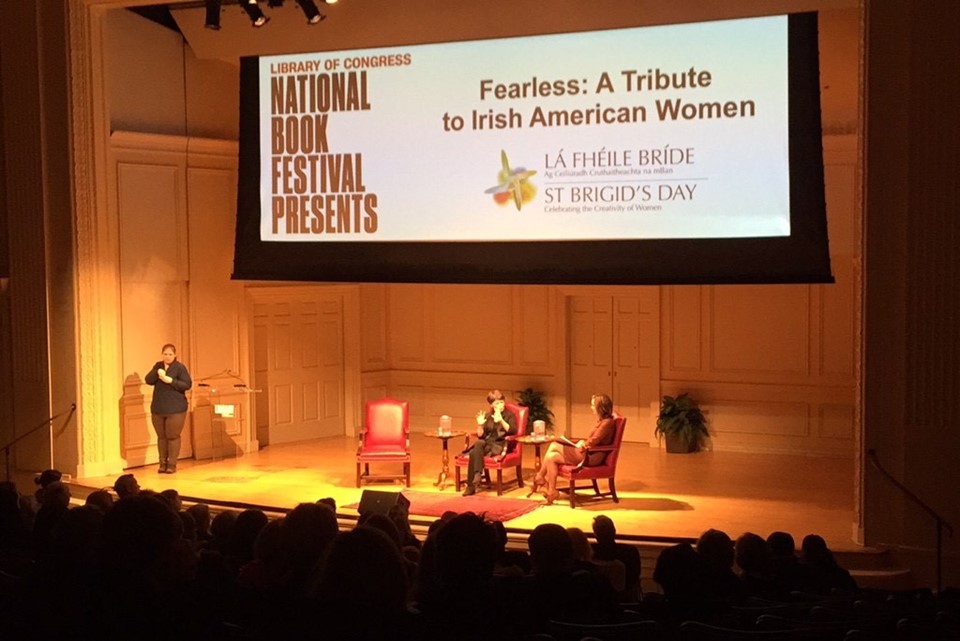 Two Fearless Irish-American Women - Margaret Brennan and Alice McDermott in Conversation at the Library of Congress
It is a genuine honour for our Embassy to be here this evening in this magnificent building co-sponsoring an event to mark St Brigid's Day. For me, it is a relief for once to be speaking publicly about Brigid rather than Brexit!
I want to thank our friends at the Library of Congress for their cooperation in making this special event become a reality. It has been a pleasure for us to work so closely with them.
According to tradition, St Brigid was a 5th/6th century abbess of Kildare who is referred to extensively in the earliest Annals of Ireland. She may also be, in the words of the Dictionary of Irish Biography, an enigmatic personality from "the period of transition between paganism and Christianity." Either way, Brigid has long been venerated in Ireland and in other countries to which Irish monks travelled in the Middle Ages, and in countries where the Irish settled in more recent centuries. One tradition associated with St. Brigid is the making a crosses out of reeds in her memory. For decades, the St Brigid's cross was the symbol of Irish television.
A century ago, Ireland was a notably progressive place when it came to the role of women in public life. Various suffrage and women's political organisations were established in Ireland in the late-19th and early-20th centuries – the Ladies' Land League, Inighinidhe na hÉireann, Cumann na mBan and, in America, the Ladies Ancient Order of Hibernians which was founded in the 1890s. Many Irish women played active roles in our independence struggle between 1916 and 1921. The first woman elected to the Westminster Parliament was Irish, Constance Markievicz, although she did not take her seat in London, preferring instead to sit in the newly-created Irish parliament which declared our independence in January 1919. Markievicz later became the first woman to hold Ministerial office in Government.
In the decades after independence, Ireland became a more restrictive place for Irish women. Many women who had been active in our independence struggle were disappointed by the country's evolution in the years that followed. Recent times have seen a great transformation in the status of Irish women, reflecting the great changes that have taken place in Irish society. During the 1990s, we elected two women Presidents, Mary Robinson and Mary McAleese, and Irish women have ascended into leadership roles in all areas of Irish life.
Everyone knows about the international phenomenon that is St Patrick's Day, which is enjoyed with special gusto in this country. In the past few years, we have sought draw attention to our other national Saint, Brigid of Kildare. This year, 35 of our Embassies have already organised St Brigid's Day events. Our consulates around the USA have also been active paying tribute to Irish women and their contribution to this country.
Personally, in travelling around the United States this past two years, I have heard many accounts of Irish American mothers and grandmothers who transmitted strong values and a sense of Irish identity to their families. I am delighted to have three wonderful Irish American women, Margaret Brennan, Alice McDermott and Mary Gay Scanlon from different walks of life here, reflecting on the women in their lives and what it means to have grown up as Irish Americans.
One of the areas in which Irish women have come to the fore in recent years is in literature. Writers like Sally Rooney, Edna O'Brien and Anne Enright, to name but three novelists, are among the many Irish women leading the charge for Irish literature in this 21st century.
In this hallowed palace of books, in this shrine to the written word, and as part of the National Book Festival, I want to read a poem by Moya Cannon commissioned by Galway 2020, this year's European City of Culture, to mark St Brigid's Day.
Now at spring's awakening, short days are lengthening
and after St. Bridget's Day, I'll set my sail.
A blind man, on a stone bridge in Galway
or the road to Loughrea, felt the sun's rays
in his bones again and praised the sycamore and oak,
crops still drowsy in the seed, wheat, flax and oats.
His song rising, he praised Achill's eagle, Erne's hawk
and in beloved Mayo, young lambs, kids, foals,
and little babies turning towards birth.
Blind Raftery invoked Bridget, Ceres of the North,
born into slavery at Faughart, near Dundalk
to an Irish chieftain and a foreign slave.
Why, of all small girls in so distant a century born
is she honoured still, in place-names, constant wells,
new rushes plaited to protect hearth, home, and herd?
Bridget, goddess, druidess of oak, or saint - a girl
who gifted her father's sword to a beggar for bread,
we, who have wounded the engendering seas and earth,
beg you to teach us again, before it grows too late,
your neglected, painstaking arts of nature and of care.
Thank you for your attendance here this evening.
Daniel Mulhall is Ireland's Ambassador to the United States