Panel discussion & Podcast at Embassy of Ireland on Dáil100
News
25 January 2019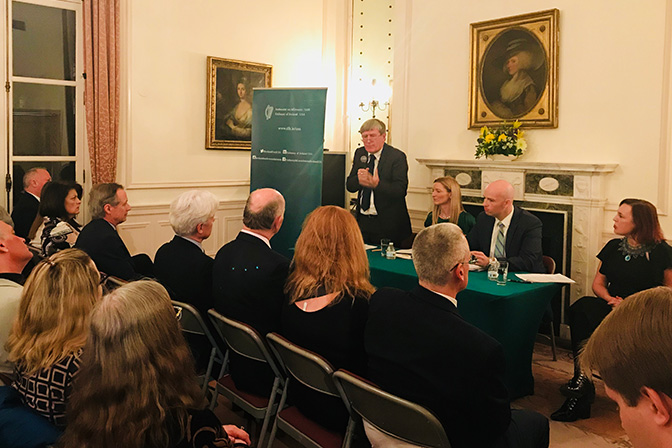 On Wednesday 23 January 2019, Ambassador Daniel Mulhall hosted a panel discussion at the Embassy of Ireland to commemorate the centenary of the First Dáil.
Two academics from George Washington University joined the Ambassador on the panel - Dr. Shirley Graham, Director of the Gender Equality Initiative in International Affairs and Dr. Jennifer Wells, a professor who specializes in international law and history. The event was moderated by RTÉ Washington correspondent, Brian O'Donovan.
The lively and engaged audience was drawn from both members of the Irish community in Washington, D.C. and also by Americans who were curious to learn more about Ireland's historic past.
Due to the popularity of the event, and the fact that it was over-subscribed, earlier that day, the Ambassador participated in a podcast along with his fellow panelists to briefly preview their important conversation on Irish history and politics as it pertains to the sitting of the First Dáil.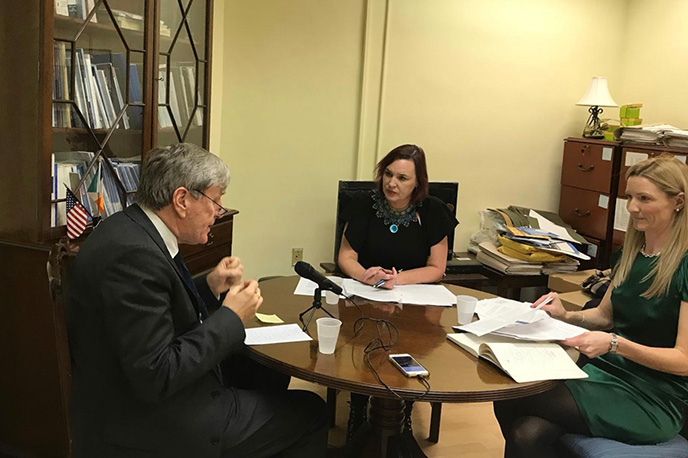 Dr. Graham highlighted how this was a defining, radical period for the suffragette movement in that the general election of December 1918 was the first in which women could vote and run for office. Dr. Wells broadened the perspective to examine how the acceptance of the First Dáil by the wider international community had critical connections to the increasingly global calls for self-determination and anti-colonial nationalism following the first World War, also known as the Wilsonian Moment.
In a recent blog post , Ambassador Mulhall wrote about the significance of the inaugural meeting of the First Dáil and its role in ushering in an unbroken century of parliamentary democracy in Ireland.
"What strikes me about [what happened in Dublin on the 21st of January 1919] is the ambition behind the various documents that emerged that day. This was not a gathering of careful, hesitant politicians. They were agents of change who set out bold ambitions and were buoyed by what they interpreted as a clear mandate from the Irish people. They were also conscious of the inheritance of the Easter Rising. There could be now no turning back, even if the final destination, and when and how it would be arrived at, remained uncertain."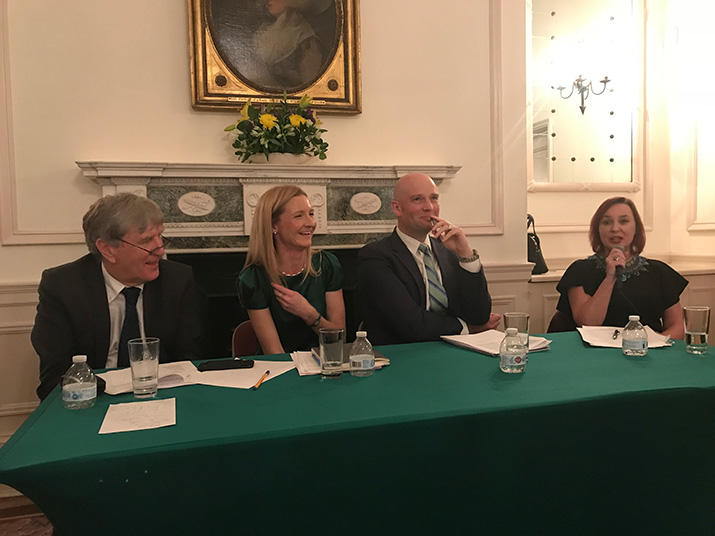 Dr. Graham concluded the event with an eloquent rendition of Eavan Boland's poem, "Our future will become the past of other women", a poem which was commissioned by the Royal Irish Academy (RIA) and Ireland's permanent mission to the United Nations to mark the centenary.
The Embassy would like to thank everyone involved who made the event such a success, including our partner for the occasion, Irish Network DC. The First Dáil anniversary certainly proved a great start for the Embassy's many cultural and historical events planned for 2019.