Global Irish Newsletter 7 May 2020 - a Message from Minister Cannon
News
07 May 2020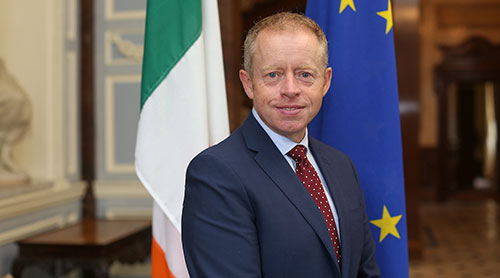 In my time as Minister for the Diaspora I have never felt so proud of our global Irish communities as I have in recent weeks, seeing the way in which they have come together to protect and support each other in the face of crisis. Last week, for example, I received reports from our Consulates in Vancouver and Sydney about the great work being undertaken by Irish community groups there which I would like to share with you.
In Vancouver the Irish community quickly came together to establish the Irish Covid-19 Support Group, representing a broad range of organisations, to share ideas and information, and to keep an eye on the welfare of the Irish in British Columbia, particularly the vulnerable and those most at risk.
In Sydney, the Irish Support Agency, conscious of the need to address mental health issues in these stressful times, has partnered with two of their volunteers, Kevin Clancy and Ronan MacDomhnall, to roll out a new health and wellbeing programme for the Irish community. The initiative, called The Irish 30, is a series of free weekly webinars focusing on self-care and mental health. The webinars and related content will also be made available on the Agency's website.
I know that staying connected with Ireland is important for many of you right now. EPIC, the Irish Museum of Emigration, has gathered together in its Stay at Home Library the best dramas, documentaries and performances from RTÉ, TG4, GAA and the web – all available to watch internationally. I hope that it will provide many hours of entertainment and enjoyment.
Lastly, I would encourage you to revisit the wonderful online concert organised by Safe Home Ireland, a great organisation that advises and supports emigrants who would like to return to Ireland. I want to thank them, and many other volunteer organisations across Ireland and the world, for their contribution to supporting others in need at this time.


Ciarán Cannon T.D.
Minister of State for the Diaspora and International Development