Emigrant Support Programme
News
15 January 2021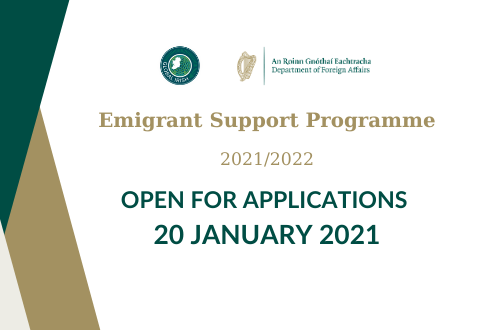 Call for Applications - Emmigrant Support Programme 2021/2022
The Emigrant Support Programme is a tangible expression of the Irish Government's support of, commitment to, and interest in the global Irish community. It aims to strengthen the international Irish community and its bond with Ireland. Through this programme the Government wants to fund projects that will have a clear and identifiable impact on supporting and building global Irish communities.
Since its inception in 2004, the Emigrant Support Programme has assisted over 530 organisations in 36 countries with grants totalling over €190 million. Grants have ranged from small amounts for grass-roots groups, to major allocations awarded to voluntary and community organisations operating on a large scale.
The 2021/22 grant round for the Emigrant Support Programme will open on Wednesday, 20th January 2021. First-time applications are welcomed, along with applications from organisations who may already have received support in the past. The application window is open until 5.30pm Irish time on Wednesday, 24th February 2021. Late applications will not be accepted.
Visit the ESP website for:
A detailed overview of the ESP Programme 2021/2022 including criteria to apply
Tips on how to complete the application form
FAQs on the ESP application process
Click here: https://www.dfa.ie/global-irish/support-overseas/emigrant-support-programme/
Applications are welcomed for projects that work towards the following:
Rebuilding (post Covid) through:
Digital inclusion initiatives which enhance organisations' delivery of welfare and heritage projects
Building capacity and resilience within organisations
Looking at new ways to deliver services
Supporting volunteer community efforts
Promoting mental health and social inclusion initiatives
Taking a broad and more inclusive approach to our diaspora :
Supportive of initiatives that heal our relationships with emigrants who left Ireland in crisis
Greater support for outreach to traditionally under-represented groups (LGBTQI, Travellers, mixed ancestry Irish etc.) and new emigrants
Projects which reach out to youth and younger members of our diaspora (to include 3rd and 4th generation)
If you have any questions, contact the Consulate in Atlanta at atlantacg@dfa.ie