Presidential Distinguished Service Award to Tom Power
Speech
07 February 2019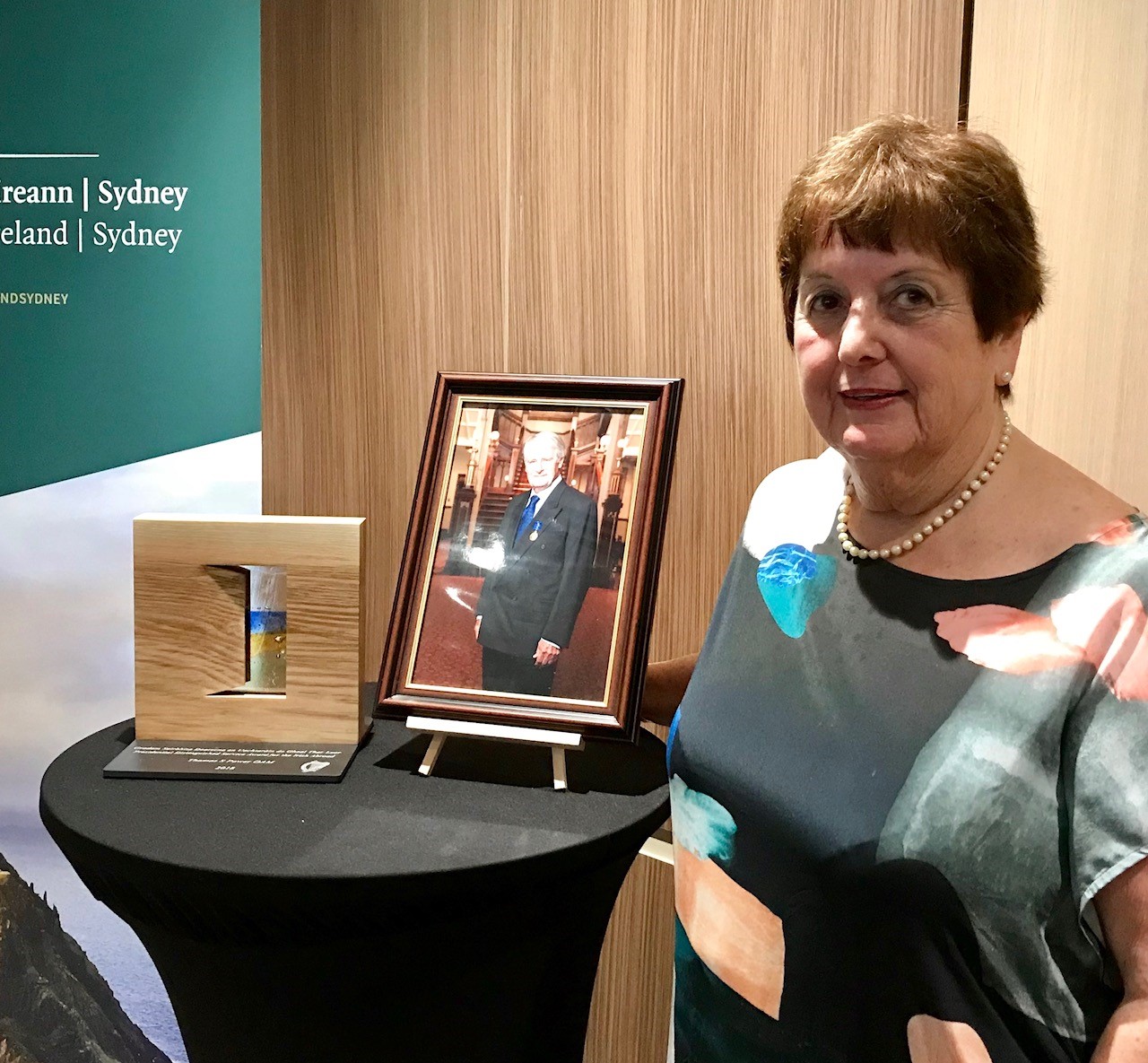 Ambassador Breandán Ó Caollaí's remarks to assembled guests:
Ómós do Tom Power ar ócáid bhronnadh Gradam Dearscna an Uachtaráin Micheál D Ó hUiginn
Tá an-áthas orm féin is Carmel a bheith anseo san Ard-Chonsalacht agus gabhaim buíochas leis an Ard-Chonsal Owen Feeney as an ócáid seo a eagrú in ónóir Tom Power. Tá ard-mheas agus moladh tuillte ag Tom as an gaisce a dhein sé trid Leacht Cuimhneacháin an Ghorta Mhóir ag Hyde Park a thabhairt ar an saol. Dhein Tom gaisce eile ar son phobal na cathrach idir Gaeil is eile. Go raibh leaba I measc na Naomh ag Tom.
Carmel and I are honoured to join with Consul General Owen Feeney, Deputy Consul General Rory Conaty, members of Sydney's Irish community, elected representatives and all of you who are joining us today to honour the memory and life work of our beloved Tom.
I was particularly delighted when Tom's nomination for a Presidential Distinguished Service was agreed by President Michael D Higgins giving us an excellent opportunity to celebrate anew his life and dedicated work for our community.
I know Tom was at heart a Tipperary man (I recall the county colours were proudly on display at his funeral Mass) indeed Trish just advised me he came from Powerstown in Co Tipperary. Tom was also a proud Irishman. He manifested this in so many ways and in his dedication to so many worthy causes in the course of his life.
I had the privilege of getting to know Tom in the last years of his life but so many of my predecessors as Ambassador of Ireland and Consul General here in Sydney spoke so highly of him that I felt I knew him even before I landed on this shore. On their behalf and behalf of all my colleagues who have served in Canberra and Sydney I want to thank Trish for sharing with us the gift of Tom's time, energy and genius to the cause of Ireland, the Irish people in Australia and his commitment to all things Irish in this magnificent country. Of course, Tom was also dedicated to this land and his love of, and service to, Australia earned him the award of the Medal of the Order of Australia.
Let me briefly recall the great work Tom did on our behalf since he arrived in Australia in 1956, aged 26 years of age.
Without any doubt, Tom's role as Chairman of the Great Irish Famine Commemoration Committee was one of the most important roles carried out by any Irishman or woman across Ireland's global diaspora of over 70 million people, clearly President Higgins' award is a clear reflection of this.
It is so deeply impressive that Tom oversaw the fund raising, the construction and the completion of the Famine Monument in such a central and historic location as the Hyde Park Barracks. The memorial is in my experience of Irish Famine memorials across the US, one of the most impactful, most evocative and engaging of remembrances to that tragic chapter in Ireland's history.
Indeed, it is no small measure of the scale of Tom's achievement or his powers of persuasion and the charm of his Irish plámás that he succeeded in convincing the Sydney authorities to acknowledge and recognise the city and State's Irish history and heritage through the construction of the memorial and at the Hyde Park Barracks, a UNESCO heritage site that is so pivotal to the history of this city and the State of New South Wales.
I believe that this achievement cannot and should not be underestimated, the Famine memorial is the most prominent memorial to a specific immigrant group in central Sydney which makes it a particular source of pride to all of us in the Irish community here in Sydney, New South Wales and across Australia.
But the task of having the memorial erected was not the end of Tom's mission to help highlight the plight of the Famine Irish in New South Wales. Tom was determined to identify and engage with the descendants of the 4,411 Irish orphan girls who came to Australia during the Famine and many of whom were initially housed in the Barracks.
I understand that in pursuit of that goal Tom made personal contact with so many of the Orphan Girls' descendants.
Tom's work and the ongoing work of Trish, Dr Perry McIntyre and so many more of you gathered here today is invaluable to the Embassy and the Consulate General as we seek to highlight the story of the orphan girls, and so many others who came here during An Gorta Mór. This is turn helps even more Australians to identify with and to find out more about their Irish heritage and identify in a more meaningful way with their family history and their historical connections to Ireland.
It is a clear indication of the very special significance we, at the Embassy and Consulate General, attach to Tom's Gorta Mór Memorial that the programme of every representative of the Government of Ireland who comes to Sydney includes a visit to the Hyde Park Famine Memorial.
Further official Irish recognition came with its choice as the location for Government's International Famine Commemoration event held here in 2013.
On 18th October 2017, Uachtarán na hÉireann, Michael D. Higgins and his wife Sabina Higgins visited the monument. I know that the President and Mrs Higgins were deeply moved by their experience.
I'd recall that it was Tom's goal that the Famine Memorial should be a living memorial relevant to the experience of today's refugees and immigrants. In that regard I would recognise the ongoing work of Great Irish Famine Commemoration Committee to raise funds to support current refugees to Australia through your contributions to the Mamre Fund and to Western Sydney University of an annual prize for a female refugee who comes to Australia on a Humanitarian Visa.
Trish, Ladies and gentlemen thank you for your attention and thank you for your support of Tom's work and legacy. Thank you Tom, may you rest in peace
Ar Dheis Dé anam uasal Tom Power!