Ambassador Hempenstall meets President of Croatian Sabor
News
11 January 2017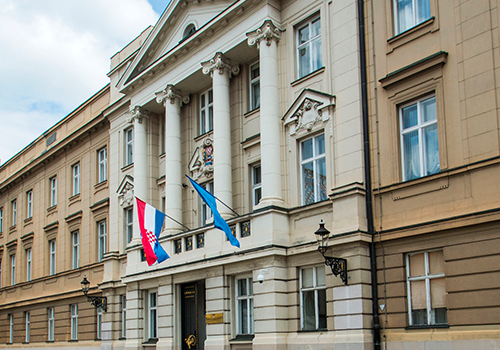 The President of the Croatian Parliament Bozo Petrov received today the Ambassador of Ireland Olive Hempenstall. Bilateral relations between the two countries are very good and friendly, with potential for further development.
The Speaker used the opportunity to thank Ireland for its continued support of Croatia, especially for past cooperation during Croatia's negotiation process with the European Union.
Ambassador Hempenstall noted that the two countries had very good cooperation in various fields, and that a special focus of her work was the deepening of economic relations. They agreed that two potential priorities for the development of deeper economic cooperation were information technology and tourism.
The Speaker also spoke about Ireland's experience in the European Union, in particular in relation to the use of structural and cohesion funds for the benefit of the country and noted that there could be valuable exchanges in this area.
They exchanged views on the overall situation in Ireland, including the preparations being undertaken in Ireland for Brexit, preparations for the Croatian presidency of the Council of the EU in the first half of 2020 and Croatian relations with neighboring countries.