Three Croatian Cities go green for St. Patrick's Day
News
15 March 2017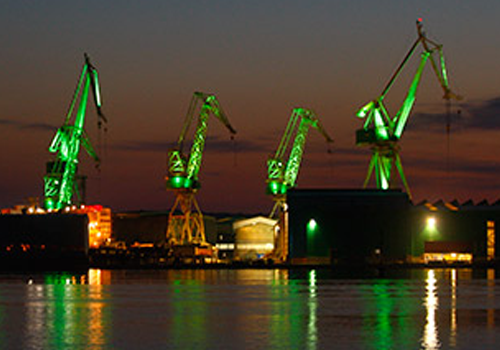 The Embassy of Ireland in Croatia, in cooperation with the Croatian cities of Zagreb, Rijeka and Pula, will again join Tourism Ireland's annual "Global Greening" initiative to celebrate Ireland's national day, St. Patrick's Day, on Friday, 17 March 2017. The three Croatian cities will join cities around the world in the celebration of St. Patrick's Day. Zagreb and Rijeka are taking part for the first time this year and Pula is taking part for a second consecutive year.
Mayor Milan Bandić of Zagreb agreed to green the City's new fountains on Croatian Fraternal Union Street – which is the main avenue into the heart of Zagreb. All five fountains will be green on the evening of St. Patrick's Day.
Rijeka's Mayor Vojko Obersnel also agreed to green the famous Trsat Castle above the City. Trsat was purchased in the 19th century by the Irishman Laval Nugent of Westmeath, a military leader in the Austrian Army who married Croatian nobility. Laval Nugent is interred in Trsat. Additionally, the City's Port Authority will green the Mono Longo cranes on the pier. The City of Rijeka will join the Irish City of Galway in 2020 as a European Capital of Culture. Cooperation between the two cities and the Embassy has already begun.
Finally, the City of Pula – which was the first Croatian city to take part in the "Global Greening" initiative in 2016 – will once again green the "Lighting Giants" in the Uljanik shipyard. Uljanik is one of the oldest operational shipyards in the world and the cranes were a stunning sight in this Croatian port last year. Pula is the home of the annual Bloomsday Croatia event, which celebrates the Irish literary great James Joyce, who lived in the city in 1904-05. This year's event, the 7th annual Bloomsday in Croatia, will take place on 25-26 June 2017.
The participation of three of its cities in Tourism Ireland's "Global Greening" puts Croatia in select company as only a few countries are more actively involved.
The list of famous world landmarks which will take part in Tourism Ireland's 8th annual celebration of St. Patrick's Day includes the Empire State Building (New York, America), the London Eye (United Kingdom), the Colosseum (Rome, Italy), Matsue Castle (Japan) and the Great Wall of China.