State Visit of Croatian President to Ireland
News
05 April 2017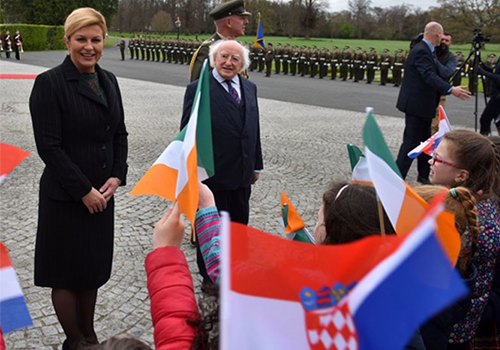 The Croatian President Kolinda Grabar-Kitarović concluded her State Visit to Ireland in the City of Galway on Wednesday, April 5. The three-day State Visit, began on Monday, 3 April in Dublin and offered President Grabar-Kitarović an opportunity to meet her counterpart, Ireland's President Michael D. Higgins and Taoiseach Enda Kenny. She was also hosted by the Lord Mayor of Dublin and the Mayor of Galway and had opportunities to meet and talk with young Irish students.
The trip began with a visit to Áras an Uachtaráin, where she was given Military Honours. The two president discussed the European project and had similar views on current issues. President Grabar-Kitarović called Ireland an example of a successful transition to a "modern society" which had invested a great deal in education and which had been able to absorb European monies for the benefit of its citizens. Finally, she planted a tree at Áras an Uachtaráin.
On the following day, Tuesday, 4 April, President Grabar-Kitarović visited the world renowned Trinity College Dublin, where she gave a keynote speech. Afterwards, she met with Ceann Comhairle, Mr. Seán Ó Fearghail T.D., Leas-Chathaoirleach, Seantor Paul Coghlan and members of the Croatia-Ireland Parliamentary Friendship Group. President Grabar-Kitarovic was later received at Mansion House by Cllr. Brendan Carr, Lord Mayor of Dublin. The second day was concluded with a trip to the Government Buildings where Taoiseach Kenny hosted the President.
The third day was a celebration of the link between the two countries in the European Capitals of Culture 2020 project. President Grabar-Kitarović visited the City of Galway, which will be the "partner" of the Croatian City of Rijeka, when the two cities represent European culture together. Cooperation has already begun between the two cities.
Cllr. Noel Larkin, Mayor of Galway, welcomed the President to the City. The Galway 2020 Community Hub was also in the itinerary as was a trip to the National University of Ireland, Galway.
Along with the official visits to the main Irish authorities, there were a number of other activities included in the trip.
Ireland's story of emigration was made known to the Croatian President when she visited the new EPIC Museum, which holds the stories of the Irish and their travels to new homes around the world. The National Museum of Ireland was also included in the State Visit. President Grabar-Kitarović met with the members of the Irish-Croatian Business Association and the Croatian diaspora in Ireland.
This was the first State Visit to Ireland by a Croatian President. President Higgins visited Croatia in 2013. The State Visit was a sign of the friendly relations between Ireland and Croatia and was yet another sign that the relationship continues to improve.
Ambassador Olive Hempenstall travelled with the Croatian president throughout the State Visit.