Ambassador Hempenstall opens Honorary Consulate in Split
News
30 August 2017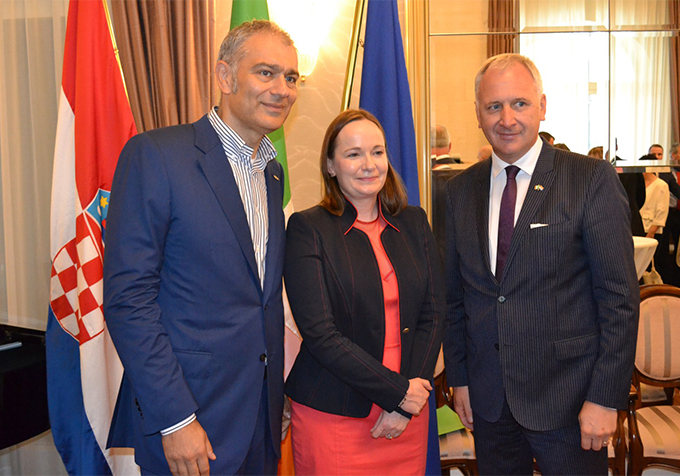 The new Honorary Consulate in Split will serve the Dalmatian region.
More than 60 guests were in attendance on the afternoon of Wednesday, 30 August, when Ambassador Hempenstall officially opened Ireland's Honorary Consulate in Split. The Mayor of Split, Mr. Andro Krstulović Opara, and Honorary Consul, Mr. Emil Tedeschi, were two of the many prominent Croatians in attendance at the Hotel Park for the opening.
"The main reason for opening a Consulate is to improve an Embassy's service to its citizens", said Ambassador Hempenstall, and added that "our consular service is in many ways the heart and soul of the Embassy". She pointed out that approximately 40,000 Irish citizens travelled to Croatia in 2016, and said that she expects the number to increase in the years to come. The Ambassador also paid tribute to Ireland's first Honorary Consul in Split, Mr. Ante Čičin-Šain, who served Ireland in this Dalmatian city prior to his death in 2008.
Mayor Krstulović Opara in his remarks noted that Split had had a 26% increase in Irish tourists in 2016.
Honorary Consul Tedeschi spoke of his family's close ties to the City of Split and the importance of the new office to both Irish and Croatian citizens and of the relationship between the two countries.
Other dignitaries in attendance at the opening were representatives of the Croatian Ministry of Foreign and European Affairs, the three southernmost Dalmatian counties (including county prefects) and other local authorities, institutions and agencies, as well as the local business community. Representatives of the diplomatic and consular corps on the coast were also in attendance.
Irish citizens on the southern Croatian Coast will no longer need to travel to Zagreb for emergency travel documentation, such as the Emergency Travel Certificate (ETC). Split is an easily reachable destination from practically all major tourist areas on the coast.
The Honorary Consulate is located at Rovinjska 4 in Split. Office hours are from 09:00-13:00.
Visit the Embassy of Ireland, Croatia on Facebook