An Irish Night In - January 2021
News
22 December 2020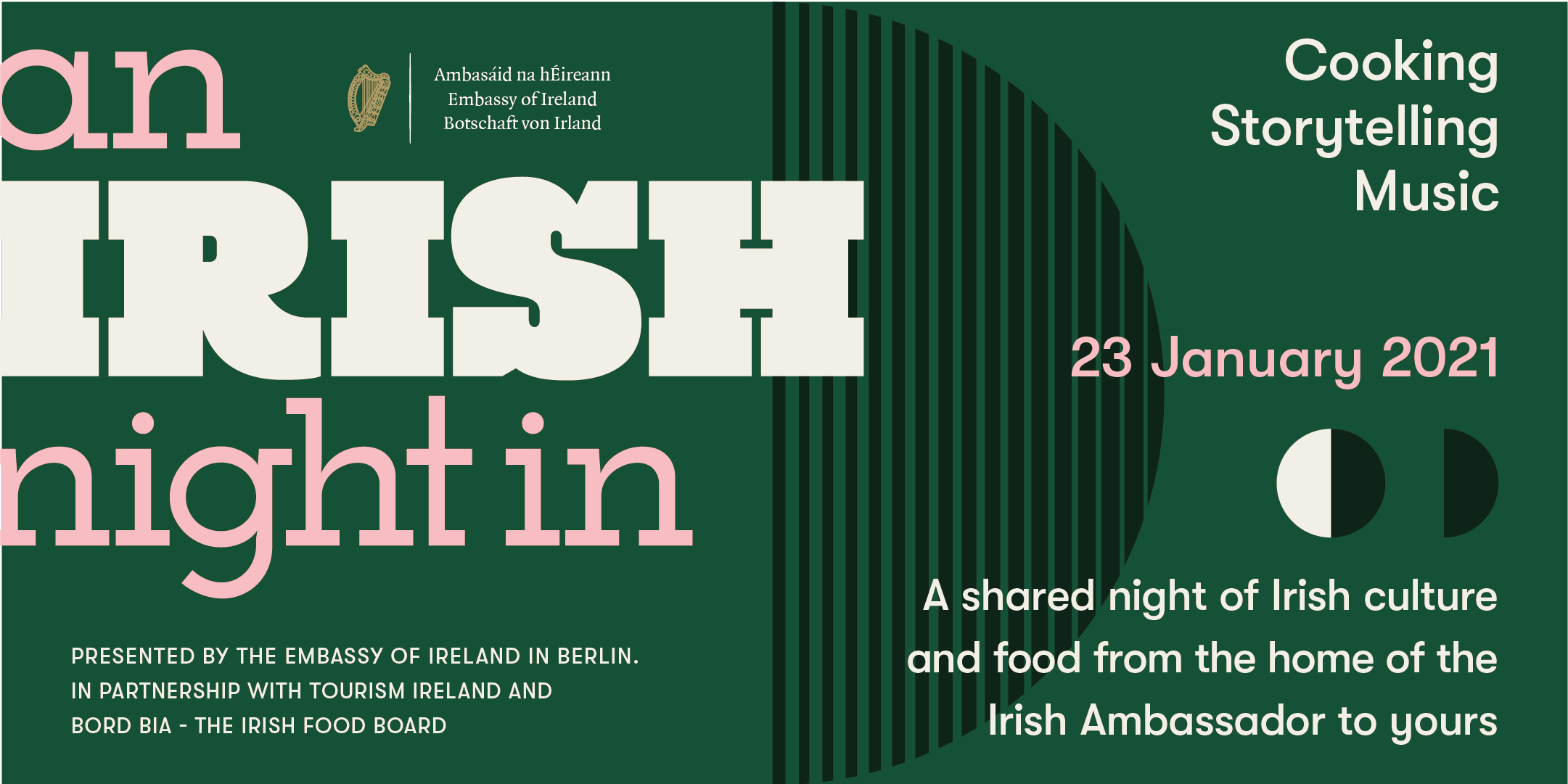 An Irish Night In - 23 January 2021
An Irish Night In
A shared experience of Irish culture at home
featuring
Wallis Bird, The Mary Wallopers, Lisa McInerney, Zoe Moore, Andy Costello
23rd January 2021 – 19:00 CET
Streaming live on Facebook and Youtube
An Irish Night In is an interactive event with food, music, and storytelling, creating a light-hearted and enriching shared experience of Irish culture at home, presented by the Embassy of Ireland, Berlin, in partnership with Tourism Ireland and Bord Bia – Irish Food Board.
Presented live from the Ambassador's residence in Berlin, and hosted by Ambassador Dr Nicholas O'Brien and presenter Kate Ferguson, participants can join in at home, cook a delicious three-course Irish meal, sing along to Irish songs, and try their skills at Irish story-telling with help from our special guests and the unique "An Irish Night In" cards which can be downloaded at home. Participants can connect with us and each other from home through the hashtag #anirishnightin.
Featuring music from Berlin based Irish singer-songwriter Wallis Bird and folk group The Mary Wallopers, a guide to storytelling with Lisa McInerney, and home cooking with actress Zoe Moore and chef Andy Costello of Berlin restaurant Salt 'n' Bone.
More than 100 lucky registrants will win An Irish Night In gift-box, filled with Irish treats to eat and drink. The boxes will also include the printed, specially designed cards with recipes and a guide to story-telling. 15 additional luxury gift-boxes will be won that include vouchers for premium Irish Beef and bottles of 'Five Farms Irish Cream Liqueur'.
Register here to be in with a chance to win An Irish Night In gift-box and to receive the recipes by mail in advance of the live event.
Videos of Andy and Zoe preparing the recipes in the kitchen of the Irish Ambassador's residence will be screened on the night and made available online in advance. Viewers and participants are welcome from everywhere but only those resident in Germany are eligible for the draw to receive the unique 'An Irish Night In' boxes.
An Irish Night In - 23 January 2021