An Irish Night In 2022
News
23 November 2021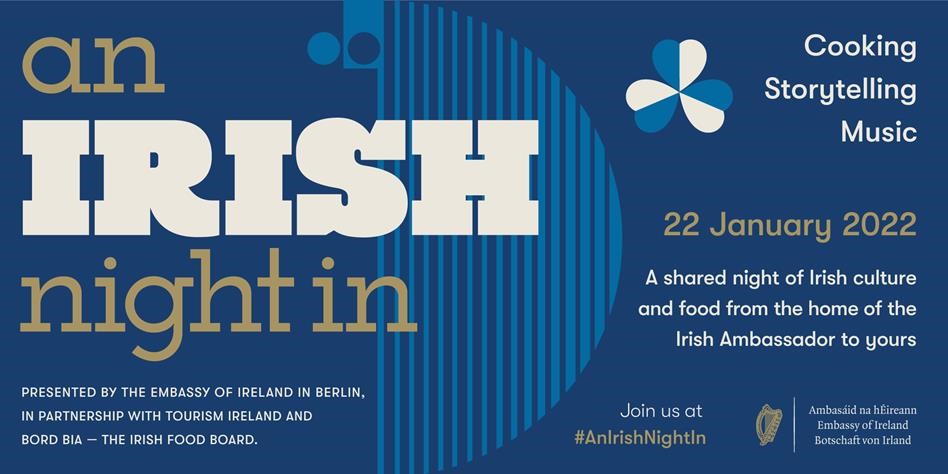 Join us for another great evening of Irish fun by Ambassador O'Brien's fireside
Following the success of An Irish Night In in January 2021 - we once again had the wonderful opportunity to invite you to another great night in on Saturday, 22nd of January 2022. Together, we enjoyed a memorable evening with food, drinks, games, and music from top Irish talents, live from Ambassador O'Brien's house to yours!
The broadcast went live at 19.00 CET on Saturday 22 January, and is now available to view below.
We were thrilled to be joined by Cathy Jordan and Seamai O Dowd of Dervish as well as the talented Wallis Bird. Allof who brought the evening to life with their musical skills. We also had comedy from Martin Beanz Warde, Elaine Feeney and Lisa Hannigan and of course, delicious cooking and baking by chef Andy Costello of Salt n Bone Restaurant in Berlin alongside Zoe Moore.
Last year, over 22,000 tuned in from around Germany & across the world with many sending us great photos of their cooking and baking as they tuned in on the night. This year, we maintained the interactive nature of the evening and also ran competitions on the night with some great prizes won.
We will share a few images of oour lcuky winners and their prizes soon. Be sure to check out below if you want relive this evening and see the recipes and game cards your Irish Night In.
Begleiten Sie uns zu einem weiteren großartigen Abend mit irischem Spaß am Kamin von Botschafter O'Brien
Nach dem Erfolg von An Irish Night In im Januar 2021 hatte wir am Samstag, den 22. Januar 2022 wieder die Freude, mit Ihnen an einem großartigen Abend teilzunehmen. Es gab bezaubernde Speisen, Getränke, Spiele und Musik von irischen Top-Talenten, live aus Botschafter O'Briens Haus zu Ihnen!
Die Sendung, die am Samstag, den 22. Januar um 19.00 Uhr live ausgestrahlt wurde, kann unten angesehen werden.
Dieses Jahr gesellten sich Cathy Jordan und Seamai O Dowd von Dervish sowie das talentierte Wallis Bird mit ihren musikalischen Fähigkeiten zu uns. Wir hatten Comedy von Martin Beanz Warde, Elaine Feeney und Lisa Hannigan und natürlich leckeres Kochen und Backen von Küchenchef Andy Costello vom Salt n Bone Restaurant in Berlin zusammen mit der Schauspielerin Zoe Moore.
Letztes Jahr haben über 22.000 aus ganz Deutschland und der ganzen Welt zugeschaltet, und viele haben uns zeitgleich tolle Fotos von ihrem Kochen und Backen geschickt. In diesem Jahr haben wir den interaktiven Charakter des Abends beibehalten und in der Nacht auch Wettbewerbe veranstaltet, bei denen es einige tolle Preise zu gewinnen gab.
Wir werden demnächst ein paar Bilder von unseren Gewinner*innen und deren Preisen veräffentlichen. Unten können Sie sich alle Rezepte und Spielkarten ansehen, falls Sie Ihre eigene Irish Night In rekreieren wollen.