An Irish Night In 2022
News
23 November 2021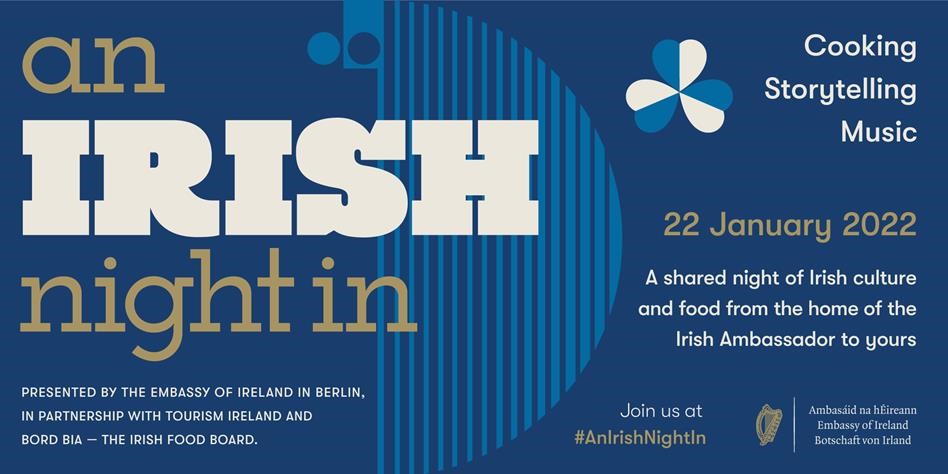 We're back!
Following the success of An Irish Night In earlier this year - we're welcoming you back and inviting you to join us again for what will be another great night in.
Watch & listen to Ambassador O'Brien's video message below and put it in your diary. On the 22nd of January 2022, we'll get together for food, drinks, games, and music from top Irish talents, live from Ambassador O'Brien's house to yours!
Last time we had over 22,000 tune in on the night from around Germany & across the world and we were delighted to see all the photos on social media from participants. We were also thrilled to learn that chat groups had been used for school kids to enjoy the programme and play the games together. There's lots of time to plan for the big night with your friends and family near and far and lots of ways to have 'An Irish Night In'.
Register here and be in with a chance to win one of over a hundred Irish Night In boxes and to be kept up to date with announcements.
***
IMPORTANT NOTICE:
Dear registrants, to be in with a chance to win a special An Irish Night In Gift Box, please register all requested details before COB on January 4th. If you do not wish to participate in the draw, simply forego these questions and register with your email address.
Only residents in Germany are eligible for An Irish Night In Gift Box.
By entering your data you confirm that your data will be given exclusively to the parcel carrier service, as well as the Embassy of Ireland in Berlin, to deliver the parcel to you. If possible, please spell any Umlauts (ä,ö,ü) using an E, i.e. ae,oe,ue. Many thanks!
Your Embassy of Ireland in Berlin team.
***
Wir sind wieder da!
Nach dem Erfolg von An Irish Night In in diesem Jahr heißen wir Sie wieder willkommen und laden Sie ein, an einem weiteren großartigen Abend teilzunehmen.
Sehen und hören Sie sich die Videobotschaft von Botschafter O'Brien an und tragen Sie es sich in den Kalender ein - am 22. Januar 2022 wird wieder zusammen gegessen, getrunken, gespielt und musiziert und das mit irischen Top-Talenten, live aus der Residenz des Botschafters O'Brien zu Ihnen nach Hause!
Beim letzten Mal nahmen über 22.000 Teilnehmer aus ganz Deutschland und der Welt an dem Abend teil und wir haben uns sehr gefreut, die Fotos der Teilnehmer/innen in den sozialen Medien zu sehen. Wir waren ebenfalls begeistert, zu erfahren, dass Chat-Gruppen für Schulkinder geschaffen wurden, um das Programm zu genießen und die ausgedachten Spiele gemeinsam auszuklamüsern. Es gibt viele Möglichkeiten, "An Irish Night In" zu erleben, und noch Zeit, um die großartige Nacht mit Ihren Freunden und Ihrer Familie von Nah und Fern zu planen.
Registrieren Sie sich, um die Chance zu haben, eine von über hundert Irish Night In-Boxen zu gewinnen und über Ankündigungen auf dem Laufenden zu bleiben.
***
WICHTIG ZU BEACHTEN:
Um die Chance zu haben, eine besondere An Irish Night In Gift Box zu gewinnen, registrieren Sie sich bitte mit allen erforderlichen Daten bis zum 4. Januar. Wenn Sie nicht an der Verlosung teilnehmen möchten, überspringen Sie einfach diese Fragen und registrieren Sie sich lediglich mit Ihrer E-Mail-Adresse.
Nur Personen die in Deutschland leben haben die Chance eine An Irish Night In Geschenkbox zu gewinnen.
Mit der Eingabe Ihrer Daten bestätigen Sie, dass Ihre Daten ausschließlich an den Paketdienst sowie die Botschaft weitergeben. Dies ist erforderlich, um die Zustellung ihres Pakets zu ermöglichen. Bitte buchstabieren Sie Umlaute (ä,ö,ü) nach Möglichkeit mit einem E, also ae,oe,ue. Vielen Dank!
Ihr Team der Botschaft von Irland in Berlin