Bloomsday in Berlin
News
16 June 2021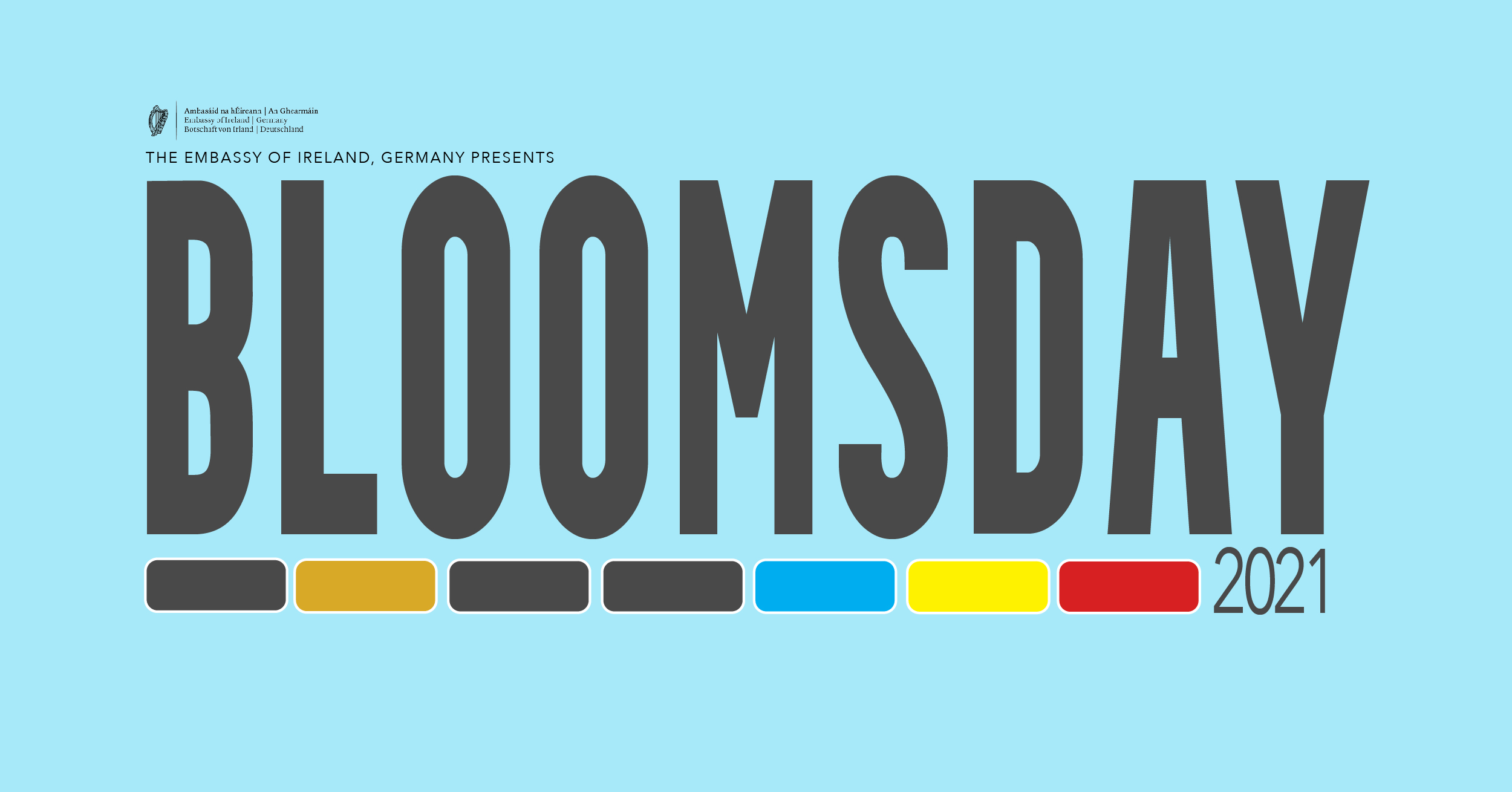 Lineup of artists for Bloomsday in Berlin, Ulysses Expanded exhibition
Ulysses Expanded pieces will be available to view here from 16:00 CET
Orla Connolly
Orla Connolly is an Irish portrait photographer and film maker living in Munich since 2000. She studied photography at IADT in Ireland and at The Academy for Photography in Munich. Orla understands her photography as a continuous study of the human condition. She is always fascinated by how the difference from one breath to the next or even the slight moment of the sitters hand can have an impact on the core assertion of a portrait. For Orla the concentration of the camera on the subject isolates a transient moment to allow contemplation of the complexity of banal situations and visually interprets the sitters interior monologue. She works in close collaboration with her husband architecture photographer Jens Weber.
The book Ulysses has always accompanied me through my creative path. I grew up in Dublin – I know the streets Bloom walks. Like all Dubliners I've had the mad, rambling, random conversations too. For me Ulysses represents how the human brain works – absorbs exterior input, makes interior associations through thought and projects them into the world again through words. The images in the clip are my exterior input collection – they were shot internationally since around 2010. I wanted to create a visual stream of consciousness using free association of banal and sometimes funny everyday occurrences. The images are presented as a triptych – a deliberate religious reference – by juxtaposing random banalities, they are given "gravitas" and combined with the text become extraordinary.
Liam Ryan
Scald the Teapot (2021)
'Aoibheal' (2010) Oil on Linen
"I made this painting to be included in a solo show curated by James Birch in the Eagle Gallery, London 2011. When I was making the painting, I was thinking about ideas of scopophobia and the liminality of the feeling of being scrutinised.
Molly is the subject of a prismatic scrutiny- For most of the novel, we know Molly only through other peoples eyes and it is easy to see her, under the restrictive cast of middle class married life, as a self centred 'loose woman,' however Leopold was also unfaithful in Nighttown. Molly is subject to the scrutiny of Leopold's desire but also to the scrutiny of his suspicions of an affair. In her internal monologue, Molly expresses that she likes seeing herself as being desired through Leopold's eyes, despite the harsh criticisms she has for him. Molly's soliloquy feels like a dizzying struggle between her spontaneous, but covert, personal female gaze and the restrictions that the overt, hegemonic male gaze has upon her.
This painting was made using an experimental technique for me, where I plotted out the image, put a red glaze over that, rubbed some off and added highlights, then a yellow glaze, then a blue one. So the concluding colour scheme arose quite organically. "
Liam Ryan is an artist from Mallow, Co. Cork. He studied at N.C.A.D, receiving the RDS Taylor award for painting on graduating in 2004. In 2010, he studied at CSM Byam Shaw, London, under a kind scholarship from Lismore Castle Arts. He spent thirteen years in London up until 2020. He relocated to Berlin and is currently beginning to build a body of new work at his studio, with assistance from the Berufsverband Bildender Künstler. He has exhibited in London and abroad.
Barry Lanigan (von Liz)
Barry Lanigan is a Tipperary musician and songwriter who's current musical endeavors include solo project, Von Liz, and the electronic Duo, Lanigan McAndrew. He has been living in Berlin since 2013.
The piece for Ulysses Expanded combines an effected reading of Tiorlach O' Broin, a 1989 street recording of Dublin's Moore Street, and a single synth sound altering the mood. The printed text appearing in the video transcreates a poem of sorts from the text, alluding to the mood of Leopold Bloom, weary and exhausted perhaps. The visual footage is an old audition for a small movie part Barry did, and an unsuccessful audition at that. It's good that it came to some fruition!
Ciaran Walsh
The work updates the public house situation where Leopold Bloom encounters the Citizen, presenting a contemporary space where exchange on the political and social issues of the day take place. It also responds to Joyce's characterisation of the Citizen and to the mythic archetype of the Cyclops. As the unseen protagonist progresses first through a half-blurred social media landscape, and then through fragmented video images of recent social unrest, the hand gestures seem stilted and out of sync with the phones activity: it is unclear whether it is the protagonist's hand or the device's singular large 'eye' that are leading this procession.
Ciarán Walsh is an artist based in Berlin, whose work explores themes such as loss, transformation, identity, and precariousness. Working primarily through sculpture, video and texts, he investigates allegory in representations of both the supernatural and the natural world within contemporary popular culture, European folk traditions, and the heritage of Romanticism.
His work has been exhibited at the Irish Musuem of Modern Art (Dublin), Kunsthalle Bratislava (Slovakia), Crawford City Gallery (Cork), CCA Glasgow (Glasgow), Ujazdowski Castle (Warsaw), Mother's Tankstation (Dublin) and Light & Wire Gallery (Los Angeles), among others, and his artist's novels are held in the permanent 'Book Lovers' collection at MuHKA (Antwerp). He is currently the resident artist at The Watch (Berlin, and a new solo exhibition will open in June at Studio Beta (Berlin).
Mary Kelly
Berlin based Irish writer Mary Kelly reads Molly Bloom's soliliquy, recalling her encounter with the young Leopold Bloom.