Call for illustrations for embassy's St. Patrick's Day greeting card 2022
News
28 January 2022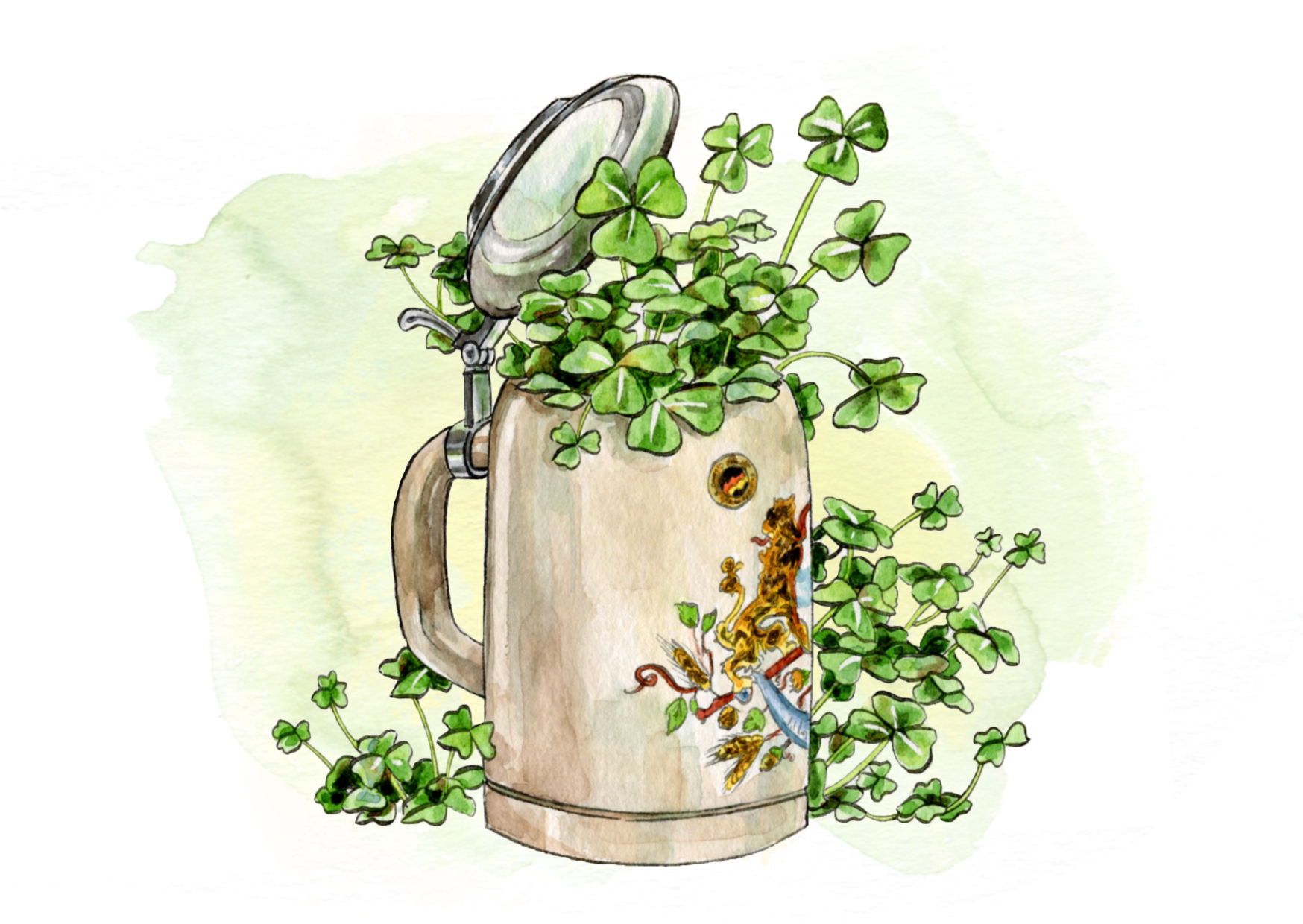 2021 greeting card illustration by Sarah Kilcoyne
Call for illustrations for St. Patrick's Day in Germany official greeting card
St. Patrick's Day, Ireland's National Day, is celebrated annually in Germany and across the globe by all Irish, friends of Ireland and those of Irish descent. St. Patrick's Day 2022 in Germany will once again, as in 2020 and 2021, be different. The large gatherings, receptions and parties, which normally mark the period, will not be possible. The Embassy is exploring alternative ways of marking St. Patrick's Day 2022 and as part of this effort would like once again to commission a special "St. Patrick's Day in Germany" greeting card. We will use this card to reach out to our many German contacts, whom we would have invited to our reception in Berlin in typical years but now cannot.
Against this background we announce a competition for illustrators based in Germany to help us to create the artwork for the card.
We are seeking artworks that reflect on St. Patrick's Day, St. Patrick's Day in Germany and broader Irish-German relations.
Competition Guidelines:
Applicants must be based in Germany.
There is no lower or upper age limit on those who may submit artworks or illustrations but this is not conceived as a children's art competition.
Each illustrator/artist is allowed to submit a maximum of three illustrations.
Applications should be submitted in digital format to the email address Berlin(at)dfa(dot)ie and marked "St Patrick's Day illustration – applicant's name"
The illustrations should be saved in JPEG or PNG format with a minimum resolution of 300dpi
Illustrations should ideally be submitted in landscape format / widescreen ratio (16:9)
Submissions must be received by close of business on Tuesday 15 February 2022
All submissions must be accompanied by full contact details, address and telephone numbers to ensure that all applicants may be contacted promptly should their illustration be used.
Illustrations must be the original work of those submitting and not previously utilised in any similar campaign by the embassy or any other organisation or entity.
The artist whose artwork is selected as the 2022 Embassy of Ireland, St. Patrick's Day greeting card image, will be paid €400 for usage rights. Upon payment of €400, the Embassy of Ireland in Germany will retain usage rights to the selected image, for a maximum period of three years, for the stated purpose and related uses and platforms, without additional permissions or fees
The artist will be credited on the back cover of the card/image whenever utilised.
GDPR
The Embassy of Ireland in Germany is committed to ensuring the security and protection of the personal information that we process, and to provide a compliant and consistent approach to data protection and will only store contact information for the duration of the competition.